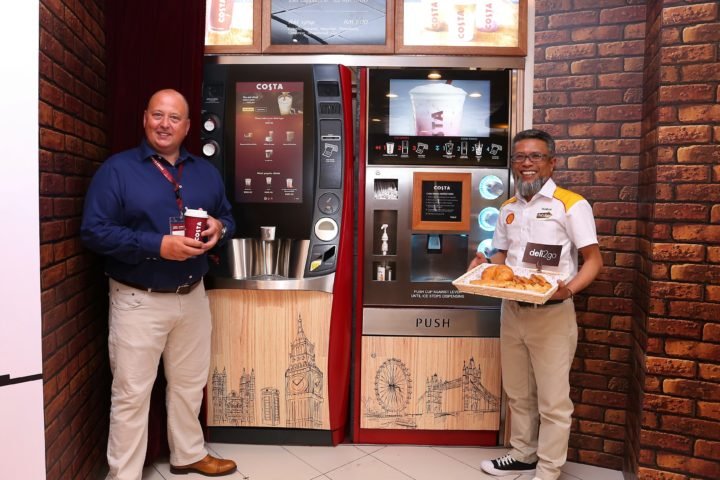 You can now pick up Costa Coffee on the go from 71 Shell Select stores across the Peninsular. London's most popular coffee shop chain, Europe's most popular coffee brand and the second largest coffee brand in the world, together with Shell Malaysia, plan to set up more than 200 outlets over the next 12 months.
The coffee is produced using Costa Coffee's signature blend, Mocha Italia, with the beans freshly ground to order. There are over 200 ways in which the coffee can be customised, from adding fresh milk to flavoured syrups. Iced versions of the coffee are also available, all at the press of a few buttons on the self-service machine. As the coffee is dispensed the exaggerated sound effects of beans being freshly ground, clinking coffee cups and running water, and the ambient sounds of a lively London coffee bar emanate from the machine. It was not unlike standing in the street at the takeaway window of a busy coffee bar.
Coffee snobs who scoff at "vending machine coffee" should take note that the Pininfarina-designed machine eliminates the vagaries in quality control that could arise simply from the barista 'having a bad day'. Every cup of coffee produced, whether espresso, Americano, flat white or an iced coffee variant, would be served and taste exactly the same at any one of the hundreds of Shell Select outlets that offer Costa Coffee.
The assurance of consistency in quality nationwide should brighten the journeys of any driver travelling up and down the country looking for a caffeine jolt. Non-caffeinated drinks are also available from Costa Coffee.