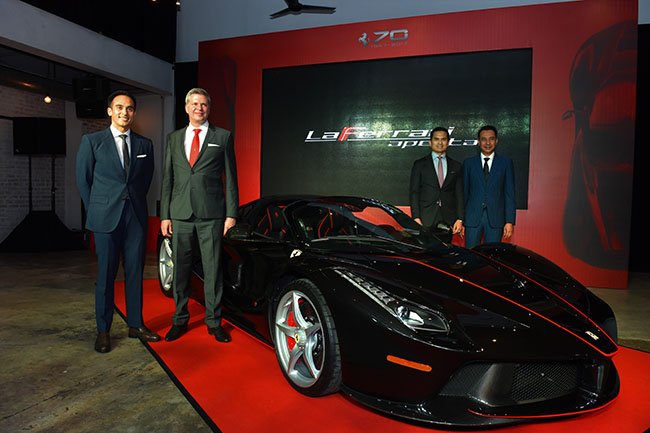 It's been 70 years since the Ferrari marque began in the town of Marenello. To commemorate the milestone in the Italian automaker's history, Naza Italia announced that on the weekend of 22nd July, there would be a series of events beginning with a Ferrari owners drive from Kuala Lumpur to Penang, the UNESCO world heritage site, and a parade of Ferraris along Jalan Padang Kota Lama before going on to a gala dinner at the historical Fort Cornwallis. Ferrari clients would be celebrated as members of the worldwide Ferrari family and for their enduring passion and loyalty to the Cavallino Rampante.
Ferrari Malaysia's celebrations are part of a calendar of 70 events taking place in 60 countries across the globe. Clients and enthusiasts of the marque are being treated to activities that honour the iconic brand. As one of the cornerstones on which the Ferrari story was founded, "Driven by Emotion" is the theme of every tribute. The anniversary celebrations around the world will culminate in Maranello on the weekend of 9 and 10 September 2017.
Naza Italia's announcement was coupled with the unveiling of the limited edition LaFerrari Aperta, the special series model launched to mark the 70th year celebrations. Ferrari have built 209 units of the LaFerrari Aperta which is an open top version of the hybrid La Ferrari. It comes with a removable carbon fibre hard-top as well as a removable soft top.
Like the LaFerrari, the Aperta is powered by V12 6.3-litre petrol engine which produces 789bhp and 700Nm of torque and a 161bhp kinetic energy recovery system (KERS) which provides short bursts of addition power, bringing the total combined output to 950bhp and 900Nm. The Aperta has a seven-speed dual-clutch gearbox and is rear-wheel drive.
The LaFerrari Aperta would be at the Fort Cornwallis event and also present at all the ceremonies held for the 70th anniversary worldwide.
More details of Ferrari's 70th anniversary celebrations can be found at the special website www.ferrari70.com along with more information about milestones and individuals in the company's history.