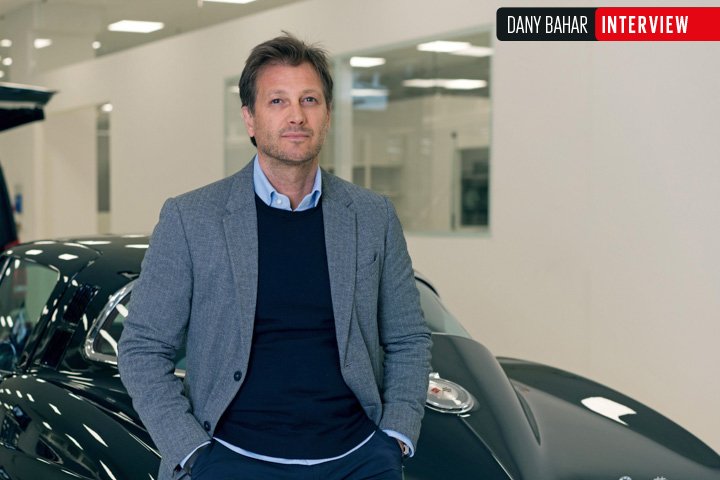 So says Dany Bahar of his bustling Modena-based car customisation company, set up after he left Lotus. Steve Cropley pays him a visit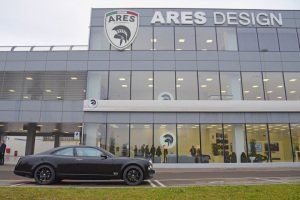 It's the size of the Ares Design HQ that delivers the initial surprise. We're in an industrial estate on the northern outskirts of Modena, Italy, on a mission to hear the latest of Dany Bahar – the former Lotus chief forever remembered for launching five new sports cars at once, for falling out very publicly with his Malaysian employers, and later for founding an Italy-based vehicle customisation business as a way of moving on.

Invited to visit the latter, we've been imagining Ares occupying a couple of industrial units in the back-blocks, but the reality is an 18,000sq metre former Fiat-Alfa-Lancia dealership complete with three storeys of modern buildings, a showroom and acres of parking and workshop space – plus another 10,000sq metres of spreading space in reserve, all of it identified by impressive totems bearing Ares' script and the ancient Greek god of war's helmet for a logo.
There's irony in both. When Bahar and a handful of friends sat down to discuss what to do post-Lotus, they soon agreed they had no further appetite for corporate employment.
People have surprising reasons for doing what they do. You learn not to ask
They resolved to start a car customisation business in the world headquarters of car craftsmanship, choosing work that would avoid what Bahar now describes as "the misery of homologation", using the slings and arrows of recent experience to avoid pitfalls and fighting hard to make it work. Hence the Ares name and helmet.
We gather in a large white showroom labelled Ares Atelier and scattered with modern furniture. On the other side of a covered apron is a line of cars in progress, visible through glass doors. We linger over coffee until Bahar appears, seemingly no older that he was in 2010, a diminutive figure made larger by the presence he has always carried. He smiles, welcomes us and immediately starts talking business: Ares has been going since 2014, during which time it has "improved" around 300 vehicles and has established itself as a profitable entity with a £27 million annual turnover and strong prospects. The requirements of clients are developing as fast as the business itself, he tells us: from initially providing individuals with new trim and body decor for their cars, Ares' work now requires much more specialist design and engineering. A launch staff of five has progressed to 110, most of them engineers or dyed-in-the-wool northern Italian artisans.
In a nutshell, says Bahar, Ares is positioning itself as a "concept to creation" coachbuilding facility, where you, Mr Well Heeled Customer, arrive with a car and idea and then use the in-house creativity of Ares' people to turn it into whatever you want. The only limits are that whatever the company does "respects safety and certification".
Bahar notes two fast-developing trends: one is that unique cars sometimes seem so desirable when finished that (with the original owner's permission and an adjustment of costs) there's a demand to progress them into batches of five to 15 cars; the other is a fast-expanding desire among classic car owners to maintain the looks of dearly loved cars while equipping them with modern suspensions, brakes, engines, ventilation and connectivity. It's an accelerating trend, says Bahar. "We're not reinventing the wheel," he says, "but this business is leading us to a position we never expected."
We cross the concrete apron and start to walk the production line, if that's the right word for a line of expensive cars that don't move. We tune up on a couple of conventional projects, a Mercedes S-Class and V-Class that are in for wood, leather and connectivity improvements, and then we encounter one of Ares' true stars, a Bentley 'Brooklands 2' long-door coupé that started life as a four-door Mulsanne saloon and still uses its wheelbase and seating package.
It's beautiful; the more so if you've heard other designers explain how hard it is to make long coupés look right. Ares has orders for seven of these – at £640,000 a pop – and may do as many as 15. Suddenly, it's easier to see how a £27m annual turnover can be earned…
Next up is a massive iteration of the Mercedes G63, reskinned in carbonfibre, which reduces weight by 200kg. It's called the Ares Design X-Raid (but still registered and certified as a Merc G) and is priced similarly to the Bentley, although when you see it standing there, expensively clad in carbonfibre with its detached dashboard and trim showing the complexity of the interior work to come, the total job seems almost cheap.
Although Ares avoids full compliance testing like the plague, it encourages inspectors from Germany's TUV standards agency to check its workmanship. This X-Raid has had a grand total of eight visits to verify its integrity and Bahar's happy with that: TUV verification impresses registration authorities across Europe and in far-flung Australia and Japan.
We have lots of customers and they hardly talk about the money
We stroll on, past Ares' vision of a Porsche 911 'GT3 Targa', which offers a Targa's open-air convenience but GT3 RS body details. This one has had extensive suspension changes, a power upgrade (470bhp to 580bhp), widened tracks, resculpted bumpers, a custom exhaust and centre-lock wheels and will set you back £300,000-plus, depending on spec.
Very decorative, highly modified Land Rover Defenders seem to be parked everywhere, mainly because Ares is in the process of building a 53-off batch for a British client, powered either by modified Rover V8s or by newer, supercharged Jaguar Land Rover V8s. Much of the under-skin engineering has been done by Coventry-based specialist JE Motor Works, whose founder and kingpin Jonathan Douglas happens to be present in Modena on separate engineering business.
"We mainly operate under the radar," he tells me, "but we've been in this business 30 years and everything we do is well proven." Given their remarkable diamond-like paint, their plush interiors, their throbbing V8s and their singular visual impact, the Ares Defenders seem a steal at £180,000 to £240,000. Why precisely 53 Defenders? Bahar's answer – "because the customer wants them" – neatly displays the culture of car customisation for clients. "People have surprising reasons for doing what they do," he explains. "You learn not to ask."
The wonders continue: a 1966 Chevrolet Corvette Stingray has an all-modern powertrain and running gear, plus modern audio and screens subtly integrated into a classic interior. A Tesla 'Shooting Brake' is a speculative Ares project soon to be offered at £200,000-ish. Finally, we're shown Project Panther, Ares' already publicised Lamborghini Huracán that uses design cues from the De Tomaso Pantera from the 1970s, and then a Ferrari GTC4 Lusso that will soon look like the 365 GT4 2+2 of the 1970s and 1980s.
We take a whistle-stop tour of Ares' back rooms. Packed drawing offices, a new leather shop, banks of 3D printers and space for a full-sized milling machine seem to suggest Ares can do almost anything. It is a dazzling display but Bahar is carefully modest. As our visit ends, my question is about the supply of customers: can there really be a continuing supply of people who can indulge themselves to this degree and pay these prices?
"We have lots of customers," says Bahar confidently, "and do you know what's most surprising? They hardly talk about the money. It's almost beside the point. We talk about the desires people have. And the fun of making it happen. There are other, bigger-name businesses than ours who charge much more than we do for projects like this, but they seem to be so grudging about it that customers don't enjoy the experience. When they come to us, we make absolutely certain they will." A
Photography Will Williams
WORKS IN PROGRESS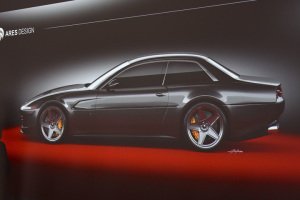 PROJECT PONY
Ares' designers are currently using a latest-spec four-seat Ferrari GTC4 Lusso to 'reimagine the Pininfarina-designed shape best known from the 400i and 412, using bespoke outer body panels in carbonfibre and packaging the original 6.3-litre V12 engine. Work is under way now, for delivery late this year.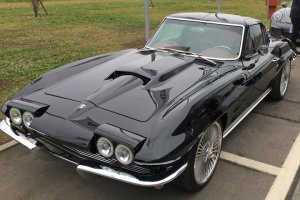 CORVETTE STINGRAY
This deceptive-looking 1966 Chevrolet Corvette Stingray has required 3500 hours of design and re-engineering (and a £350,000 investment by the owner) to fit it seamlessly with a 520bhp LS2 big-block engine, a five-speed manual gearbox, a Dodge Viper diff and a classic interior that hides modern audio and phone equipment.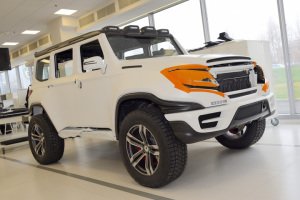 X-RAID
Tall, menacing, gigantic and bespoke, this 4×4 has an entirely new body design in carbonfibre while using Mercedes G-Class major components. Ares is making a small batch to meet demand. Its lighter body saves 200kg and its 5.5-litre AMG twin-turbo V8 has been superheated to 880bhp and 700lb ft.