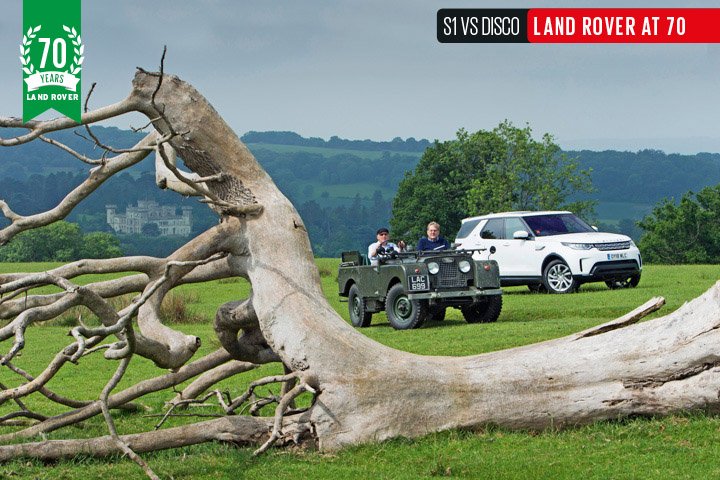 The latest Discovery was developed with 70 years of off-road experience, so how does it compare with an original Series One?

Steve Cropley

finds out
On the face of it, you'd battle to find two more different road-registered vehicles than a crude, diminutive and utterly charming Land Rover Series One and a tall, plush and extremely imposing latest-spec Land Rover Discovery. A glance at our photos instantly confirms their differences, even if you didn't know them perfectly well already.
Yet these models have an inextricable connection and always will. Each is the most capable off-road vehicle Land Rover could build for customers in its era, and that (barring specials like Mercedes' vast and extraordinary Unimog) makes each of them arguably the best off-roader an ordinary person can buy.
We've brought them together today at the epicentre of Land Rover off-road development for the past half-century, the Eastnor Castle estate in the Malvern Hills, to understand why each is the way it is and to get a flavour of their relative capabilities. It also seems a fitting way to mark this 70th anniversary year.
The Series One is all old-school vibes and jittery ride. The Disco requires less skill
Along for the ride is legendary Land Rover engineer Roger Crathorne, who joined the company as an apprentice in 1963, was heavily involved in durability testing of all new models from then on and who retired in theory in 2014 to spend more time playing golf and fettling his own old Landie collection – although you'll still see his face at every important Land Rover event going. Such as this one.
The Series One on hand today is Roger's: a 1951 edition once owned by Nicholas Wilks, son of the company founder, and discovered after a 27-year lay-up and now in near-perfect mechanical order (although Roger has been careful not to over-restore it). It was made three years after the first S1 hit the road, long enough for the most basic flaws to be ironed out but early enough to demonstrate what the very first Landies were capable of.
We meet in the courtyard of the Land Rover Experience centre, just around the corner from the main gate leading to Eastnor Castle. Every owner gets a chance to go there and learn off-roading on the tracks, slopes and mud holes on which we're about to drive. But first there's the size thing to get out of the way. When Roger's Land Rover was new, the Rover company's eye was on creating a pure off-roader, marginally more civilised than a wartime Jeep but just as capable, to be used by farmers, pipeline layers and all the other tradespeople who really did go to places no-one had taken a car before.
The Wilks brothers who ran Rover saw big international sales for their unique vehicle. They even built the first prototype with a central driving position on the theory that it could be sold unaltered across the world, thereby establishing a tradition that has built to the point that Land Rovers sell in 129 export markets.
We're impatient to drive, but first there's just time for another crucial event: the dimensional comparison. The S1 is tiny, shorter at 3.35m than the new Suzuki Jimny but similar in weight at 1200kg. The Discovery is 4.97m – thus a remarkable 50% longer – and it's also a cool 0.5m wider with the mirrors extended. And depending on model you can double the kerb weight and quadruple the S1's meagre 55bhp. Nothing better shows how all cars, not just Land Rover off-roaders, have changed in 70 years.
We drive out of the courtyard, through gates, up slopes and onto the Eastnor tracks Roger, who has been coming here since 1966, knows so well. It's a beautiful place, full of wooded glades, sunny fields, discreetly scary muddy slopes and challenging bog-holes that he helped to develop as boss of LRE later in his career. Land Rover doesn't just let things happen in this place; it builds and repairs and develops its testing territory and is extremely careful to avoid creating unnecessary ruts across fields – or indeed anything that might cause erosion. In fact, the place is a monument to the way well-driven 4×4 vehicles and beautiful landscape can co-exist beautifully.
In Sheep Field, tucked away from public roads at the side of a lovely, sloping field, there's a permanent obstacle built both to test and to demonstrate the importance of something ordinary cars don't have: cross-axle articulation. Imagine a gigantic concrete rut, far too vast to cross in an ordinary car and pretty difficult to walk over. Here, the two vehicles demonstrate the surprising similarity of their capabilities.
If you get Roger Crathorne going on what really matters, he'll give you a short sermon on the importance of traction and especially cross-axle articulation. "It's the secret of everything," he says. "It wouldn't make much sense if we built vehicles that wave their corners in the air. Whatever the tech, the art of this is to make sure rubber can reach the ground." In extremis, such as now, Crathorne insists you need a front wheel to be capable of going a long way up, at the same time as the rear wheel on the same side is going a long way down. It looks awful as we do it, but the vehicle is built for it.
The 70-year-old Series One is all old-school engine vibes and jittery ride. It's fun and very manoeuvrable, with high-geared steering and zero overhangs. The engine has terrific low-end pull and instant carb-fed throttle response despite the obvious presence of a hefty flywheel. Lovely mechanical feel to the long-lever gear change, too, although you'd never call it sophisticated. The S1's tiny size pulls it neatly through this scary-looking obstacle, provided it has the right driver at the wheel. There's a brief point where a rear wheel lifts and spins power away (we're a few decades ahead of the slippery diff era) but pretty soon I learn that it's about choosing the perfect speed for the job. "You let the momentum take you over the obstacle," says Crathone. "But you mustn't let it bounce," he adds, speaking as if doing so were a considerable crime. It turns out to be easy, but it's also a matter of skill.
In the Disco, less skill is required. This vehicle bristles with traction controls and ultra-long-travel suspension that can be especially lifted for tough obstacles. Its suspension is interconnected so, literally, the left wheel knows what the right is doing. Same for front and rear. And the suspension has a cross-axle link valve at each end that forces one wheel down as the other rises. In place of skill at judging momentum, technology takes the strain.
It's child's play, really, and ridiculously comfortable, except that visibility from this comparatively vast vehicle is restricted by comparison with the old car, and the sense of involvement can't compare. But the big thing under review here is capability off road, and in comparison with just about everything else on the road, these very different Land Rovers both have it in spades. The marque set out on a unique journey, and in this way at least, it is holding course perfectly. A
PHOTOGRAPHY LUC LACEY
MILESTONES
Land Rover's off-road prowess has improved steadily over the years.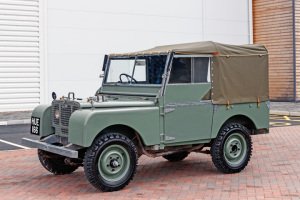 1948 LAND ROVER S1
Introduces all of the off-road basics: toughness, compactness, short overhangs, fairly low weight, selectable 4WD. Lays foundations for 70 years of success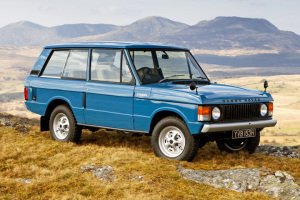 1970 RANGE ROVER
Longer-travel coil springs with better clearances, permanent 4WD, lockable centre diff and the extra torque of a 3.5 V8 engine.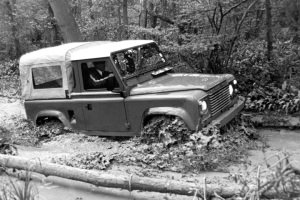 1984 LAND ROVER 90
Adopts Range Rover coil suspension and permanent 4WD, plus far better ground clearance than leaf-spring S3. Sets the new standard, helped by emergence of V8 and diesel versions with generous low-end torque.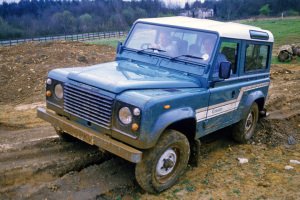 1989 DISCOVERY/1990 DEFENDER
New 'family' Landie is eclipsed by improved 90 and 110 models, now called Defender with more torque from a better TDi turbodiesel.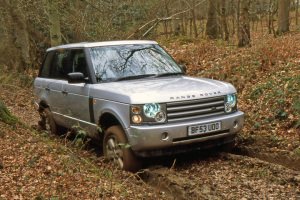 2002 RANGE ROVER
Produced under BMW with all-independent air suspension, and modern traction controls. The modern era begins…