From Budapest to London in 48 hours by a McLaren Longtail: Dan Prosser finds out what the dickens the 600LT is really like
Even before I had driven the McLaren 600LT through six countries along a meandering 1370-mile route, I knew what to expect. I knew it would be searingly fast. I knew it would be freakishly agile and steer beautifully too. What I didn't yet know about the most potent Sports Series model was that, after driving it from Budapest to London in 36 hours, I would hand over its key not with a heavy heart, but with a very real sense of relief. But that's still to come.
At 8am on a Tuesday morning in the Hungarian capital, there is only anticipation. In Ceramic Grey, the 600LT looks almost violently purposeful. I can't bring myself to love the way it looks but it's necessarily fussy because all those contrast-carbon flicks and wings and vents are there for a reason, either to aid cooling or to manipulate the air so that it flows not under the car to try to lift it up, but over the top of it so that it presses it down into the road. At 155mph, the 600LT generates 100kg of downforce compared with neutral lift for the 570S.
Its extra 30bhp isn't significant but those top-exit exhausts are borderline erotic. The 600LT has more carbonfibre bodywork than the 570S as well as thinner glass and trick suspension components, all of which means it is lighter by as much as 100kg. The chassis has been tweaked, too, the springs stiffer all round, dampers retuned and anti-roll bars firmer.
More stressed than I have ever been in a car, I pull over and wait for the storm to pass
Our car is missing one important Longtail upgrade. Rather than the ultra-tacky Pirelli Trofeo R tyres on which customer cars will be delivered, it has less track-focused P Zeros. This morning, that seems like a pity. Come bedtime, it will not.
We're in Budapest because the 600LT's international media launch at the nearby Hungaroring grand prix circuit is winding down and the cars need to be returned to McLaren's HQ in Woking. Most will be loaded onto a transporter and repatriated that way, but this particular one will be driven.
I wish we had the time to point its prow not directly home but out towards the furthest reaches of Eastern Europe. But time will not allow it. Both photographer Olgun and I must be back in London by tomorrow evening. That gives us 36 hours, and if we don't keep the wheels turning for at least 28 of those, we'll both miss our deadlines.
So we waste no time in slipping away from the hotel, crossing Elisabeth Bridge – which spans the Danube and connects hilly Pest in the east with sprawling Buda in the west – and pressing on towards Austria.
Even at this mid-morning hour, the temperature outside is on the rise. It is within the 600LT's cockpit, too, because this particular car has no air conditioning. In fact, this car is as light as a 600LT will get because it also does without a stereo and sat-nav, so it can use a lighter wiring harness, and it has extremely light and thinly padded carbonfibre seats, borrowed from the Senna hypercar.
It all means this particular 600LT isn't remotely suited to a cross-continental dash. I smell a stitch-up. Apparently, a certain senior member of the Autocar editorial team specifically asked McLaren to furnish us with the "skinniest car possible". I try for
a moment to feel sorry for myself, but the prospect of two days in one of the most exciting new cars of 2018 is just too mouth-watering.
Through breathtaking scenery, the pass climbs quickly to its summit
Once we've battled past Vienna, the multi-lane highway that had been stubbornly arrow straight and perfectly flat for mile after mile eventually begins to wander left and right. Soon enough, it is flowing gracefully from one bend to another, and even rising and falling slightly too. Way off in the distance, we see misty blue forms that look like a watercolour painting, but as we get closer, they turn from blue to green and we realise they are the foothills of the Alps, lush with pine trees. The most direct route home would take us through the middle of Germany, avoiding the mountains altogether, but doing so in a car like this seems criminal. Instead, we're heading for a pass on the northern fringes of the Alps – the Grossglockner, Austria's highest road.
We plunge further into the hills. Even on a road like this one, you appreciate how pin sharp the 600LT's steering is, and you exaggerate every curve in the road just for the tactile joy of it, feeling the resistance build and the rim nudge this way and that in your fingertips. Then the tunnels begin to arrive. I take manual control of the gears and shift up and down indulgently in every tunnel we find. The note from those top-exit exhausts changes so drastically in pitch and volume in each gear that if I had a single musical bone in my body, I'd be able to play a fairly decent tune. The V8 symphony, performed by the Longtail Philharmonic. Whereas the 570S sounds quite flat through its rev range, the 600LT has a richer, more tuneful howl.
We pull off the highway and find the base of the Grossglockner. Through breathtaking scenery, the pass climbs quickly towards its summit and, as we climb with it, I scan the car for signs that it is sharper or more responsive than the 570S. But they're not coming. Through the many hairpin turns, the 600LT feels so much like its sibling that I can hardly tell it apart. But with two of us and all our kit on board, and on these P Zero tyres, this particular 600LT isn't as light or as grippy as it should be. We're not getting the full Longtail experience.
Thank heavens the track-day tyres were swapped for P Zeros
Eventually, I deposit Olgun and our stuff by the side of the road and go off by myself. Even so, in tighter corners, I can find no more magic in this car's chassis. On the gently meandering stretches of road that have a sheer rock face on one side and a precipitous drop to the other, though, the car does feel appreciably more responsive, more precise, and you don't so much drive it as think it along the road. That is where you notice the difference. It is fearsomely quick, too, in an explosive and unrelenting kind of way.
I reach the top of the Grossglockner, turn around and head back down, collecting Olgun and our kit on the way. All that should lie between us and our hotel on the outskirts of Munich is a steady three-hour drive, but it doesn't work out that way. With the hills receding around us and the sun setting out to our left, the skies directly ahead are ominously dark.
Leaves blow in spirals across the road and spots of rain appear on the windscreen. With night now upon us and the rain falling hard, great flashes of white illuminate everything around us. As we continue into the storm, those flashes of white soon become individual bolts of lightning that split the sky in two. The rain is so heavy now that the McLaren's wipers cannot keep up. We drive through a small town and on to an autobahn, the rain coming down harder still. Visibility is reduced to near enough nothing at all, the windscreen and the road both flooded with rain water. We crawl at 40mph or so, but I can't risk going too slowly in case somebody arrives at some greater speed from behind us. Every time the road ahead disappears behind a screen of water or is lost in disorienting reflections, I simply wait for the crunch of carbonfibre against Armco.
Thank heavens, I think aloud, that the 600LT's track-day tyres were swapped for P Zeros: even these all-weather tyres aquaplane now and again. More stressed than I have ever been in a car, I pull off the autobahn and wait for the storm to pass.
Blessedly, the next morning is dry and bright. We head west away from Munich towards Stuttgart. Along the way, we nudge 170mph a couple of times before traffic slows our progress. At around midday, we cross into France, where the autoroutes are so much quieter than the German autobahns that they're actually more pleasant to drive along, despite their strict speed limits. Our run through France is uneventful but, along the way, we stop at the old Reims pit buildings, for a certain Bruce McLaren raced Formula 1 machinery here five times, winning the non-championship race in 1962.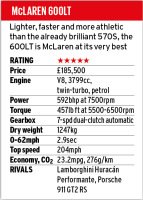 The sprint back to Calais is a short one, but the 600LT's lightweight seats have long since ceased to be comfortable. Our backs are sore and our legs numb. Those seats are perfect for circuit driving, I'm sure, but for very long stints at the wheel, they're not
so brilliant. They are the reason that I don't feel too sorry to wave goodbye to the 600LT, although before we do that, a road closure on home soil in Kent means we find ourselves driving along a bumpy B-road – a classic British stretch. The car feels tense, but the damping is so good that the ride isn't at all crashy or uncomfortable. The margins between this car and the 570S may be small, but by being a little bit better than an already superb performance car, the 600LT is a show-stopper.
We make west London late on Wednesday evening, two solid 14-hour days behind us. I wave the McLaren away and, as it disappears, I begin longing for my next drive in a 600LT. A
PHOTOGRAPHY OLGUN KORDAL 
SIBLING RIVALRY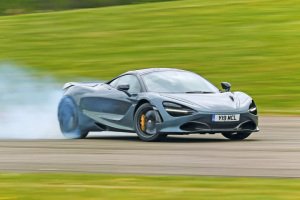 McLaren might have made the 600LT faster and more powerful still but it couldn't allow the Longtail to tread on the more expensive toes of the 720S. In all, £23,000 separates the two models, which means the 600LT is actually far closer in price to the 720S than it is the 570S, which is £37,000 cheaper.
Even so, does the 600LT make life tough for the 720S? Not especially, because the two models do very different jobs. The 600LT is clearly pitched as the weekend and track-day car, whereas the 720S is far more effective in daily use and over long journeys. Instead, it is the 570S that will surely struggle to find any buyers during the 12 months in which the 600LT will be in production. The other two Sports Series models, the 540C and the 570GT, each have clear USPs but, for now, the 570S is completely overshadowed.