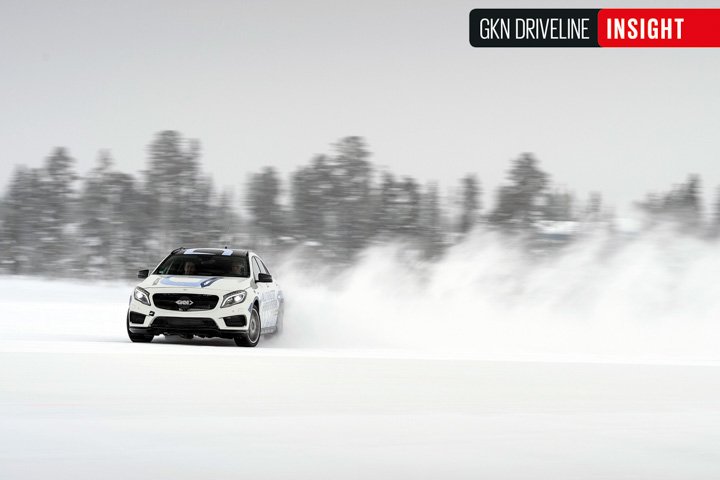 GKN goes to the Arctic Circle to hone the cutting-edge drivetrains used in some of the best driver's cars. John Evans joins the industry's unsung hero at its winter base


Hurtling around an ice track in Arjeplog, northern Sweden, in a succession of cars equipped with variations on GKN Driveline's Twinster torque vectoring system, I'm surprised when one of the mainly German development engineers tasked with presenting each test vehicle turns out to be a young Brit.

Henry Jackman-Day may be only 24 but, as he tells me, he's already managed to cram what feels like a decade's engineering experience into the years during and immediately following his time at Coventry University, where he studied motorsport engineering.
"I did my university placement as a test engineer, with several weeks at GKN MIRA working on production Jaguar Land Rover vehicles," he tells me. "I was subsequently offered a place on GKN's European Graduate Leadership Programme, a series of four lacements, each six months in length. I worked at GKN MIRA, GKN's Birmingham site and GKN's R&D centre in Lohmar, Germany, involved in current models as well as future projects."
His efforts were rewarded with a permanent position at GKN MIRA as a vehicle integration engineer, with a special focus on future programmes involving the company's Twinster family of technologies.
Of course, Jackman-Day reveals all of this only after I've steered his Jaguar E-Pace around the Wintertest facility's frozen lakes, where car manufacturers and component suppliers come for a few months each year to fast-track development of vehicles and high-tech systems.
Like the Evoque that the system was first used on in 2014, the E-Pace is fitted with GKN's all-wheel-drive Active Connect Twinster technology. It's a really smart system that uses two multi-plate clutches, and some very powerful electronics, to drive each of the car's rear wheels independently. It acts as an electronic differential, vectoring torque to optimise grip, traction and stability. The clutches can connect and disconnect the system, enabling the E-Pace to go from all-wheel- to front-wheel-drive in a split second, for efficiency's sake.
The Ford Focus RS uses a tweaked and tuned version of the same technology, and another version has just been introduced into all-wheel-drive variants of the Vauxhall Insignia Grand Sport and Sports Tourer.
On the ice, the system turns the E-Pace into a hooligan. Oversteer into a corner, lift off the throttle to bring the back around and then, holding the wheel at a constant angle, simply steer the car on the throttle. Your instinct is to brake but, as confidence builds, you begin to marvel at the E-Pace's controllability. That and engineers like Jackman-Day who have made it possible.
The trouble is, the public is more likely to credit such technology to the manufacturer of the car to which it's fitted rather than the so-called Tier 1 supplier (an industry buzz phrase for major component suppliers such as GKN Driveline) that developed it.
GKN, and companies like it, are the Cinderellas of the automotive sector, an impression reinforced at motor shows where the major car brands are the stars, while their suppliers occupy the perimeter, hoping to engage a passing visitor. This impression makes their job of recruiting talented engineers a challenge.
Martin Bohling of recruitment specialist Courland Automotive says: "Car makers can look very attractive to a talented graduate but if they have the opportunity to work for a supply company like GKN, they should seriously consider it. When you see GKN on someone's CV, it's impressive."
Of course, GKN Driveline's position as a destination for talented engineers is not helped by talk of a takeover bid that could see the parent company broken up. Fortunately, it refuses to be distracted. At its Arjeplog test headquarters, it has opened an exhibition celebrating 30 years of winter testing that showcases its present and future drivetrain technologies, a pointed reminder to visitors that the company makes more than driveshafts and that its collaborations with car makers are deep and long-term.
"Everything on the right-hand side [of the exhibition] is already in mass production," says my guide, Peter Mölgg, CEO for AWD and eDrive: "Here you see the first Twinster applications on mechanical systems that have since moved to mechatronic systems, and the various types of eDrive, including our offset G200EX design for the BMW Active Tourer."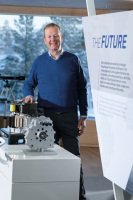 He points to an integrated electric powertrain and says: "This G600e Powertrain is for a battery-electric vehicle that is being developed for a future generation of sporty EVs. It's for a big German manufacturer…"
In the corner, the flywheel energy storage system used in the Le Mans-winning Audi R18 e-tron quattro of 2014 catches my eye.
"Together with the Panasonic Jaguar Racing team in Formula E, we're working with students on a similar type of mechanical battery that's ideally suited to racing cars," Mölgg adds. "It's exciting helping young people into the industry. They bring lots of energy and insight."
Clearly, there's much at GKN (and other Tier 1s like it) to engage the talented engineering student and graduate undecided between it or a career with a car manufacturer. That he was never proposed as a spokesperson for GKN Driveline gives Jackman-Day's glowing tribute even greater credibility: "GKN is a great place to develop as an engineer because of the variety of opportunities it offers. AWD development projects such as the Twinster system have been incredibly rewarding and allowed me to apply my passion for high-performance cars to pioneering driveline technologies."
As he hoofs the E-Pace across the ice, I don't doubt him. A
PHOTOGRAPHY Dean Smith
THE ALL TWINSTER HYBRID SYSTEM

The focus of GKN Driveline's Wintertest programme was its new All Twinster Hybrid System, fitted to a Mercedes-AMG GLA 45, christened GTD18.
Replacing the standard car's mechanical all-wheel-drive system with a mechanical twin-clutch Twinster at the front and a two-speed, electric eTwinsterX eAxle at the rear, incorporating a GKN electric motor and inverter and a high-performance battery, gives the plug-in hybrid demonstrator independent torque vectoring of all four wheels, as well as zero-emissions capability. Having two automatic gears allows it to get off the line quickly and cruise comfortably at higher speeds.
There wasn't much high-speed cruising to be had on the ice at Arjeplog. Instead, setting the car up in an oversteer attitude and steering it on the throttle was the order of the day. Having control of all four wheels means the GTD18 is even more agile and secure than the already impressive Jaguar E-Pace demo.
Its relevance on the damp streets of Britain? Imagine you haven't seen the truck bearing down on you as you leave a T-junction. Step on the gas and the system sends all the torque to the outside wheels, enabling you to turn safely without spinning out.
"I'm sure OEMs won't take everything from the GTD18 but elements of it," says Peter Mölgg, GKN Driveline's CEO for AWD and eDrive. "It is the art of the possible."