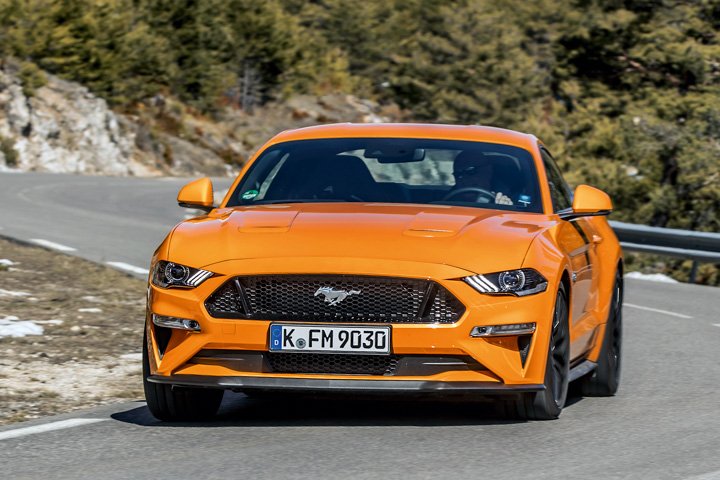 Tested 23.3.18, France On sale now Price £41,095
Pony car gains power and a soupçon of additional dexterity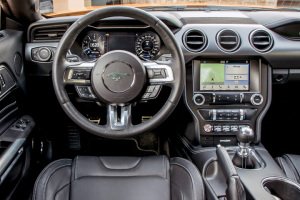 In the UK at least, the Ford Mustang is a great way to stick out like a sore thumb. It's big, it's brash and, with a 5.0-litre 'Coyote' V8 under that long bonnet, it's not what you'd call quiet, either.
It has now been facelifted, although the changes go largely unseen. Sure, there's a new-look face, but there's now also a digital speedometer, more safety equipment (to help improve that disappointing two-star Euro NCAP safety rating) and an optional 10-speed auto 'box.
Ford's engineers have also worked to sharpen up the Mustang's handling. The shock absorbers have been retuned for greater stability through the twisty stuff and a new cross-axis joint helps to stiffen up the rear suspension. An adaptive MagneRide damping system has also been made available, although it'll set you back an additional £1600.
Most importantly, though, there's more power from that V8: up from 410bhp to 444bhp at 7000rpm. Peak torque, meanwhile, remains 390lb ft from 4600rpm.
And what an engine it is. Below 3500rpm, it's a lethargic and laid-back powerplant that burbles away with a soundtrack that's not too dissimilar to the rumble of distant thunder. Stray above that point, though, and the engine's lazy character changes into one that's far more savage.
Bury your right foot and you'll approach the national speed limit in a very short time, accompanied by a sound that's less baritone burble and more spine-tingling roar. It's not quite as raucous as, say, Jaguar Land Rover's supercharged 5.0-litre V8, but it's certainly no less appealing to this tester's inner child, particularly with the configurable exhaust set to its loudest, most anti-social setting.
The Mustang has heavy steering that weights up depending on which driving mode you've selected from the four preset choices, and those MagneRide dampers contain the Mustang's portly body well through bends, without being so firm as to compromise its ride. It remains more of a sledgehammer than a tool of laser-guided precision, but that doesn't detract from its appeal.
A BMW or Audi of a comparable price to this Mustang will have a cabin that's far superior in terms of material quality, but how many V8-powered two-door coupés are in this price bracket? Not many. If you can live with the prodigious thirst – Ford claims fuel economy of 22.8mpg – it's unlikely you'll find this revamped Mustang 5.0 V8 GT a disappointment.
SIMON DAVIS
Ford Mustang 5.0 V8 GT
A raft of tweaks and more power from the 5.0-litre V8 broadens the sixth-generation Mustang's appeal


Price £41,095
Engine V8, 5038cc, petrol
Power 444bhp at 7000rpm
Torque 390lb ft at 4600rpm
Gearbox 6-spd manual
Kerb weight 1743kg
Top speed 155mph
0-62mph 4.6sec
Fuel economy 22.8mpg
CO2, tax band 277g/km, 37%
Rivals Chevrolet Camaro 6.2, BMW M2