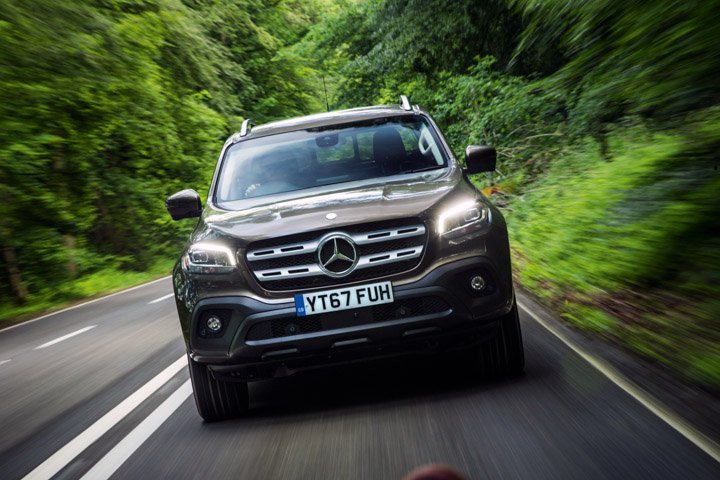 A luxury pick-up seems far-fetched but has Mercedes tapped into a lucrative niche?
MODEL TESTED: X250d PROGRESSIVE 4MATIC
Price £35,172 • Power 187bhp • Torque 332lb ft • 0-60mph 11.2sec • 30-70mph in fourth 12.2sec
  • Fuel economy 26.7mpg • CO2 emissions 207g/km • 70-0mph 48.2m
WE LIKE
Cultured ride, relative to rivals • Strong 'working' credentials • Aesthetics that make a statement
WE DON'T LIKE
Faintly agricultural powertrain • Dim-witted infotainment system • Reliance on interior plastics
This month, we'll find out if the world's first premium-branded pick-up truck is the revolutionary light commercial vehicle the world has been waiting for; or if instead it's up there with the chocolate teapot and the inflatable dartboard among the roster of things that surely only ought to exist for the purposes of the practical joke.
Can the world's oldest-surviving premium car maker successfully turn a flatbed workhorse into a truly desirable – even luxurious – vehicle? What reasons are there to fork out more than you need to for something that is, at its heart, so utilitarian? The new Mercedes-Benz X-Class is here, in mid-range diesel X250d form, with a chance to show us everything that a posh pick-up can do, and be, in 2018.
Mercedes' claim that the X-Class is Europe's first premium-branded mid-sized pick-up has some credibility, but to acknowledge it fully would be to overlook the contribution made by the Volkswagen Amarok in making the 'lifestyle flatbed' a more desirable prospect. And yet when Mercedes turns its hand to a vehicle like this, because of its track record in turning utility cars such as the G-Wagen into unlikely fashion items, we sit up and take notice. So, in this particular instance, should we? (Especially considering the fact that this vehicle has sprung from a joint venture with the Renault-Nissan-Mitsubishi Alliance and shares a platform with the Nissan Navara and Renault Alaskan.)
It provides plenty of pulling power right from the get-go
Moreover, and assuming this Mercedes is everything it's cracked up to be, could you make room in your life – or on your driveway – for one? Do you still 'need to need' a vehicle like this or is the X-Class rounded and realistic enough to replace a big family car? The answers are coming your way over the next few pages.
The X-Class first appeared on UK roads a few months ago, but the model range will only become fully fleshed out later this year when the range-topping V6 X350d, complete with permanent rather than part-time four-wheel drive, hits British roads. The car's global roll-out, meanwhile, will introduce it in South Africa and Australia this year, and South American markets in 2019.
Mercedes claims that the X-Class's frontal styling features – its twin-louvred radiator grille, sculpted bonnet, and headlights that extend laterally into the front wings – make it "seamlessly fit into the Mercedes-Benz model portfolio". But although they're certainly features that are recognisable on a Mercedes, it's a tenuous claim to suggest that they make a car that is fundamentally different from most other Mercedes fit into the firm's product brochure "seamlessly".
Then again, people attracted to a pick-up probably won't want or expect it to look like an S-Class. But whether the X-Class has genuine and distinctive upmarket design appeal, aside from in a few superficial places, is questionable. It's certainly trying to look desirable, as you can see from the kink in the beltline, the sculpting of the bonnet and the flared arches. Trouble is, the new and related Navara has some of those styling features too – and when you know about the relationship between the vehicles, you can't help but spot the similarities.
The X-Class is available in the UK, for the moment, with a choice of two diesel engines, the entry-level X220d providing 161bhp and 297lb ft of torque and the mid-range X250d getting 187bhp and 332lb ft. Both use a Nissan 2.3-litre four-cylinder engine, though, and only the X250d is available with switchable four-wheel drive (the model tested here). If you want a Daimler engine and full-time four-wheel drive in your X-Class, only the forthcoming 255bhp 3.0-litre V6 X350d will provide both.
The car is available in four-door double-cab form only, so it doesn't offer the modularity of layout of some rivals. At 5340mm in overall length and with 3150mm between the axles, it is an almost carbon copy of a like-for-like Navara in both respects (surprise, surprise) but sits between equivalent versions of the Amarok (smaller) and Ford Ranger (larger). So although no modern pick-up makes life easy when it comes to finding a parking space large enough to accommodate it, the X-Class isn't the worst offender you could buy.
The car's chassis mechanicals strike a compromise intended to serve on- and off-road requirements equally well. It has a ladder frame and a solid rear axle mounted by multiple links – but also independent front suspension, and both coil springs and ventilated disc brakes at all four corners.
And if you're interested in the heavy-duty side of the car's character, you get low-range gearing as standard and a locking rear differential as an option; the flatbed measures more than a metre and a half both longways and sideways (big by class standards) and it can carry up to 1.1 tonnes; all three engine variants are rated to tow up to 3500kg; and ground clearance is up to 221mm, with 600mm maximum wading depth.
Although the idea of a premium pick-up truck may seem slightly oxymoronic, the X-Class's cabin is undoubtedly a cut above its rivals as far as quality and aesthetic appeal is concerned.
Sure, a predominantly utilitarian character still pervades – owing to its chunky switchgear and large expanses of plastics to be found on the dashboard and door cards – but Mercedes has done a good job of masking the X-Class's relationship with the more financially accessible Navara. Chrome-outlined, X-shaped air vents help to draw the eye in and are surprisingly pleasing to the touch, while the 7.0in infotainment display is perched tidily on the upper reaches of the dash. A large, patterned panel that covers the expanse of the central fascia also provides welcome visual respite from those plastics found in the lower sections of the cabin.
Despite the greater visual appeal of the X-Class's cabin over the likes of the Navara and Amarok – which is arguably its closest rival in this segment of the pick-up market – you don't get the sense that this has come at the expense of outright durability. All of the major surfaces feel hard-wearing and sturdy, and cleaning out any muck dragged in by muddy boots shouldn't be a delicate, laborious process, either.
Because of its double-cab layout, interior space is also of a useful volume. There are seats for five occupants, and although those in the back sit in a fairly perched position, head space is plentiful thanks to a slight upwards incline in the X-Class's roofline. Rear leg room is agreeable, too, although you do sit a touch closer to the floor than you would in a regular car, so your legs may not always sit flat on the seats. However, this is a trait common among pick-ups.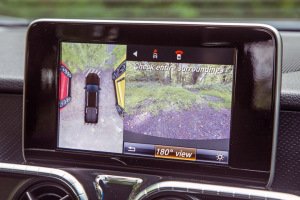 The X-Class makes use of Mercedes' Audio 20 CD infotainment system as standard, which comprises a 7.0in screen on the dashboard and the familiar combination of touchpad and rotary dial controls. In truth, though, chances are you'll avoid using the touchpad, because it isn't particularly easy to use while on the move – particularly if you're right-handed. The rotary dial is far more ergonomic, although the system just isn't as fluid or responsive as you'd like it to be, with a noticeable delay between physical input and digital output. Still, features such as Bluetooth connectivity, DAB radio and satellite navigation are all present and correct.
For £2670, you can opt to upgrade to the Comand Online navigation system, which adds a larger, 8.4in high-resolution display, 3D mapping and live traffic information, among other features.
Our test vehicle was also fitted with the £1098 Parking package, which adds a useful 360deg camera system that provides a bird's-eye view of the 5.34m-long X-Class.
For all of Mercedes' efforts to pitch the X-Class as a high-end pick-up, its Nissan-built engine is arguably the primary giveaway of its more agrarian, workhorse roots. It's a gruff-sounding motor – not noticeably more so than other pick-ups' four-cylinder diesels – but an Amarok with its 3.0-litre V6 oil-burner is considerably more refined. It's a good thing, then, that Mercedes is set to launch its own V6 diesel variant this year.
With a kerb weight of 2159kg to shift (we weighed it at 2320kg with a full tank of fuel), the X-Class's four-cylinder engine has to work hard to make any reasonable progress too. The sprint from standstill to 60mph was dispatched in a fairly tardy 11.2sec, and the dash from 30mph to 70mph took 11.6sec. The five-cylinder Ranger Wildtrak we tested in 2012, meanwhile, hit 60mph from rest in 10.8sec and recorded a 30-70mph time of 10.6sec. A persistent roar from the X-Class's engine accompanied its leisurely rate of acceleration as well. At maximum revs in third gear, we measured cabin noise at 67dB.
Still, with a lot of weight to shift and only modest power reserves to call upon to do so, the X-Class didn't suffer any issues with traction off the line. Its slug of low-down torque – 332lb ft available between 1500rpm and 2500rpm – provides plenty
of pulling power right from the get-go, although multiple testers commented on a slight hesitation from the seven-speed transmission at times. But although it's not the quickest gearbox in the world, it's not slovenly, either, and it swaps cogs smoothly as you pick up the pace.
As for stopping power, the X-Class managed to come to a halt from 60mph in 3.17sec, doing so in a largely controlled and stable fashion. Sure, there was a considerable amount of pitch as the Mercedes' weight shifted forward under braking, but no more than you'd expect from what is essentially a very tall, heavy vehicle. By way of comparison, the Ranger took 3.19sec to slow from 60mph to a standstill.
Even though Mercedes claims that the X-Class is suitable as both a rugged, off-road-capable pick-up and a vehicle for urban-based families, don't be fooled into thinking that it's any more car-like in the way it goes down the road than any of its immediate rivals.
The steering, for instance, has a noticeable amount of weight yet very little feel to it, and at 3.4 turns from lock to lock, it is particularly slow in its gearing. Any directional change therefore requires a fair amount of flailing at the wheel in order to provide the desired result. Although this is a fairly common trait among pick-ups, some of them, of course, feel more manoeuvrable than others. Comparatively, a Toyota Hilux feels far more responsive and direct in its steering than the Mercedes.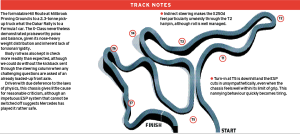 That's not to suggest that the X-Class is totally unwieldy, though. It may not be particularly happy being shown a challenging stretch of road but, even under hard cornering, it never feels as though it will suddenly throw its toys out of the pram. There is a considerable amount of lean, true, and the electronic stability control can cut in in a fairly severe manner, but there's a good amount of front-end grip on offer here.

More promising is the ride, which – thanks to its more sophisticated suspension set up – doesn't suffer from quite the same level of pogoing as some pick-up trucks experience when the load bed is empty. There is some detectable pitter-pattering at the rear when travelling over rougher surfaces, but this is far from unbearable and would be remedied by a full load bed.
Out on the motorway, the X-Class manages to hide its commercial vehicle underpinnings well. Aside from the aforementioned vocal diesel engine, it's largely comfortable and compliant, although not quite to the same standard as you'd experience in a genuine SUV.
Because they're taxed as light commercial vehicles, the company car tax incentives available on pick-up trucks to UK fleet drivers can make them surprisingly cheap to run – and has done for some time.
Moreover, the way the system works plays out particularly well for a firm like Mercedes because benefit-in-kind is applicable at a flat rate that isn't influenced by vehicle CO2 emissions or purchase price. Switching out of a mid-sized SUV and into a pick-up like the X-Class could therefore save a company car driver hundreds of pounds a month – and you'd save
as much on an X350d as you would with an X220d.
The X-Class comes in three trim levels – Pure, Progressive and Power – with top-of-the-line versions getting features such as keyless go, LED headlights, electric seats, Artico synthetic leather upholstery and automatic climate control as standard. Mercedes also offers plenty of standard safety systems, among them autonomous emergency braking and both lane keeping and traffic sign recognition systems. So although it's clearly not equipped like a £40,000 family SUV, in neither respect could you call an X-Class antiquated or backwards.