BMW flagship returns after a 20-year hiatus to inject some glamour into the brand
MODEL TESTED 840d xDrive
Price £76,270 • Power 315bhp • Torque 501lb ft• 0-60mph 5.0sec • 30-70mph in fourth 5.2sec
• Fuel economy 39.8mpg • CO2 emissions 164g/km • 70-0mph 51.8m
WE LIKE
Creamy turbo diesel balance of performance and economy • Dimensions-defying agility • Excellent value for a full-sized GT
WE DON'T LIKE
Wants for a more effortless ride quality • Interior is too unimaginative • Pricey compared with some

Approaching three decades after the introduction of the original 'E31' 8 Series and nearly two after its retirement, BMW has returned to the big GT coupé market. The second-generation 8 Series – BMW's elegant, continent-crossing two-door flagship – is here.
Key to Munich's strategy of boosting its profile among upper-level luxury car makers and their customers by shifting its model portfolio back towards bigger, grander and more upmarket products, the new 'G15'-generation two-door Coupe will be part of a wider 8 Series family that will also include the upcoming 'G14' Convertible and 'G16' four-door Gran Coupe. It's a successor to the 6 Series Coupe, two full model generations of which have gone some way to filling the vacuum that the original 8 Series left when it was discontinued in 1999.
A nomenclative reference to a predecessor model that departed the scene so long ago might not mean much to many, yet the average GT coupé customer should be old enough to remember the pop-up headlights and pioneering technological character of the E31. One of Munich's first computer-designed production cars, the first 8 Series was also the first BMW with a fully electronic 'by-wire' throttle and one of the first with multi-link rear suspension.
Few balance performance and fuel economy so ingeniously
A certain standard on technological innovation and sophistication might reasonably be expected of the new G15, then; and, with four-wheel drive, four-wheel steering, active anti-roll bars and BMW's latest infotainment and driver assistance technologies, it doesn't look set to disappoint.
BMW UK is offering the car with a choice of 523bhp twin-turbo V8 petrol or 315bhp twin-turbo diesel straight-six engines, neither of which needs longer than five seconds to hit 62mph, according to the manufacturer's claims. We elected to run the road test ruler over the latter.
• Door mirrors seem to sprout from the window trim rather than the door panel, which makes for less aerodynamic drag. You can have them in carbonfibre as part of a £3350 M Carbon exterior pack.
• Blue accents are the clearest sign that someone has splashed out on the Laserlight LED headlights (part of the £1500 Visibility pack). Our test jury thought they looked a bit gaudy.
• Front apron has larger and more aggressive lateral 'implied' intakes as part of the M Sport styling kit that the car gets as standard. They're pretty plainly not functional, though.
• All 8 Series' alloy wheels are 20in and mixed width for the time being, although there are three choices of spoke design and a couple of additional colouring choices. If you want run-flat tyres, you can't have the M Sport Technic kit.
• Trapezoidal twin exhaust design is common among both the 840d and M850i, although the garnish can be had in a carbonfibre finish if you prefer. The M850i gets an active sports exhaust.
• Bootlid spoiler is another M Sport styling addition that we could have done without. You can have it in carbonfibre if you like. Not sure it would look any less superfluous, though.
•

T

here's plenty of curve on the 8 Series' roofline and taper in the cabin's plan view outline to deliver a really svelte coupé body shape.
• Rear lights are all LED and intended to add an enhanced sense of width to the rear aspect of the car.
This time around, the 8 Series is a big two-door GT coupé that BMW would prefer you to think of as a sports car. Such marketing conceits haven't been uncommon among road test subjects over the past 12 months, and we like to think they don't fool the Autocar readership. But BMW contends that the new 8 Series' performance and handling are both dynamic enough to give credibility to the claim, because it was developed in parallel with the factory M8 GTE FIA endurance racing car; because it's made of a mix of steel, aluminium, magnesium and carbonfibre-reinforced polymer; and because it's got relatively powerful engines and intelligent four-wheel drive and four-wheel steering as standard.
The car has an overall length of 4843mm and a 2822mm wheelbase, neither of which screams sports car, although by GT coupé standards those dimensions certainly aren't huge (both are shorter than the last 6 Series). Our test 840d weighed 1901kg on Millbrook's scales, making it lighter than the shorter Lexus LC500 coupé we tested in 2017 and the Mercedes-AMG CLS 53 4Matic we tested in October last year.
BMW says it was aiming for "clarity, modernity and emotional engagement" with the car's styling, and seems to have hit its marks. The design could perhaps be more graceful, tasteful even – and the slightly aggressive look of UK cars has been enforced by BMW UK's decision to clothe all with M Sport exterior bodystyling as standard. Some testers preferred the less fussy, more reserved look of the standard exterior design, although a typical BMW buyer would likely opt for an M Sport styling kit if given the choice.
Suspension is by double wishbones and multiple links underneath steel coil springs and adaptive dampers; unlike on rival GTs, there will be no air suspension option. Steering is electrically assisted, and by an active variable ratio 'integral active' steering system that acts on both front and rear axles. Drive goes to the rear axle by default, to then be sent in part to the front one as well as deemed necessary by the car's intelligent xDrive four-wheel-drive system. Pay for BMW's optional M Sport Technic package (£2500) and you get beefed-up brakes, a torque-vectoring rear differential and non-run-flat performance tyres (which our test car had); otherwise, the 840d comes on run-flat tyres as standard.
The 840d's straight-six diesel engine produces a bit more power (315bhp) and torque (501lb ft) than it did in the outgoing BMW 640d coupé – but only as much of either as you get in a 740d. It's hooked up to an eight-speed automatic gearbox with a wider spread of ratios than the 640d had.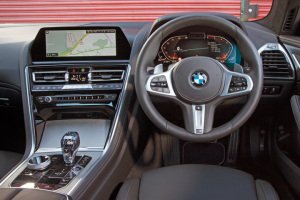 BMW cockpits have a reputation for ergonomic excellence, but the confines of a 7 Series or 5 Series are opulent to a passable, rather than conspicuous, degree. It's a realm in which Mercedes and latterly Audi have the better of their compatriot, with richer materials and a more convincing technological showcase, but the second-generation 8 Series could change that. Here is an opportunity for BMW to flex some creativity with a cabin that hits the bullseye for grand-touring comfort and technological sophistication.
It's not been entirely successful here, and while perceived quality is greater than any other BMW in recent memory, the 8 Series' interior lacks the cheek-puffing 'wow' factor of an S-Class Coupé. Even the decadence of the optional crystal gearlever and mirror-ball rotary controls can't dispel the business-like aura.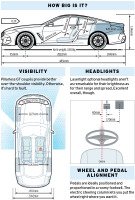 What character there is instead stems from the architecture. High window lines, a broad new transmission tunnel (whose inlaid switchgear is particularly slick) and the trademark driver-facing centre console cocoon the driver. BMW also claims to have angled the prominent lines of the interior longitudinally; along with the high scuttle and low roof, the result is a pronounced pillbox effect that's pure GT car. Elsewhere, the electroplated surrounds for the 'closed clasp' door handles flow nicely into the dash-mounted air vents, but the design of the leather-clad M steering wheel of our test car is functional to the point of being plain. It's not quite special enough and, by its own admission, BMW has gone for a minimalistic ambience but has perhaps confused that with a lack of imagination.
The 8 Series nevertheless feels ready to be comfortably driven anywhere, at any speed, in any weather; and 420 litres of boot space is plenty. Owners will be grateful for generous stowage options beneath the central armrest and in the door cards. Special mention must also be made of the electric seats, which offer as much support as they do comfort. Trimmed in 'Vernasca' leather, they have no equal in this segment.
• Cabin is more spacious than its cosseting ambience lets on and the driving position is conspicuously good in this class. Plenty of leather and good stowage too.
• Rear seats take the form of deep buckets. There's not much leg room here and even less head room. It'll suffice for young children or brief hops with shorter adults.
• A body almost five metres long gives the 8 Series a capacious boot; with
420 litres, there's enough space for a week's holiday luggage for two.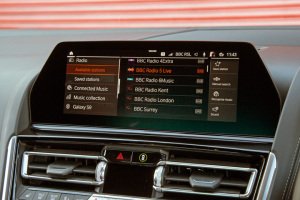 BMW's Live Cockpit Professional system comes as standard and consists of a 'frameless' 10.25in display nestled atop the dashboard and – on the same horizontal plane – a new 12.3in digital instrument cluster in lieu of analogue dials. The arrival of the latter is a questionable development, not least because the side-scrolling readouts at first seem less readable than traditional roundels; but BMW's flagship needs a contemporary feel and achieves it.
Running the latest version (7.0) of BMW's software, the iDrive infotainment set-up is now as intuitive as one could reasonably expect, and navigating its expanded range of menus with the rotary wheel requires minimal attention from the driver. Similar to that of the Porsche Panamera, the main menu can now be configured to show condensed readouts for the 10 pages, with up to four showing live content. As a result of BMW Connected, other content might include appointments and addresses imported from the owner's calendar and entered into the navigation system.

Anybody expecting the outright performance of an 840d to underscore the car's aggressive exterior design is inviting disappointment. Our test car's 0-60mph time was just a tenth short of the claimed 4.9sec, but even that is the best part of a second down on the Porsche Panamera Diesel we tested in 2017. Certainly, with 'only' 315bhp, there's no risk of being thudded back into your seat by the propulsive force of this 2993cc straight-six turbodiesel. That's the concern of the M850i, whose 3.7sec 0-62mph perches it at the sharp end of the sports car market, if not quite into the realm of bona fide supercars.
But in every other respect, this engine is worthy of praise, especially if you can accept the 8 Series as a brisk long-distance cruiser rather than an overtly expressive and exotic luxury GT in the mould of a traditional Aston Martin, Maserati or Bentley. And, although perhaps not searingly fast against the clock, it feels brisk in real-world use. That 501lb ft of peak torque briefly emerges at 1750-2250rpm, but the effect is not quite as ephemeral as those numbers suggest because, even at 4500rpm, the floor-hinged throttle pedal will still summon almost 370lb ft. The clandestine fast ground-covering abilities of this entry-level 8 Series can feel genuinely bemusing as a consequence, the engine's flexibility especially evident if you've locked out the silky smooth automatic upshifts and are using the stubby paddles affixed to the wheel. In sixth gear, the time taken to heave from 40mph to 60mph is within touching distance of what the latest, 600bhp M5 can do – although you'll not get the crank spinning past 5500rpm, even in manual mode.
Nevertheless, if you've not experienced one of BMW's latest straight-six diesels, you'll likely be very pleasantly surprised by the response and precision on offer. Few marques could so seamlessly integrate a diesel engine into an elegant coupé body and make it feel like it belongs there. Fewer still, if any, balance performance and fuel economy quite so ingeniously. Mega-hatch performance and a test average of almost 40mpg would be good for any car, let alone one whose dimensions are those of a four-wheeled super-yacht.
If, therefore, the question is whether diesel power is effective enough – and in possession of the requisite refinement – for a grand touring flagship, then the answer is yes. However, whether this engine captures the certain richness and character you might expect of such a car is a different matter. The naturally aspirated V8 in a Lexus LC500 begs to differ, as does the cleverly electrified straight-six petrol in the Mercedes-AMG E53, or the lavish twin-turbo V8 in the S560 Coupé. After all, these cars are irrational purchases; for many, shoehorning in an element of objectivity, even one this well conceived, doesn't feel quite as sweet.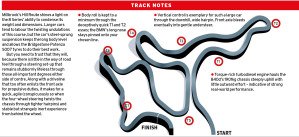 Those who've ridden in the current-generation 7 Series will understand why BMW's top limousine falls short against an S-Class. The bigger saloon's body control is marginally too close, and the spring rates are firmer than strictly necessary. It rides well enough even by the sky-high standards of the class but it's too exacting – almost deliberately so – for top honours with luxury in mind.
But the 8 Series has a different brief to its saloon sibling, and if you think the above sounds just the ticket for a large GT car operating at the more sporting end of the segment, you would be right. Undoubtedly, the 840d is a firm-riding car for a big coupé, and one whose owners might on longer journeys wish it better adept at quelling jittery road surfaces. But the 8 Series has a chassis that feels far from poorly resolved in outright terms, and has a sense of sporting authenticity and cohesion rare for something its size.
BMW's decision to go no larger than 20in for the car's wheel diameter seems smart, and allowed the rolling chassis of our test car to easily digest poorly surfaced non-motorway roads at speed (although this ability shouldn't be taken for granted of run-flat-shod cars). At 2.3 turns lock to lock, the steering also feels quick enough to get the far-reaching nose into corners economically. The car's long wheelbase and near-perfect weight distribution lend the chassis a pervasive poise. It's a cliché to say it, but the 8 Series does shrink around its driver, even though your eyes tell you it should be too big and burly a performance car for many UK roads.
It is not a particularly playful device, however. Despite a heavy rearward bias, BMW's sure-footed xDrive set-up robs from the 840d the edge-of-oversteer delicacy you get at the wheel of one or two rivals. Instead of teasing it through corners, reliant on steering feedback (there isn't any to speak of here) and throttle control, you're more beholden to the car's near-unshakeable stability, which is deftly augmented by four-wheel steering. For some, that will be a considerable selling point. However, one or two might desire greater dynamism from a BMW – because this one never quite threatens to announce itself as the GT class's outstanding driver's car.
Big grand touring coupés like the 8 Series are not as numerous in the luxury segment as once they were. BMW gets little credit for pricing the car so as to look better value than an equivalent Mercedes S-Class Coupé, a Bentley Continental GT or an Aston Martin DB11 because, frankly, you'd expect as much. That an 840d will set you back almost exactly as much as an entry-level Lexus LC500h hybrid might be the best guide that this is a competitively priced car.
It will be made to look less competitive by the time Munich gets around to introducing the four-door Gran Coupe version, however. On the basis of these coupé prices, an 840d Gran Coupe is likely to be set at a 25% premium compared with a Mercedes CLS 400d or an Audi A7 Sportback 50 TDI.
On touring economy, though – the BMW's ownership case is strong indeed. Our car averaged almost 40mpg on test and, on our 70mph cruising economy test route, almost topped an indicated 50mpg. That suggests it should be well capable of putting 700 miles between fills.
Road Test: BMW 8 Series Coupe Data Log >>