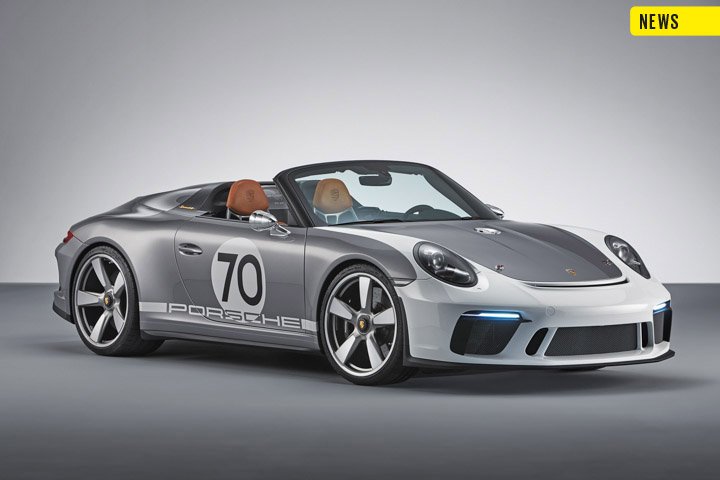 Production of the 500bhp-plus pared-back two-seater will be limited to 1948 units
Porsche's Goodwood Festival of Speed star, the 911 Speedster, is highly likely to enter production next year, and a source close to the company has revealed details of the car's expected specification.
After the concept was displayed at Goodwood as part of Porsche's 70th anniversary celebrations, Autocar learned that a decision to build it was imminent. A source has now confirmed that a production decision has already been made internally and the Speedster is set to be limited to 1948 units worldwide – a reference to the year Porsche first produced its 356 sports car.
The hardcore open-top model will be based on the chassis of the current 911 GT3 and will use the same 4.0-litre naturally aspirated flat six. Unlike the GT3, it will be offered solely with a manual gearbox.
The power output is believed to be more than 500bhp, but it's not clear yet whether Porsche will upgrade the existing GT3 engine or use the more powerful unit from the GT3 RS. Either way, it should retain the same 9000rpm limit.
The Speedster, which will be a swansong for the current, 991-generation 911, is the combined work of Porsche's GT and Exclusive divisions. It features a lightweight tonneau cover rather than an electric convertible top and the sat-nav, audio and air-con systems have been removed. Carbonfibre bucket seats feature inside.
The body is based on the existing 911 Carrera 4 Cabriolet but with the wings, bonnet and engine cover made from carbonfibre composite. Design details include a carbonfibre rear cover for the roll-over structure with a 'double bubble' – an iconic feature seen on 911 Speedster models since 1988. Details such as the 1950s-style central fuel tank cap in the bonnet hark back to Porsche's early racing days.
Previous Speedster models have added up to £50,000 to the price of the existing GT3, so in excess of £155,000 is likely.
LAWRENCE ALLAN