Whitby Morrison is a world leader in ice cream van manufacturing and another British automotive success story. John Evans pays a visit
British, bespoke and hand-built in Crewe – it can only be one thing: a Whitby Morrison ice cream van. With its familiar cheery chimes and vivid, shouty graphics, it's a British institution.
Now is peak season. Around 4000 ice cream vans are out there making hay (well, ice cream) while the sun has shone like never before – or at least like it did in the summer of 1976. Whitby Morrison is busy but not half as busy as it will be in autumn when the country's soft-scoop barons return from the nation's streets, beaches, fields and festivals to splash out on a shiny new £70,000 Mondial Lusso (the company's top-selling van available, in short or medium-wheelbase forms) or Amalfi, or have their existing vehicle refurbished or a panel van converted.
The company produces 100 vans each year, comprising 60 new, 30 conversions and 10 vintage van conversions (Mini pick-ups, Volkswagen Type 2s, old Bedfords, that kind of thing). It's the UK's biggest ice cream van manufacturer, easily dwarfing rivals who, even combined, produce no more than 10 vehicles annually. Not that Ed Whitby, operations director, is complacent. Rather, as the third generation of the Whitby family to be involved with the business, he's passionate about building and converting ice cream vans, and ensuring the nation's love for soft scoop never wanes.
Believe it or not, the US doesn't have our expertise
"At any point in time there's someone, somewhere in the world smiling because they're buying an ice cream from a Whitby Morrison ice cream van," he says.
It's no idle boast. The company's vehicles are in 60 countries and it exports around 10 vans each year. Eastern Europe, Ukraine, Kazakhstan… they love their Whitby Morrisons. In 2014 the company sold 20 ice cream vans to Azerbaijan.
When I turn up there's a Mondial Lusso adorned with Arabic script destined for Libya, its sound system poised to blare La Cucaracha over what remains of the country. It's the 13th van the customer has ordered since Gaddafi was toppled. "He takes them over the Med via Sicily, passing migrant boats coming the other way," says Whitby.
The owner will get much of his initial outlay back when he replaces them. After three years, the length of time most operators keep their new Whitby Morrison vans, a Mondial or Amalfi is still worth around 80% of its new price.
The company was founded in 1962 by Ed's grandfather, Bryan Whitby. A talented refrigeration engineer and coachbuilder, his first van featured the proud boast, 'Diploma quality ice cream'. Bryan's son Stuart, a former Rolls-Royce apprentice and the recipient of the rarely given WO Bentley award, shared his father's passion and together they developed a succession of top-selling ice cream vans, starting with the Bedford CF-based Whitby Black Roof of 1983. A variation based on the Mercedes T1 followed a year later. The relationship with Mercedes continues to this day, with Whitby Morrison favouring Sprinter chassis cabs for its new vans.
Future plans include a pure-electric ice cream van (expect it late next year). The company already does an electric conversion that allows the operator to power the soft ice cream maker from a remote electric power point rather than the diesel engine.
I take a tour around the factory where craftsmen and women (the firm employs 43 people) cut, mould, weld, drill, wire and paint. There are a few cranes and hoists dotted around but in the main it's skilled, manual work, making it a place which, if they ignored the vans' jaunty glassfibre ice cream cones and garish colour schemes, veterans of the old Rolls-Royce and Bentley works nearby would recognise.
My tour starts in the glassfibre-reinforced plastic (GRP) shop, where each van's body, freezer, water tank and sundry door moulds are produced. In the metal workshop the Sprinter chassis are prepared, and fridges, tanks and support structures fabricated.
We pause by a huge American ice cream van that's been shipped over from the US for essential work.
"We're constructing a drive system for it so it can power the soft ice cream machine," says Ed. "Believe it or not, a country the size of the US doesn't have that expertise."
In the refrigeration shop they're installing a Carpigiani ice cream machine, attaching the drive system to a van's engine. Ed is coy about the details of Whitby Morrison's unique direct drive system, and with good reason. Only a few years ago the company found itself the victim of an ice cream war when a rogue operator bought one of its vans and reverse-engineered fakes bearing Whitby Morrison's logo.
"We were tipped off by people in the industry telling us the customer had bought the new van with the intention of producing copies," says Ed. "The next thing, ads for the vans were appearing on social media."
The company hired an intellectual property lawyer. He discovered where the vans were being made and gathered evidence proving they were being faked. The lengths the fakers had gone to astonished Ed.
"They sold 30 fake vans, worth around £2 million," he says.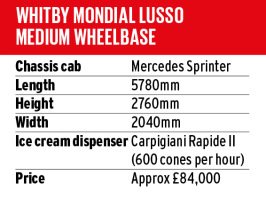 It was a huge loss to Whitby Morrison but there were concerns, too, about how unsafe the vans might be. The company sued the fakers and won and has since agreed with the vans' duped owners to upgrade their vehicles to its standards.
"No one should be buying ice cream from a fake ice cream van," says Ed. "We Brits are sentimental about our ice cream vans. Along with our two-week summers [this year's is an exception] they're an institution and eating an ice cream is a comforting experience. No one should be allowed to spoil that."
As I tuck into a 'test' ice cream fresh from a brand-new Carpigiani, I can only mumble in agreement. A
PHOTOGRAPHY Stan 'Mine's A Strawberry Mivvi' Papior
SOFT SELL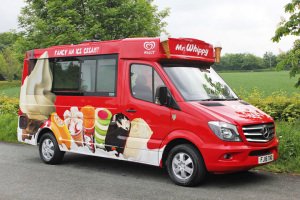 Forget the Ferrari Mondial, you'll have more fun — and make more people happy — in a Whitby Morrison Mondial Lusso. Highlights include a refined body design with sharper lines, a sports-style rear diffuser and an enlarged rear panel space. Add the optional integral camera system, LED lighting and illuminated rear louvre, and the Mondial Lusso has the makings of the perfect ice cream van.