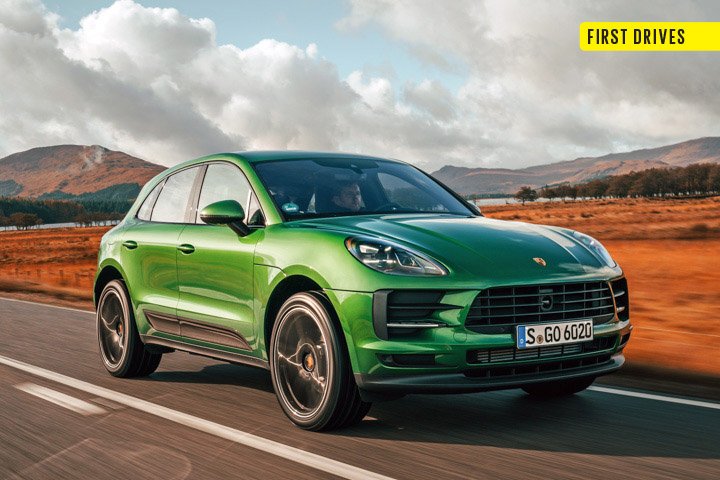 TESTED 15.10.18, SCOTLAND ON SALE NOW PRICE £46,344
The Macan has been the driver's choice in its class for four straight years. Is this new one about to make it five?
How important is the Macan to Porsche? I think the following, based on the most recent annual sales figures, answers the question nicely. Five years ago, Porsche didn't have a Macan: last year, it outsold not just the 911, the 718 Boxster and Cayman and the Panamera, but also all of the above, combined. Fully 40% of all cars made by Porsche in 2017 were Macans.
What's more, it's the gift that keeps on giving. Almost all cars follow similar sales curves through their lives: a sharp spike up when introduced followed by gentle decline as other, newer rivals become available. Not so the Macan. Launched in 2014, it has outsold itself in every consecutive year it has been on sale.
So you can imagine that the briefing pack for those charged with developing this new Macan came with a command on the cover not to cock it up. Probably in gold embossed letters. I can conceive also that when it came to signing off the budget for this second-generation Macan, the phrase 'don't fix what ain't broke' or its Swabian equivalent was wheeled out more than once. Which is why this new car plays it bullet straight.
This is the best-handling Macan I've driven and so the best-handling SUV there is
Unsurprisingly, then, the caris more refreshed than renewed. Visual changes – including the new wraparound rear lighting that has become part of the Porsche design motif, new bumpers and headlights, the grille and rear diffuser – are restricted to those than can be achieved without the massive retooling costs required for alterations to the body-in-white.
Inside, you'll find Porsche's new corporate architecture or, at least, most of it. Analogue instruments are replaced by a 4.8in TFT screen, while Porsche's 10.9in central touchscreen is now responsible for all information, navigation and entertainment functions. But it stops short of providing touch-sensitive panels for switchgear and continues to rely on buttons instead.
Porsche has also filled the car with the latest electronic refinements such as LED headlights, a 'traffic jam' mode offering far better low-speed cruise control in stop-start traffic, impressive-sounding 'swarm-based' traffic data and a dedicated off-road navigation app.
What you'll not find in this or any of the other Macans that will be introduced over the next year or so is any kind of diesel engine. Porsche has turned its back on the black pump despite the fact that the latest diesels are as clean as petrol engines, come with torque characteristics ideal for SUVs and have far better fuel consumption and 20% lower levels of C02 emissions. You might speculate that, post-Dieselgate, the suppliers to Porsche of such engines within the Volkswagen Group no longer enjoy the unquestioning confidence of Zuffenhausen, but I couldn't possibly comment.
Whatever the truth, the fact is that the absence of a diesel Macan when almost all its rivals remain faithful to the fuel is going to make its life harder, at least in the UK and mainland Europe, where diesel sales may be in decline but are still strong, especially in the high and heavy world of SUVs. Bear in mind, too, that unlike the Cayenne and Panamera, there will be no hybrid Macans in this generation to take up the slack. There will be a Macan S, with a 335bhp 3.0-litre V6 motor unrelated to the similarly sized engine in the outgoing car, and a 2.9-litre Macan Turbo with 434bhp (the smaller capacity due to a need for a stronger bottom end and therefore fractionally reduced stroke). Doubtless in time, there will be a GTS somewhere in the middle, too. But all that's for later.
For now, it falls to this, the bog-standard entry-level 2.0-litre petrol Macan, to appeal to as many former Macan diesel customers as possible. You might think this is the first time such a powerplant has been slotted under the Macan's bonnet, but the truth is that it has always been available, albeit very much as a minority interest, hitherto largely untrumpeted model. No longer: it now stands squarely in the spotlight, so much so that Porsche has decided to lead with it, rather than opting for the more typical top-down approach to launching a new car.
The engine is a VW unit, the same in most regards as that found in hot Golfs, except that whereas it produces 242bhp in the Macan, it can generate as much as 306bhp in a Golf. It seems strange for a VW to outscore a Porsche in this way, doubly so when you consider the near-100bhp gulf between it and the Macan S, but I expect the need to retain respectable fuel and CO2 numbers in the new, harsher WLTP test counted against fitting a more powerful engine. Bear in mind, too, that the 2.0-litre Macan is likely to be up to 100kg lighter than the 3.0-litre Macan S, which will offset the performance shortfall of the smaller engine to some extent.
And don't escape for a moment with the notion that the 2.0-litre Macan is a 'poverty-spec' model, a Macan in name and look alone. I drove it in prototype form almost a year ago and was surprised by how sprightly it felt even next to its six-cylinder brethren and now, in finished form, it surprised me all over again. Yes, it feels a little gutless at first, but only until you realise that the engine needs revs to do its best work and then twig how eager is its reprogrammed PDK transmission to provide them. Best of all, the 2.0-litre four is more aurally engaging than the old 3.0-litre six, ensuring that making the motor do its best work is a broadly pleasurable experience. Yes, it would be better if it were awash with torque from idling speed, but you can't deny the Macan makes the most of the tools it has been given.
Better still, you don't need to be anywhere near the limit to tell that no Macan ever steered more cleanly, or was as well balanced as this. To me, genuinely high-performance SUVs are quite frustrating things to drive fast, because although they can go honking down the straights, you still have to brake so early and corner so relatively slowly that it's hard to find a rhythm. By contrast, the Macan arrives at a lower speed and then needs to shed less of it, so its performance and chassis abilities seem nicely synchronised.
This, then, is the best-handling Macan I've driven and so the best-handling SUV there is. It would be an even better car in every important regard were it based on the latest, aluminium-intensive chassis platform, but the Macan was already so far ahead of its competitor set that this small but considered update keeps it where it needs to be as the automatic weapon of choice for those wanting the most enjoyable off-roader of its kind. And, yes, it is that, even with the 2.0-litre engine. No, it doesn't feel like a traditional and some would say proper Porsche sports car, but no SUV ever did.
For myself, I'd still prefer there to be a diesel option, but in its absence and weedy though it might look both on paper and under the bonnet, the 2.0-litre engine in the base Macan provides a credible, interesting and capable alternative.
ANDREW FRANKEL
PORSCHE'S QUEST FOR DYNAMIC GAIN
It would have been easy to just fiddle with the spring rates and damper settings and claim the Macan has had a dramatically modified chassis but Porsche, being Porsche, went rather further.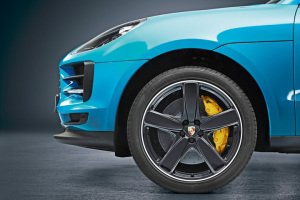 Most important to the chassis revisions are the fitment of aluminium uprights to the suspension, which reduce weight and, say Porsche engineers, increase steering precision, noise isolation and ride comfort.
Porsche has also revisited the steering system and provided new steering software in an attempt to make the car feel more positive off centre. It has made its new tungsten-coated brake discs available for the first time, too. These don't do much for stopping distances but do massively extend the life of the discs. Porsche's extant strategy for the Macan of selecting tyres of different widths front to rear remains in place.
PORSCHE MACAN
Evolutionary updates put the second-gen Macan even further ahead of the rest of the pack


Price  £46,344
Engine  4 cyls, 1984cc, turbo, petrol
Power  242bhp at 5000rpm
Torque 273lb ft at 1600rpm
Gearbox 7-spd dual-clutch automatic
Kerb weight 1795kg
0-62mph 6.7sec
Top speed 140mph
Economy 34.9mpg
CO2, tax band 185g/km, 37%
Rivals BMW X4, Jaguar F-Pace, Mercedes-Benz GLC