[metaslider id="23041″]
Tested 27.9.17, WILTSHIRE On sale NOW Price £99,291
Wind of change blows hard, and not just into the 542bhp 
twin-turbo V8, for the all-new

Cayenne's range-topper

Usually, it doesn't take long with a car's direct replacement to figure out where its manufacturer is going with it. Sometimes the brief is clearly 'the same, just better' but often you'll come across cars that try to be more sporting than those they replace, more spacious, more luxurious, more… Well, you can insert your own adjective. The list is long. What's rarer by far is a car that actually sheds light on how the entire brand it represents wishes to be perceived.

But the new Porsche Cayenne is one of those cars, and none more so than this essentially £100k range-topping Turbo. This is the third all-new Cayenne since the model first scandalised Porsche purists in 2002, before swiftly outselling all other Porsche models put together and turning Porsche into the most profitable car company on earth. But this Cayenne won't be Porsche's best-seller, for it is the first to be born in the PM or, specifically, 'Post Macan' era. The Macan now does so many of those things that only Cayennes used to do that the time has come for the latest range of Cayennes to find new roles for themselves. And the flagship of the fleet is this new Turbo.

But before we get into what it does, let's first just pause a moment and consider exactly what it is. After the Audi Q7 and Bentley Bentayga, it is the third full-sized SUV from the Volkswagen Group to sit on the MLB hybrid steel and aluminium platform. But it is the first to use its short-wheelbase form, with fully 100mm less between the front and rear wheels than its stablemates. Compared with an old Cayenne, it is a little longer, wider and lower. Model for model, a new Cayenne will be on average 60kg lighter than the one it replaces although, at 2195kg, there's still a whole lot of car to control here.
"It has a knack for finding grip when all logic tells you there should be none"
Compared with the old Cayenne Turbo S (the only Turbo still technically on sale), the new car has a brand-new 4.0-litre twin-turbo V8 in place of a comparatively ancient 4.8-litre unit. The new engine has 542bhp and 567lb ft, which is pretty impressive when you consider that even in Turbo S form, the old engine had only 20bhp and 22lb ft more. The new S will likely be up around the 600bhp mark. What's more, the new Cayenne Turbo matches the old Turbo S's 0-62mph time to the tenth and beats its top speed by a single mile per hour, not bad when you consider the new car is more than £21,500 cheaper.
This engine is also found in the new Panamera Turbo but, crucially in the Cayenne, it's connected to a new eight-speed ZF automatic gearbox and not a dual-clutch transmission, so preserving the 3500kg towing capacity of the old Cayenne with its Aisin-Warner gearbox. Torque is sent to all four corners with an effectively infinitely variable front to rear split, although it does so through Porsche's own system of clutches and not the Torsen differential favoured by Audi and Bentley. Porsche says its approach is lighter and quicker.
Air suspension is standard on the Turbo and provides three chambers per corner, another area in which Porsche has paddled its own canoe. The result: faster-reacting springs with a wider range of operation, at least according to Porsche. It does, however, also adopt the 48V active anti-roll bar system that allows said bars to all but eliminate roll in fast corners yet become effectively uncoupled in off-road situations for maximum rock-hopping traction.
Open the door and you are presented with a stunningly clean driving environment. Almost all the switches of the old Cayenne have been replaced by pressure-sensitive areas on the facia that are jet black and invisible when not in use. They fit perfectly with the enormous TFT screens on which the information they summon is displayed. As you might imagine with a car of such fiendish complexity and one capable of offering a brain-boggling amount of information on a wide range of subjects, it takes a lot of learning and even then can often require considerable ferreting about before you find what you want. For many mainstream functions, it's often easier to use spoken commands.
The interior package itself is similar to an old Cayenne's. There's a more sloping rear roofline but a slightly lower seating position has preserved head room, although leg room is not dramatically better than that offered by a Macan. However, the boot is usefully bigger even than the old Cayenne's.
Anyone who has driven a previous Cayenne Turbo will know the 4.8-litre engine was one of the most characterful forced-induction motors on the market. The new one is not like that. It's distinctly quiet by comparison, and even when it gives its all, its voice is quiet and cultured. Some may like these more sophisticated manners. Others will miss the old car's uninhibited vocals. But no one will doubt the performance: this is a ferociously fast machine whose acceleration is somehow all the more remarkable for the car's refusal to shout about it. In my experience, only the Bentayga makes you as aware of the physical forces required to accelerate that much mass at so preposterous a rate. And you lose nothing by not having the dual-clutch transmission: the new ZF is so good that it appears to give entirely smooth and seamless changes from rest to whatever speed you think your licence will withstand.
It's not just quick in a straight line, either. The problem with large ultra-powerful SUVs is that they tend not to carry speed, meaning that the disparity in performance in a straight line and through a corner is probably greater than in any other car. This means in turn that you are always shedding and then recovering speed, not always to the comfort of your passengers. But the Cayenne suffers less from this than any rival because it has a knack for finding grip when all logic tells you there should be none. Most of the time, its poise comes from body control I've not felt bettered by any similar car. The combination of those three chamber springs and the active anti-roll bars manage the mass of the car almost absurdly well, and if you press on even harder, you feel the four-wheel drive starting to work overtime, too. Instead of just scrubbing off speed in messy understeer or summoning the safety systems to save you from yourself, it just starts shuttling great gobs of torque to the four corners of its world in any proportion that will allow the car to bite back into the apex. And it does so brilliantly.
But there's a catch. For all of its entirely successful efforts to ensure the Cayenne is devastatingly fast across country for a two-and-a-bit-tonne SUV, Porsche has left the driver more amazed by than engaged in the process. Clearly, we have all to manage our expectations when it comes to aspects like the amount of steering feel likely to be provided by a vehicle so high and heavy, and had this model line not had previous form, perhaps I'd not have noticed so much. But the old Cayenne always found a way to involve the driver more, put him or her on the stage and not in the stalls, and for all of its additional abilities, it is this less easily quantified aspect that has been slightly but significantly downgraded. Bluntly, it feels less like a Porsche. Interestingly, a recent drive in a pre-production base-spec 3.0-litre petrol Cayenne on steel springs revealed a car that is far more involving and communicative, albeit one that rides very, rather than outstandingly, well. (Turbos all have air springs as standard, remember.)
Does the Turbo's slightly aloof nature matter? To many, most even, clearly, it will not. What will count for far more is the car's new-found capabilities, its superb interior, outstanding refinement and the fact that it both looks like a Porsche and goes like one, too. That it feels a little less like one really will be neither here nor there. The price may have gone up five grand from that of the old Turbo, but when the result is as quick as a current Turbo S (and likely far quicker point to point) and is so improved in its looks and capabilities, the value is not hard to see.
"The engine is so much quieter, the ride so much better and the handling even more capable"
Even so, there is a broader point to make here: the point about what this car says about the Porsche brand, alluded to at the start of this review. And, to me, it adds further evidence to that already provided by the new Panamera that Porsche wants to be considered as much for the luxury look and ambience of its five-door cars as their sporting endeavours. For the Cayenne, this also makes a virtue out of the necessity to move up and away from the Macan. More than ever, the Cayenne in general and the Turbo in particular is a car for those who'd like to buy into the image of a Porsche but not the traditional feel. They want to be seen in a Porsche but don't necessarily want one that drives like a Porsche. That's why the engine is so much quieter, the ride so much better and the handling even more capable but less involving.
It's a sensible trade-off to make. I might lament the slight softening of its stance, but in the world of the SUV, it's probably more important to be effective than entertaining, and point to point, the Cayenne Turbo is the most effective full-sized SUV I've driven. So long as the profits it makes continue to mean that Porsche remains able to invest in engineering world-class drivers' machines as well, I for one will not be complaining.
ANDREW FRANKEL
BRAKING NEWS: THE BALLPOINT PEN LINK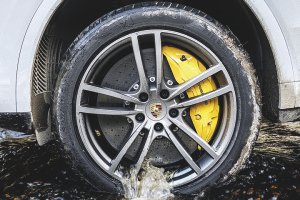 PSCB might sound like an initialism for shell shock but it's actually a new brake system that's standard on the Cayenne Turbo and optional on lesser models. Called Porsche Surface Coated Brake, it refers to a layer of tungsten carbide applied to the surface of the otherwise standard iron brakes. If this material sounds at all familiar, it is because it's also used to make the balls of most ballpoint pens.
Porsche says the advantages include better braking performance and resistance to fade and extended disc life. It also means that if you park your Cayenne somewhere damp for a week or two, you won't find that surface corrosion has welded your discs to your calipers, which is always handy.
Cars fitted with PSCB brakes will all come with white painted calipers, although those looking for ultimate braking performance will still need carbon-ceramic items, whose calipers remain painted yellow.

Tester's Note
The Cayenne Turbo is the first SUV with an adaptive roof spoiler. In an emergency stop from 155mph, it brings the car to rest fully two metres sooner than would be possible using the brakes alone. AF
Porsche Cayenne Turbo
Trades a little charm for a lot of wide-ranging, deep-seated ability. A genuinely world-class SUV



Price £99,291
Engine V8, 3996cc, twin-turbo, petrol
Power 542bhp at 5750rpm
Torque 567lb ft at 1960rpm
Gearbox 8-spd automatic
Kerb weight 2175kg
0-62mph 4.1sec
Top speed 177mph
Economy 24.1mpg
CO2, tax band 267g/km, 37%
Rivals Mercedes-AMG GLE 63S, Range Rover Sport SVR