[metaslider id="23207″]
Gordon Murray, designer of McLaren's F1, is applying the same ideas to a coupé
Plans for a new ultra-compact, high-performance coupé that uses McLaren F1 design principles, reinstates Gordon Murray's original IGM car brand and showcases a 'Superlight' version of his iStream manufacturing process have been unveiled by the designer at an exhibition to mark his first 50 years of creating cars.
The low-volume fixed-head two-seater is believed to be about the same size as the Smart Roadster that Murray has always seen as optimum in terms of proportions. The car will be built by Murray's own team as a flagship for a new manufacturing business, Gordon Murray Automotive (GMA). It will use the latest materials and processes and be built with Murray's typically fanatical attention to detail. No price or launch date has been announced yet, although Murray is understood to have at least one driving prototype.   
The new coupé is believed to be a transverse mid-engined design with a spacious cabin and generous front boot, despite its compact exterior. Murray says the new Superlight iteration of iStream replaces some tubular steel components with lighter, high-strength aluminium sections. The coupé's body-in-white is claimed to be around 50% lighter than a conventional stamped steel structure.
The new coupé could use a small-capacity three-cylinder turbo engine of about 150bhp, driving the rear wheels via a six-speed manual gearbox, with all-disc brakes and newly designed all-independent suspension.
Its likely 140mph performance flows from a combination of low weight and advanced aerodynamics, including a fully functioning rear diffuser. A teaser image (above) also shows a roof-mounted air scoop, reminiscent of previous Murray-designed sports/racing cars that collected air that way to feed the turbo and cool the engine bay.
Murray built a Sports Ride concept along similar lines for Yamaha to take to the 2015 Tokyo motor show. The firm showed the car with a body of its own design and has since said little about the project.
The IGM brand – whose initials stand for Ian Gordon Murray, the designer's full name – was coined for Murray's first car, a roadster he built and raced in South Africa in his teens. The new coupé and all future IGM cars will have a redesigned version of the logo Murray first drew for that car.
Murray is believed to be keener now on bringing his own designs to life in small batches, using both the IGM badge and those of selected clients.
Murray's 50-year exhibition, labelled 'One Formula' like the book that will follow, is an invitation-only event featuring around 40 of the 50 Murray designs so far built. Highlights are the Brabham BT46B 'fan car' and the 1988 McLaren MP4/4 in which Ayrton Senna scored his first Formula 1 victory. A sidelight to the official line-up is 'Gordon's garage', a selection of the designer's own cars and motorcycles, including a Honda S800 and Abarth 750 Zagato.
The event's other purpose is to introduce visitors to a new headquarters for GMA, the new manufacturing company. The original business, Gordon Murray Design, will stay in Shalford, Surrey, for now.
STEVE CROPLEY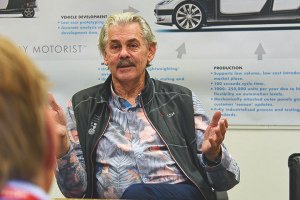 Q&A: GORDON MURRAY
What will your new IGM flagship be like?
"It'll go against current trends to an extent, though not in technology terms – that'll be right up to date. But it'll be a pure driver's car. I feel supercars have lost their way to an extent recently by getting bigger, heavier and more complex. Our car will get right away from all that."
When will the new IGM sports car go on sale?
"I have no idea. I've asked the guys not to put me under pressure. We have other pressing projects and clients. We have an outline plan but our ideas are still developing. It'll come when it comes."
Will it be a new design?
"It will, in the sense that we'll design it all, but our plan is to offer a variety of iStream platforms to clients, both OEMs and start-ups, and we may choose from time to time to put our own top hat on one. We'll probably need to finance the first IGM car from a standing start, but after that the cars we build in small batches will be made economic by volume usage of our platforms."
Can you give us an idea of cost?
"Not really. But we won't be aiming specifically at the rarefied atmosphere. We want our success at making platforms in volume to help us keep prices sensible."
How will you sell the IGM cars you make?
"They'll sell directly, from our new Dunsfold HQ. They'll all use our new iStream Superlight process."
THINK BIG, BUILD SMALL
STEVE CROPLEY
Gordon Murray could hardly have chosen a better first application for his iStream Superlight car-making process than a tiny but spacious coupé. No chassis design better delivers rigidity while saving weight and especially space. Compared with iStream, conventional spaceframe or box-section chassis forms have cramped interiors and door apertures, less luggage space and a bigger road footprint.
The fact that the new IGM coupé appears to have unusually large doors and windows, which would normally pose a threat to a structure's rigidity, will hardly matter in a car whose rigidity is delivered by composite panels bonded to tubular chassis 'foundations' made, in this case, of aluminium.
It sounds simple, iStream, but that doesn't stop it being revolutionary.