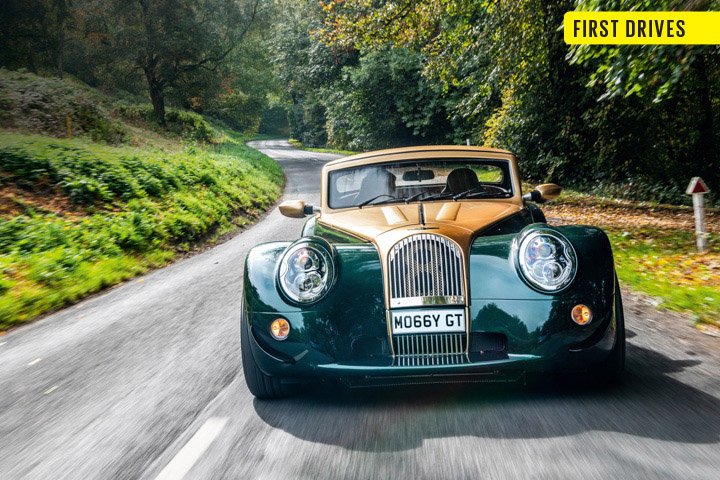 TESTED 5.10.18, WORCESTERSHIRE ON SALE SOLD OUT PRICE £144,000
Aero 8's swansong is a limited-run GT with harder-edged looks, a V8 that delivers endless torque and a soulful soundtrack
At any speed in any gear, a Morgan Aero doesn't so much rouse the deceased as haul them out of the ground by their metatarsals. Presumably, the good people of Malvern are now accustomed to this kind of ruckus. Morgan has been hand-building cars in this corner of Worcestershire since 1909 and has been using a BMW-supplied V8 engine for its most serious models since the supply from Rover began to dry up around the turn of the millennium. It really is devastatingly loud in this application, firing pavement-bound pulses from a pair of side exhausts and with enough torque to turn fourth gear while trundling along at only a whisker quicker than walking pace. You can open the throttle early and wide for a locomotive chug-chug-chug that's just so addictive.
And yet this, for all intents and purposes, is the last time those residents will get to enjoy (or decry) such a sound, at least from a freshly constructed car. This year, the deal with BMW ends, and although Jaguar's name has been mentioned, a new supply line of big, juicy engines is yet to be established. Truth be told, it might never materialise, the V8 to be usurped by a V6, and with no successor planned for the flagship Aero 8, that makes the Morgan you see before you rather special.
It's called the Aero GT, this one being the last of a run of only eight 'gloves off' cars, as Morgan puts it. Each costs £144,000 but the sky is the limit in terms of customisation, with the handful of owners individually invited to the Malvern Link works to meet chief designer Jon Wells and create something unique. Although both are actually Lamborghini hues, the green and gold livery of this example is inspired by the ash-framed Aero Super Sport cars prepared by former grand prix hero Jacques Laffite for FIA GT3 racing a decade ago. Dazzling? Just a bit. An Aventador would struggle to hold the limelight next to one of these; and a Huracán might as well not exist.
Speed seems such a trivial matter when you're at the wheel of an Aero GT
Look closer and you'll clock aggressive aero, which most noticeably differentiates these models and which the GT wears in the manner of a Kalashnikov-carrying librarian. Louvres cascading down the hydro-formed aluminium wheel arches are redolent of that other brutish Brit, the TVR Sagaris, and there are dive planes in the front bumper, with further pressure-relieving cut-outs behind the gold-painted rear wheels. There are circular vents in the trailing edge of the removable carbon roof – to these eyes, a superb nod to history – but the coup de grâce is a carbonfibre diffuser cut high into the tapered rear bodywork. Morgan insists the changes are functional, with their roots in the development work done during the 2015 redesign of the standard Aero 8.
What hasn't changed is the driveline or the mechanical underpinnings. Given Morgan places a £50,000 premium on the GT over the Aero 8, that should raise a few eyebrows, but it remains a mouth-watering set-up, so bear with. That naturally aspirated 4.8-litre N62 BMW engine delivers 367bhp and 370lb ft exclusively to the rear tyres through a six-speed manual gearbox and a mechanical limited-slip differential also of Bavarian origin. All this in an aluminium bonded and riveted chassis weighing a mere 1180kg without fluids. Only Lotus does similar. Meanwhile, at each corner, you'll find manually adjustable dampers and AP Racing brakes.
Out on the road, the GT goes about its business as Aeros do. The engine is closer to your kneecaps than it is the front axle, and that axle seems leagues away from your hands, which in this case rest on a low-slung Moto-Lita wheel with a lovely alloy boss and spokes that match the heavy-set gearknob. This car's Tillet carbon seats (as featured on the quickest Caterham models) are padded out with quilted leather and feel as though you could barely slide a deck of cards between their base and the floorpan. Straight away, the GT feels unusually reassuring simply to be in – certainly compared with the aloofness of more sophisticated rivals – and although there's little scope for flailing elbows, head room won't be a problem unless your place of work is a basketball court.
This last-of-the-line Aero is also beautifully finished. Those who've not sat in a Morgan for some time will be surprised, even if the clock is inexplicably positioned where you'd expect to find the passenger-side air vent and not all of the grain of the wooden trim aligns flawlessly. There's also no infotainment to speak of but third-party navigation systems and the like can be charged via a USB port in the glovebox.
Morgan claims these cars will hit 62mph in a modest 4.5sec but speed seems such a trivial matter when you're at the wheel. The gearing is short, the throw positive and the steering resistive, so there's plenty of work to do – and satisfaction to be had – even if you're not out to set records. Likewise, mere tendrils for A-pillars and an abundance of glass always exaggerate one's sense of progress, so while 467bhp would be welcome, it simply isn't necessary. In any case, you could just as easily slot yourself into fourth or even fifth and surf along all day on this engine's bottomless well of torque. And that's key. Despite the visual aggression and the busy low-speed ride, the Aero GT still feels a longer-legged beast at heart. The ethos remains that of a swashbuckling express, not a razor-edged sports car, and on balance Morgan was right to preserve that.
Roll up your sleeves and you'll discover a car that's startlingly, thuggishly quick point to point, albeit with a few substantial caveats. There's a resistance to bump steer that's a galaxy away from Morgans of old, but anybody coming from a Porsche 911 or Aston Martin Vantage will find the steering not only fussy but also indirect and the suspension a touch under-damped. Not, perhaps, to the extent that it saps your confidence, but enough to at times get in the way of the fun. Peeling that crocodile's cranium of a snout into tighter corners also requires care to avoid overloading the otherwise excellent 225-section Continental SportContact6 front tyres. Contrarily, unless you're throwing the kitchen sink at it, traction at the rear axle is absolute on the way out of such bends (Okay, so maybe 467bhp would be nice). Medium-quick, flowing direction changes are the best. In fact, they can be downright joyful with such a supple, balanced, hip-swingin' chassis beneath you.
Ultimately, this is an imperfect but infinitely likeable sports car, and with it, Morgan's 20-year challenge to Aston Martin, Bentley and Mercedes is put out to pasture. But this most extreme, extroverted and rare model also points to the marque's future. In 2018, the factory built fewer cars than during the previous year but turned a more meaty profit. The answer was customisation and, in this respect, the final Aero is proof that a stable future with less numerous but increasingly individual cars built to more exacting standards is viable. That's not an insignificant legacy for a run-out special, particularly for one as lovely as the Aero GT.
RICHARD LANE

WILL THERE BE ANY NEW V8 MORGANS?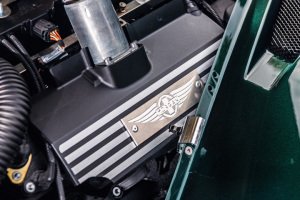 Eight Aero GTs and 50 examples of the Plus 8 50th Anniversary Edition might be the last time we see an eight-cylinder engine in the featherweight body of a Morgan. BMW's atmospheric V8 has never been the most expressive device of its kind, but its rich, bassy and heroically loud soundtrack has nevertheless become a defining feature of the quicker Morgan models and will be missed.
If Morgan decides there is a future for a V8 in addition to the downsized V6s and possible electrification (see news, 24 October issue), Jaguar's 5.0-litre unit seems a reasonable option. Supercharged to more than 500bhp – and more soulful than its German counterpart – it seems ideal for Morgan's future big-hitters.
MORGAN AERO GT
Swansong for the naturally aspirated Aero 8 delivers all the theatre you expect, and more


Price  £144,000
Engine  V8, 4799cc, petrol
Power  367bhp at 6300rpm
Torque 370lb ft at 3400rpm
Gearbox 6-spd manual
Dry weight 1180kg
0-62mph 4.5sec
Top speed 170mph
Economy 23mpg
CO2, tax band 282g/km, 37%
Rivals Bentley Continental GT, Porsche 911 GT3 Touring