TESTED 13.6.18, Germany ON SALE NOW PRICE £36,325
Its 1.5 engine will please the taxman, but what about the driver?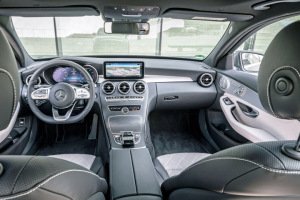 Facelifts: there are light ones, heavy ones and those that look light but are, in fact, really rather heavy. The fourth-generation C-Class has undergone one such facelift, with around 6500 parts – half of the car's overall tally – replaced or modified in preparation for battle with BMW's next-generation 3 Series and an updated Audi A4. There's a new digital instrument binnacle, a 12.3in infotainment display as part of the £2795 Premium Package, the exterior design is more expressive (it's pretty marginal) and you can option adaptive headlights made up of 84 rotating LEDs. All in, Mercedes' junior saloon is as pretty as it ever was.
Driven here is the C200. While it won't constitute the bulk of C-Class sales (that'll be the 220d, which in entry-level SE spec is the £33,295 backstop of the range), it is arguably the most interesting car in the line-up, not least because under the bonnet is a downsized 1.5-litre four-cylinder petrol engine. It features twin-scroll turbocharging for greater torque at modest crank speeds, and the cylinder bores have been pared back at their bases to reduce friction while preserving a tight seal. Simple but clever. There's also the significant matter of a belt-driven starter-generator running off a 48V electrical system. It's the latest application of Mercedes' 'EQ Boost' mild hybrid technology and supposedly yields the performance of the old 2.0-litre engine but with much less of a real-world thirst.
This is a good engine in practice, too, even if it's a little more vocal than you might expect. The electric element is succinctly integrated, and the engine shuts down completely and seamlessly while you coast.
Meanwhile, the nine-speed automatic gearbox shuffles its glut of ratios with adequate dexterity if your only intention is to make relaxed progress. Push on and, despite its inherently good balance, the C200 cuts a disappointingly strained figure, so those in a hurry should look first to the 2.0-litre C300. It has 254bhp but forgoes electrification for combined fuel economy of 41.5mpg to the 44.1mpg of the car driven here. That's a worthwhile trade-off, although because of a crucial disparity in carbon dioxide emissions, the taxman gazes rather more favourably on the smaller-engined car – as long as you don't go for the 19in wheels.
RICHARD LANE
MERCEDES-BENZ C200 AMG LINE
Impressive in isolation but difficult to justify next its more frugal, torque-rich diesel sibling


Price  £36,325
Engine  4 cyls, 1497cc, turbocharged, petrol
Power  181bhp at 5800-6100rpm
Torque 207lb ft at 3000-4000rpm
Gearbox 9-spd automatic
Kerb weight 1490kg
0-62mph 7.9sec
Top speed 146mph
Economy 44.1mpg
CO2, tax band 151g/km, 31%
Rivals BMW 320i, Audi A4 2.0 TFSI