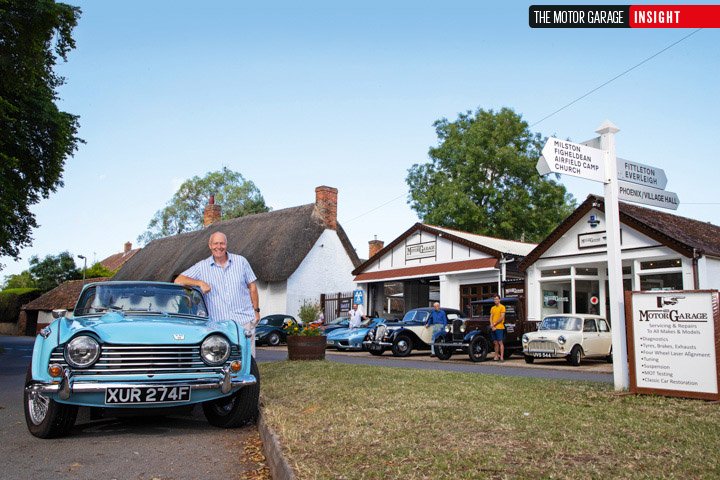 City lawyer James Russell resurrected a run-down village garage and turned it into a thriving local business. John Evans pays a visit
If you think looking for a village pub is hard work these days, try finding a village garage. Although some are thriving and valued by their customers, you don't have to go far to find others that have closed, either forced out of business by rising costs and changing consumer habits, or encouraged to do so by property developers waving a blank cheque.
One such garage is fighting back. Called The Motor Garage, it's in the Wiltshire village of Netheravon, once home to a bustling wartime RAF base but now the kind of place commuters prize for its quiet living and easy access to major centres.   
I found it by chance when, driving along the A345 Salisbury to Marlborough road, I saw an old 1930s Morris Cowley pick-up advertising its presence. The business had clearly gone to some trouble to promote itself, so I thought I'd take a look…
We put being dependable and trustworthy above everything
Fast forward a few weeks and I've returned to The Motor Garage, this time with photographer Jed, to meet its visionary owner and dedicated staff but, even more excitingly, its supporters and customers whose cars represent some of the key decades during which the business operated under its previous owners, beginning in the early 1920s.
James Russell, its current owner, has taken the day off from his job as a leading City solicitor ("I must be the only MOT test station-qualified lawyer," he tells me) to show me around and introduce me to the staff that are crucial to its success. They're having a barbecue later to celebrate their youngest technician, born and bred in Netheravon, passing his technical exams to become a fully qualified mechanic.
It's not all been burgers and ketchup, though. James and his father bought the garage in 2013 after it closed, following a long period of decline. It might have been bulldozed to make way for more executive homes, but the owner was determined to sell it to someone dedicated to reopening it and making it a success.
As a committed car nut – he restored his first car at 15 and while at university took evening classes in welding and fabrication – James was the obvious choice. His vision was of a garage servicing and repairing all cars, classics as well as modern, and serving as much of the local community as possible.
"It was important we weren't seen as an expensive classic car garage," he says. "It had to be a garage you felt you could bring your three-year-old car to for servicing and an MOT. As things have turned out, our core business is mainstream cars out of warranty and privately owned."
The first few years were tough, with James having to suspend his legal career and commit himself exclusively to the business. Winning the trust of the village was key.
"People talk, especially if you foul up," James says. "We put being dependable and trustworthy above everything. As a solicitor, for me, honesty is crucial."
Under him, turnover of the modern car side of the garage has doubled and this July was its most profitable month. Key to its success is the team, among them Dewi, an engineer and former army helicopter mechanic, and Shep, MOT tester, ex-Jaguar, Triumph and Rover technician, racing enthusiast and a man keen to get stuck into any classic car.
"I just love working on the old stuff!" Shep tells me from under the bonnet of a 1950 Ford Pilot V8.
Another is Macaulay, who has served his apprenticeship at The Motor Garage and whose recent elevation to qualified tech is to be celebrated later that day.
Tim, well-versed in the modern stuff; Pete, a classic car tech; Greg, an expert in Jaguar engines; and Vicky, whose father worked for famous racing driver and team owner John Coombs, complete the line-up.
Among the garage's band of supporters and customers who have turned out to welcome us is Tony Gee, 75, here in his Morris Minor. The fact that it is his only car is surprising enough, but what forces me to seek out the nearest chair before I fall over is that he bought it new, in 1967.
"I've never owned another car," he tells me. "It's done 400,000 miles."
It looks mint mainly because, once a year, Tony removes the panels to check and replenish the undersealing. He used to do all
the servicing himself but now the garage looks after it.
Listening intently is Ken Jarman. The 93-year-old has brought along his immaculate 1951 Riley RMA 1.5. It's taken him five years to restore.
"I had a little help from the garage but most of it was my work," says Ken. "When I retired in 1983, I enrolled at technical college to learn welding and furniture restoration so I could restore old cars. I found the Riley in a garage in 1988. It had been painted in red oxide, which had kept the rust at bay. The wooden body frame was rotten but I was able to restore it to as-new condition."
Allan Wood, 54, a company chairman during the week but enthusiastic "builder of things" at weekends, has turned up in his Triumph TR4, while his son Sean has brought along another of the pair's recently completed projects: a 1962 Mini 850, mildly reworked to look like a 1959 model. Father and son are currently reconstructing a 1952 Jaguar XK120 by hand, following the original technical drawings to the last detail.
Bringing the garage's forecourt more up to date is Steve Hooper, 63, a garage owner himself and – "longer ago than I care to remember" – a former Ferrari Maranello apprentice. He and a friend have come from the village in two of Steve's cars: a 53,000-mile Maserati 3200 GTA registered in 2000 and a rare 2001-reg Ferrari 360 Spider manual.
"Against all the odds, James and his team have breathed fresh life into the old garage," he says. "It's great news for the local community."
As James and his assembled mechanics return to their tasks and as Vicky books in another customer, it's impossible to disagree. A
PHOTOGRAPHY JED LEICESTER
A CENTURY OF SERVICE

Okay, The Motor Garage isn't quite 100 years old, but owner James Russell reckons it goes back to the early 1920s when it began as a vehicle workshop based in a shed which was hauled out of RAF Netheravon. It was attached to the old post office and the first vehicles the mechanics worked on were GPO vans. Soon, hand-operated petrol pumps were installed on the forecourt. What is the reception today was, for years, a draper's store – a village business that hasn't survived.
Today, The Motor Garage is a hive of activity. Old classics and modern motors rub shoulders, metal chests overflow with tools, skilled techs scrutinise diagnostic machines one moment and plug gaps the next.
"Traditional village garages are few and far between these days," says James. "We're just happy we've turned this old place around."