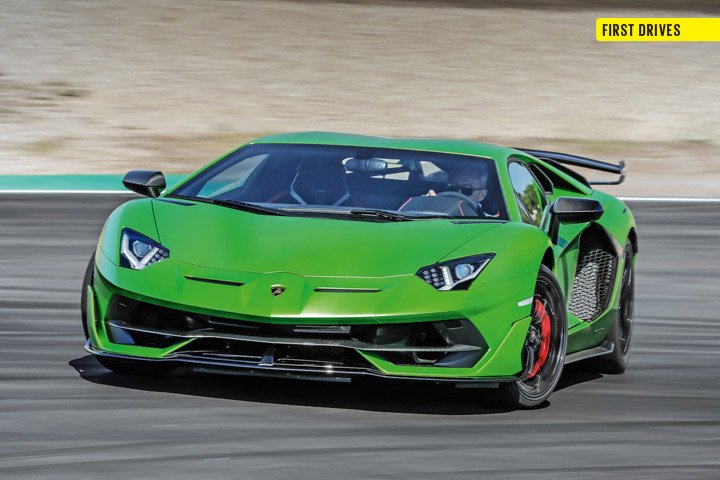 TESTED 17.9.18, PORTUGAL ON SALE NOW PRICE £360,000
Explosive, limited-run supercar turns absolutely everything up to 11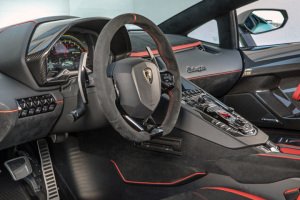 As I write, a number of Lamborghini Aventador SVJs are, a few yards away, belting along the main straight at Estoril circuit. The noise is more race meeting than track day, something rare in the world of production cars.
There are still other naturally aspirated V12s, but none in the same setting as this. There's a figurative and literal exhaust length difference between a super-GT and the original supercar. The Aventador will never be 'so what'. Then there's the 6min 44.97sec lap of the… well, you know where. It achieved that lap time by being more powerful, lighter, more aerodynamically clever, dynamically tweaked and having more grippy tyres than ever. The full engineering gamut.
The 6.5-litre V12 has titanium inlet valves, a lighter flywheel, less internal friction and an 8700rpm limiter and now makes 759bhp at 8500rpm. More important, though, peak torque on the SV was at 5500rpm and tailed off rapidly; the SVJ makes more torque through the entire rev range, with its 531lb ft peak arriving at 6750rpm and staying flat.
With lighter wheels and some lighter panels, this is a 1525kg car (dry), but given a fuelled Huracán Performante was 200kg more than its claimed dry weight when we put it on our scales last year, you can imagine where this will end up.
As for the chassis, springs are unchanged, but dampers and anti-roll bars are stiffer, the torque split is typically 3% more biased to the rear and there's active rear steer.Plus there's more improved aero, including second-generation ALA (Aerodinamica Lamborghini Attiva). The system can push turbulent air out beneath the rear spoiler, to stall it, thus reducing downforce and drag. The airflow can be split from left to right so that during cornering the SVJ will create more downforce on the inside of the bend, which keeps the body flatter and helps turn-in.
The biggest track performance difference is the option of race-derived Pirelli P Zero Trofeo tyres, rather than Corsas.
The SVJ is fast in the old-fashioned, brutal way. What might be the world's greatest production engine is exceptionally urgent and feels no slower to me than the recent crop of hypercars. It's mated to a single-clutch gearbox, which is often as terrible as you'd expect. But put the car into Corsa mode, which also puts the dynamic steering into a constant rather than variable ratio – so you absolutely should – and it punches through shifts at a satisfying rate.
At nearly five metres long, the Aventador is a big car and Lamborghini figures it'll want all the help it can get to feel agile. So the SVJ's rear steer ends up discouraging you from trail-braking to aid turn-in because it's so effective itself. In fact, try it and you're almost guaranteed to be winding off some of the lock you've just applied. It's not always the most natural-feeling way to go in to a corner, but it's hugely effective. Corner exit is, in Corsa mode, pretty neutral, but leave the car in Sport and it's more rear biased. Either way, in terms of all-round capability as well as straight-line speed, this is a top-league supercar/hypercar.
Given that, given the interior is laden with carbonfibre – as is the construction – and given the level of aero and handling tech, that it arrives costing £360,000 makes it look almost sensibly priced compared with some cars with similar power.
Sure, the transmission is an antique and the engine doesn't have any fancy hybridisation, but the V12's simplicity is almost worth a premium for that reason alone. The speed, the drama, the capability and the sound are a combination you won't find anywhere else. And I can't help but like that.
MATT PRIOR
An unintended consequence of the central pillar for the rear spoiler: rear-view mirror visibility is precisely nil. MP
LAMBORGHINI AVENTADOR SVJ
When all around are going soft, the Aventador howls unfashionably but lovably into an unforgiving future


Price  £360,000
Engine  V12, 6498cc, petrol
Power  759bhp at 8500rpm
Torque 531lb ft at 6750rpm
Gearbox 7-spd automated manual
Dry weight 1525kg
0-62mph 2.8sec
Top speed 217mph
Economy 14.4mpg
CO2, tax band 452g/km,
Rivals Ferrari 812 Superfast, McLaren Senna