Sports car of the future showcases tech developed with MIT labs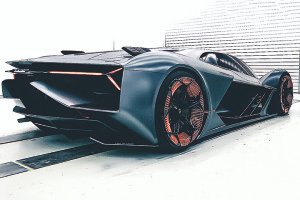 Lamborghini's 'super sports car of the future' has been revealed, with power coming from four in-wheel motors giving electric four-wheel drive and torque vectoring capabilities.
The Terzo Millennio – meaning third millennium – showcases Lamborghini's future technologies, which it is developing with the Massachusetts Institute of Technology (MIT). The partnership, which aims to accelerate advanced electrification and performance-car tech, was announced last year.
The first innovation developed by Lamborghini and MIT is the car's energy storage system. Structural components double up as the car's battery pack to help shed weight.
The second technology relates to alternative production processes that give the car's carbonfibre body 'self-healing' properties.
Sensors will enable the car to monitor the structural integrity of its own bodywork, detecting damage and cracks. The car can then self-heal, thanks to chemicals in the micro-channels of the carbonfibre bodywork.
A third area of planned innovation, which Lamborghini is developing without MIT's assistance, is an kinetic energy recovery system (KERS) akin to that used in an F1 car. This harvests energy generated from braking and puts it back through the drivetrain for increased power and efficiency. Lamborghini did not reveal how much power or torque the four in-wheel motors or the KERS system could produce.
The design of the car is of particular importance too. Lamborghini's use of bodywork as the battery pack housing and in-wheel motors means that the car's structure can be honed for aerodynamics, rather than positioning drivetrain and battery components low down.
Some of car's technology previews that will be used on the next Huracán, which will be a plug-in hybrid.
One area for further development, Lamborghini says, is the noise that the car should make. Wanting to stay loyal to the high-revving V10 and V12 engines it currently uses, the brand is weighing up how to tackle the relative quietness of electric motors.
JIMI BECKWITH