Refreshed compact executive saloon looks to restore faith in Jaguar's assault on a class dominated by Germany's premium-badged big-hitters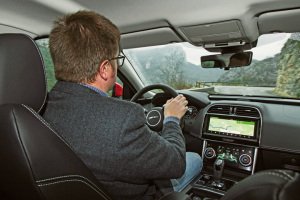 Jaguar is a car maker so instinctively associated with saloons that it's near impossible to imagine a future for the firm without them – and yet I bet there are plenty of product strategists at the company's UK headquarters who are being paid to do exactly that.
Right now, Jaguar's more traditional executive four-doors just aren't doing enough business, and with pressure mounting on the firm to cut costs and only to back winners, the worry must be that the current XE, XF and XJ may never hit the sales heights necessary for all of them to be worth a place in a rationalised, revitalised range of future models.
And so for the maker of the original XJ and MkII of the 1960s, both celebrated, formative, world-class four-doors of their day, the great modern saloon-car gamble by which it dared to square up to its German opponents is looking increasingly at risk of being declared a dead loss. When the XE was launched in 2015, it was notable that chief among the saloons whose sales it stole were those of its bigger brother, the XF. Global production of XF and XE both only narrowly made it beyond 30,000 units last year, while the XJ barely managed 5000 sales. None of it makes heartening reading.
The XE remains a really absorbing car to drive on a twisty stretch of road
So what new success can Gaydon's 2020-model-year XE bring to the table, to prove perhaps that the company's confident swing at the compact executive saloon market wasn't a misguided one? Well, to be fair, it needn't sell like a Mercedes-Benz C-Class (nearly 400,000 units in 2018, since we're counting). Another couple of 50,000-unit years, however unlikely that outcome may look now, would probably earn the XE a reprieve from the chop. And perhaps with that kind of achievable success in mind, this mid-life update for the car looks like a carefully considered one.
The most important constituent part of that update may yet prove to be a revised, 178bhp 2.0-litre Ingenium diesel engine with European 'RDE2' diesel NOx emissions certification, which means that – for a while, at least – the all-important oil-burning XE will dodge the 4% company car tax penalty generally imposed on diesel fleet cars and which its rivals currently all fall foul of.
Styling changes to the exterior are limited to headlights and bumpers. That's because it's the XE's interior that has occupied the lion's share of Jaguar's facelift budget and attention – and rightly so, since it was probably the pre-facelift car's biggest weakness. The new XE gets more soft-touch materials, more expensive veneers, a new centre console design, a new steering wheel, a digital instrument binnacle and, as an option, a double-deck 'Touch Pro Duo' infotainment set-up closely related to the one already found in the I-Pace and in the Range Rover Velar and Evoque.
It has all made a significant difference to the XE's sense of ambient perceived quality, technological sophistication and luxuriousness, without making enough of a difference to attract worried looks from the class's governing German oligopoly. The XE's cabin is now one ridden of almost all of its cheaper materials, and not without a few tactile, expensive ingredients such as aluminium shift paddles, 'metalised' indicator stalks or the F-Type-sourced gear selector lever. It's not a car that stands out for its interior classiness in the way that an Audi A4 or Mercedes C-Class does, but neither is it any longer a car, like the Alfa Romeo Giulia, that you'd criticise for seeming low-rent. It has progressed.
Another key part of Jaguar's interior rethink was a redesign of the door panels, done in order to create some extra lateral space in a cabin that has always needed every extra inch it can get. The effort has yielded some success in as much as your elbows and knees don't feel so closely confined as once they did. Head room is still tight up front, though, and the back seats remain usable only for smaller adults and children.
Jaguar has cut down on the number of engines in the XE range: where there used to be six, for now there are three – and there's nothing larger than two litres and four cylinders to be seen. The XE was made available to us exclusively in range-topping 'P300' 296bhp 2.0-litre four-wheel-drive petrol guise for our initial test drive. And as it turns out, it's a car that is significantly different from the supercharged, rear-driven, six-cylinder XE S that marked out the highest rung of the XE hierarchy a few years ago and which helped earn the Jaguar such praise from keen drivers.
There's a purposeful growl but little richness or smoothness apparent from that four-pot engine when you extend it. The car's outright performance level is strong, but not outstandingly so. I would guess that a BMW 330i, some 40bhp down on the XE on paper, is just as fast on the road, and an Alfa Giulia Veloce perhaps a shade quicker. Both rivals are, after all, notably lighter.
But it's actually the XE's four-wheel-drive, eight-speed automatic transmission that's the bigger obstacle to your enjoyment of the driving experience than that engine. The gearbox can be a little bit slow to shift in manual mode and also indecisive and given to hunt when left to select gears by itself. Moreover, it seems to impart a slightly treacly sense of drag to the car's every response to a demand for greater speed, as if unnecessary force was being wound into the driveline somewhere, never to quite make it out onto the road. It's a sense that the XE's real-world fuel economy would tend to confirm: over several trips, all of which included both quicker driving and slower, we failed to see better than 25mpg returned.
It's a good job, therefore, that the XE's four-wheel drive leaves the car's calling card – its fluent, balanced, entertaining handling – unharmed. Even allowing for the shortcomings and limitations of the powertrain, this remains a really absorbing car to drive on a twisty stretch of road.
It feels a touch heavier, softer and less naturally agile than an Alfa Giulia, but it has more supple, tactile and progressive-handling so you can place it more instinctively. Jaguar's four-wheel drive might make for a less sweet on-the-limit handling balance than the XE S once had, but I dare say most drivers would accept that as a trade for the added traction and security it brings. All up, much as we'll admit to being disappointed by the XE's range-topping powertrain for a few reasons, the versions of the car more likely to be on the average customer's shopping list should be better-placed to impress than they used to be. Added to that, the XE's suitability for lifting the mood of your everyday motoring, while still not without caveat, ought to be stronger. On this evidence there's good reason to hope for that – but we'll see.
A lot will depend on that revised diesel engine, on which we look forward to reporting when we can. Until then, much as life will be tougher for this car than it ever used to be, it seems all may not be lost for Jaguar's junior executive saloon. Here's to holding your nerve.
MATT SAUNDERS

TESTER'S NOTE
If you're thinking you've seen the XE's steering wheel before, it's because it's shared with the I-Pace electric SUV. It's nicely dished, and the 'hidden until lit' switchgear on the spokes was a particular highlight for this tester. MS
JAGUAR xE P300 R-DYNAMIC S
An engine other than the four-pot petrol range-topper might clinch it for this improved compact exec


Price  £41,005
Engine  4 cyls in line, 1997cc, turbocharged, petrol
Power  296bhp at 5500rpm
Torque 295lb ft at 1500-4500rpm
Gearbox 8-spd automatic
Kerb weight 1690kg
0-62mph 5.7sec
Top speed 155mph
Economy 30.5-33.6mpg (WLTP combined)
CO2, tax band WLTP figures tbc
Rivals BMW 330i M Sport, Alfa Romeo Giulia Veloce