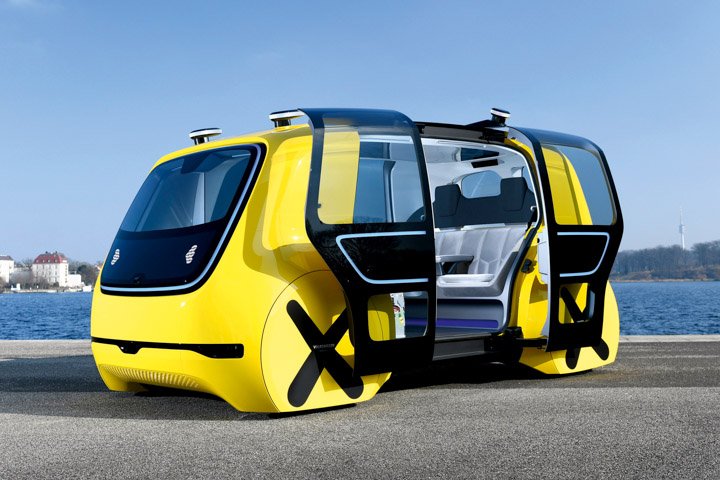 Absence of driver or engine will mean bold-looking cars made from novel materials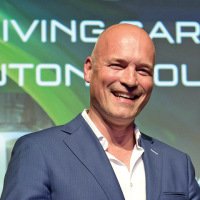 The rise of autonomous, electric and connected vehicles will fundamentally change how cars are designed and constructed, even allowing them to be made out of materials such as paper and bamboo.
That's the view of Peter Wouda, Volkswagen Group's design director, who leads the car giant's Future Centre in Europe. That centre is focused on developing forward-looking technology such as last year's autonomous Sedric concept.
While much of the car industry's efforts are currently focused on semi-autonomous driver assistance technology, Wouda is looking further ahead to fully autonomous cars, which wouldn't require any driver input. That development will fundamentally change how such cars can be designed.
"The second generation of cars [following on from the Sedric] can be designed totally differently," said Wouda. "If you take away human drivers, you can exclude the risk of crashes. Then you don't need seatbelts, steel, bumpers or airbags. Then you could build cars from paper. The only protection you will need is from the weather."
We could go back to simple solutions. We could build cars out of bamboo if we like
Using such materials could also decrease the weight of cars and therefore increase the driving range that can be achieved by batteries.
"We could go back to simple solutions," said Wouda. "We could build cars out of bamboo if we like. There are endless possibilities. You will need four wheels and an energy supply. After that, mobility will be totally different."
Wouda confirmed that a fully autonomous VW, similar to the Sedric concept, will be ready to take to the roads in 2021, but added that legislative restrictions would limit where and when the vehicle could be introduced.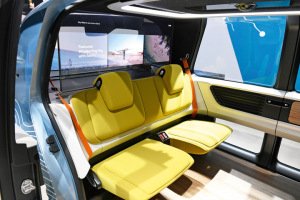 Wouda expects China to be first to permit mainstream fully autonomous vehicles to go on sale, because the government has more immediate power to pass through legislation than in most other countries around the world. The country has shown a determination to take a lead in such advanced motoring technology, and has already announced plans to allow autonomous cars in certain districts. It plans to gradually extend those areas over time.
The Sedric has developed since it was first shown at the Geneva motor show in 2017, with VW having produced several iterations. The car has the same footprint as the VW Up, but the absence of driver controls means it has more cabin space inside. Wouda said one version has been developed as a disco and karaoke bar – a concept keenly received in Asia – while another derivative is a school bus equivalent.
The VW Group has different plans for its autonomous cars in different countries. "There are different 'road maps' [for self-driving cars] and the content inside the cars might be different," said Wouda.
"For example, in the USA, there is still a strong desire to be in the countryside. A Sedric for the States can be much bigger and needs to be independent from infrastructure [such as charging points]. Maybe that Sedric has to generate energy itself and will have solar panels on its roof.
"In China, the Sedric would be a room in which the environment is more healthy than outside. In Asia more generally, people spend so much time commuting that they love to sleep, so the Sedric might have seats in which they could sleep.
"In Europe, it's all about saving time. In the Sedric, the time would be used to work or eat, or play with your kids."
Wouda also reinforced the idea that the rise of fully autonomous cars might in fact change priorities for getting to a destination: "If we wanted to prepare a presentation or watch a film, we could ask the Sedric to drive more slowly or take a more scenic route so we could finish it."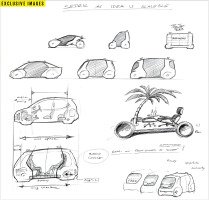 The Sedric is "a white label solution", explained Wouda, meaning VW Group brands will adapt it as they see fit. He said the Sedric could be relevant to Skoda, Seat and Audi, although for each brand it will "have different design cues" and "bigger proportions". It is up to each brand to take the Sedric and make it their own: "Audi and VW are working heavily on autonomous cars, and Skoda and Seat are taking a back seat for now."
Despite preparing for a future with fully autonomous cars, Wouda said there was still a space for driver's cars: "Why shouldn't a Lamborghini be capable of self-driving? The car could drive itself to a track and then the owner could take over for track driving."
RACHEL BURGESS
VW GROUP'S BRANDS WILL CONTINUE TO BE DESIGNED TO BE DIFFERENT 
The styling of cars from individual VW Group brands must continue to be different in the future, according to VW Group design boss Peter Wouda.
"Brands exude a certain image, a lifestyle and trust, and those brand values are experienced through cars," said Wouda.
"Design is increasingly important because if you look at an Audi or a Mercedes or a BMW, there is not an awful lot different between them [from a technical perspective]. A brand's design has to be very sharp."
VW Group's car brands meet at regular intervals to show future models to each other to ensure designs aren't too similar.
"It's important to bring cars together to realise if something is such a global trend that we all have designed the same light graphic, for example," added Wouda.
"If that happens, it's a case of deciding which brand it suits the best and which brand can change something to make it more individual."