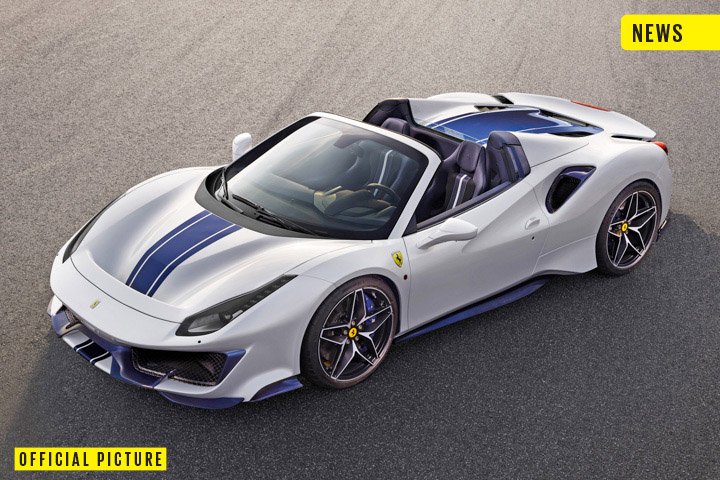 New 488 Pista Spider delivers the same performance as the coupé, Ferrari claims
Ferrari has revealed the drop-top version of its most hardcore 488 yet, ahead of sales beginning later this year. The 488 Pista Spider, which made its first public appearance at the Pebble Beach Concours d'Elegance last week, is the 50th open-top Ferrari in the company's history.
It's billed as the most technically advanced convertible that Ferrari has made and promises to deliver identical performance to
the coupé. With 710bhp and 568lb ft of torque from the same twin-turbocharged 3.9-litre V8, the 488 Pista Spider is claimed to cover 0-62mph in 2.85sec and reach a top speed of 211mph.
Those figures are despite the Spider being 100kg heavier than the coupé, at 1380kg dry to the hard-top's 1280kg, when all of the car's lightweight options have been selected. These include a set of carbonfibre wheels, which are 20% lighter than the standard rims. Weight-saving features also run to aluminium flooring plates instead of carpets and a simple door strap in place of the regular door handle.
During the Pista Spider's development, the designers' main brief was for the car to stay as true to the coupé's aerodynamic efficiency as possible, so as to not alter the dynamics. There is no loss in downforce or increase in drag when the roof is closed, according to Ferrari. The Spider also has the same Ferrari Dynamic Enhancer system as the fixed-head 488 Pista, managing brake pressure to each individual caliper to improve balance when cornering.
As with the regular 488 Spider, the Pista's electric folding metal roof is able to go from closed to open in less than 30sec. The version shown at Pebble Beach features a characteristic two-tone livery reflecting that of the coupé.
Ferrari is yet to confirm a price for the new 488 Pista Spider, which is due to be delivered to customers next year. Expect it to be around £275,000, about £25,000 more than the coupe.
JIMI BECKWITH