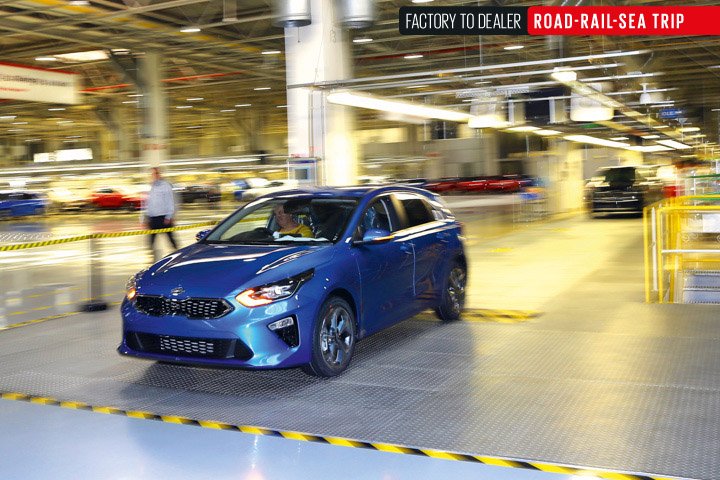 A new car's first journey isn't your drive home from the dealer. As this shiny Kia Ceed shows, it's often an epic voyage via road, rail and sea.

Mike Duff

tracks its progress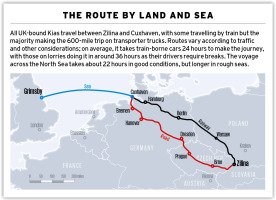 Plenty of stories have been written about the compelling industrial ballet of the modern car factory, and even more reviewing shiny new models. But this is the tale of the bit in the middle: how a car gets from assembly line to showroom floor.
Kia agreed to let us shadow a car all the way through the process. Not one of the company's Korean-built models (three weeks at sea would really have messed up Christmas plans), rather by tailing a new Ceed from the Zilina plant in Slovakia where it is built to a dealership in the UK.

FINAL INSPECTION
There's a lost-in-translation moment as I arrive at Zilina, my first visit here since I picked up Autocar's first long-term Ceed in 2008. Having negotiated the security barriers to gain entry to the vast site, I see a brown Sportage in the management car park bearing the slogan "QUALITY ASS" in big letters down the side. An unfortunate abbreviation, but one that encapsulates the reason we're here.
97% of cars leaving the line are right first time 
In the factory, the first question is an existential one – that of where to begin. When does a collection of parts and sub-assemblies become a finished car? Having found 'our' UK-bound Ceed Launch Edition in the distinctive blue metallic that should make it easy to follow, we opt to start at the point its engine is fired up for the first time, and is driven from assembly and into inspection.
Mistakes happen; the key is spotting and fixing them. Tomáš Figura, Zilina's assembly quality manager, says that 97% of cars leaving the line are right first time. His job, and that of the 190 staff who work under him, is finding the others and getting them fixed.
This is done through a rapid-fire battery of tests and inspections. First comes a brake test, with cars proving they can slow down on MOT-test style rollers. The guys doing this part have to get through 120 cars a shift, meaning some of the longer-serving employees who have been here since the factory opened have had their backsides in a quarter of a million driver's seats.
Next there's a diagnostic scan, an underbody inspection from a sunken pit where inspectors look for missing bolts and a smart probe slipped under the bonnet to sniff out leaking fluids. Headlights are set and wheel alignment checked before every car is sent to drive around a two-mile test track. This isn't about tyre squealing, rather different surfaces and bumps that are tackled at set speeds to highlight squeaks and rattles. It's busy, with the number of cars out there giving a good indication of the popularity of the three models made here: a majority of Sportages, plenty of Ceeds and a very occasional Venga. (Apparently, the rarest model of all is an automatic Venga in blue – the Zilina Unicorn.)
Having passed the dynamic test, our Ceed goes back into the factory and a final trip on a moving conveyor, first through a car wash-style leak test and then a brilliantly lit final inspection area where bodywork is scrutinised and – if passed –protective plastic sheets are put on.

TRAINS AND TRUCKS
The logistics of moving one car are simple: tell a driver where to take it. The logistics of moving thousands – Zilina produces up to 6500 a week – quickly become brain-frying. Cars are dispatched from here to distribution centres across Europe, with all UK-bound models sent to Cuxhaven in Germany for trans-shipment. They are transported by both truck and train – trains are more efficient, but there is only limited capacity. Our blue Ceed has a spot booked on the evening rail departure.
Think of it as a ferry without the slot machines
Loading takes hours. A crew of eight 'ferry' drivers take the cars from the dispatch area and drive them onto the line of 20 vast double-deck wagons, loading from the back like a Eurotunnel train. They then get a lift back in a Sportage to do it all again; one of the striking things about car factories is the number of people employed to drive stuff around, an obvious cash-saving motivation for the development of autonomy. Train capacity varies according to what's being carried: 227 Sportages or up to 252 of the slightly smaller Ceeds.

OUT TO SEA
There's a bit of a shimmery fade effect here as the story skips directly to Cuxhaven. The train takes around a full day to grind its way 600 miles through the Czech Republic, Poland and Germany and – obvious point – doesn't have any passenger accommodation, beyond trying to stow away in one of the vehicles.
I asked, but Kia wouldn't let me.
Geography has made Cuxhaven one of the major ports for British-bound cargo. At the mouth of the Elbe river, it offers deep water without the need to wait for tides, and ships can dock without the assistance of tugboats. Transport links to the rest of Germany are pretty good, too. Kias are shipped by DFDS, the same company that operates various ferry routes in the UK, with five ships a week run between here and Immingham.
The site is as short on glamour as most sea ports tend to be. Kias arrive on one site – operated by BLG Logistics – and are then driven individually to the Cuxport facility next door, where the DFDS ships moor. Cuxport sits on an artificial archipelago that projects into the river. It was opened in 1997 and is still expanding thanks to booming business. There are hundreds of cars here waiting for shipment, heading to Scandinavia as well as the UK. Oliver Fuhljahn, Cuxport's head of logistics, says 85,000 BMWs, 45,000 Kias and 12,000 Vauxhalls travelled from here to the UK last year, with 35,000 Jaguar Land Rover products, 15,000 Toyotas and 15,000 Opels making the eastbound trip.
Brexit is set to change things – space is being found for new customs officials to be employed.

SHIP SHAPE
The ship is delayed by bad weather and it's late evening by the time loading can start. The Finlandia Seaways is a relative minnow by the standards of cargo ships, displacing just over 11,000 tonnes when fully laden and with – in logistics jargon – 2000 'lane metres' of storage space inside. Think of it as a ferry without the slot machines and overpriced booze shop and you're pretty close: two covered cargo decks, another one that's open to the elements and a towering superstructure at the front for crew accommodation and the bridge. It can carry mixed cargoes; everything from railway locomotives and wind turbines as well as its more regular loads of cars and trucks. It's also being loaded with an urgency born of its late arrival, but we grab the chance to take some pictures of our Ceed on the sizeable main deck that will soon be filled with cars as stumpy little 'Tugmaster' tractor-units manoeuvre articulated lorry trailers into the lower hold at an impressive pace.
I'm given a guided tour, first with the long climb to the bridge through Formica-clad passageways that give off a smell it takes a while to place: damp caravan. There's also a chance to meet the boss. Like the rest of the crew, Andrea Oresko is Lithuanian and has been a captain for a decade, most of it on this ship. The view from the bridge is predictably commanding, running across the full width of the ship. The relative smallness of the wheel that steers such a big ship seems incongruous, as do the bridge's fine collection of potted plants. Oresko says the ship has just 17 crew working in three shifts. The voyage to Immingham takes around 22 hours but the emphasis is always on keeping to the schedule while minimising time in port: "More time at sea means less speed and less fuel." The ship can go at 18kn (20.7mph) but prefers to cruise at a more economical 14kn (16.1mph).
There's also a brief stop in the engine room at the stern. After the cold of the North Sea breeze, it's suddenly very hot; even with the huge motor just ticking over to drive the ship's generators, it feels like an oily sauna in here. The engine itself is a MAN V12 considerably taller than I am that looks markedly newer and shinier than the rest of the ship; it turns out it is, having been replaced after an engine room fire in April last year. The engine produces a
very solid 12,000kW – 16,000 horsepower – and is designed to work at a constant 500rpm, the ship's speed being adjusted by a variable pitch propeller.

PRE-DELIVERY INSPECTION
Some more sparkly magic dust here takes us to the UK for the final part of the story. Plans to make the crossing by sea ran into a bureaucratic hurdle: the port of Immingham isn't set up to handle passport checks for non-sailors. Given the near-gale conditions in Cuxhaven, I'm not entirely sorry to make my way to the Kia distribution centre at Stallingborough without having to sample a five-metre sea swell.
Kias arrive at Immingham docks a couple of miles away, both from Cuxhaven and on bigger car-carrying ships direct from Korea. All are then ferried to Stallingborough – which is run by auction company BCA – by drivers using trade plates. Cars are given a quick once-over, entered into the Kia stock control system and given RFID tags to help locate them in the huge compound; a Kia Soul has been fitted with scanners to help track what is parked where, useful with up to 15,000 vehicles on site. All cars are given Kia's seven-year warranty sticker and have locking wheel nuts fitted, but around a fifth are also given the pre-delivery inspection more normally carried out by a dealer. That's what we've come here to see.
Our Launch Edition Ceed has already been sucked through the system, so another blue Ceed stands in, but an automatic in the slightly lowlier '3' spec. I always reckoned that a PDI was little more than tearing off the protective wrapping and making with a jet wash, but it turns out to be a far more intensive process, with technician Jim Howell even removing the under-engine cover to check the presence of transmission fluid in the gearbox and programming preferences into the infotainment. There's another brief road test as well, in cars that have had their fuel lights blazing since they were built. Do they ever run out? "Rarely," says Howell, "but it can be a long walk if they do."
Up to 300 cars a day can be put through a PDI here (Stallingborough also deals with cars going into Kia's Used Approved scheme), with Howell admitting that he much prefers doing base models: "They allow an hour but we have to do 10 a day and we're only here for nine hours with a 40-minute break. You make up time on some: Vengas are easy, and if it doesn't have a sat-nav, you don't need to set it up."
Problems on new cars are usually limited to bangs and scrapes acquired during the shipping process – most likely when being loaded or unloaded from trains or ships. But bigger problems do get identified sometimes: in the next bay, a Sportage is having its transmission removed. Once inspected and passed, they go to join the long ranks of cars waiting for shipment to individual dealers.

DEALERSHIP, AT LAST
That brings us to the very last rung on the ladder and – by a coincidence helpfully arranged by the company's switched-on PR department – a Launch Edition Ceed now parked in the showroom of Kia Grimsby. The dealership sells around 300 cars a year, according to sales manager Mark Avison, with the new Ceed already proving popular. "And this blue is the colour that everybody wants," he adds. I realise there's a question I've always wanted to ask: why do car dealers leave boots open? "So it doesn't look like a car park," says Avison. "It's friendly – shows you can come and have a closer look, encourages people to ask questions." He knows his stuff, but I escape without actually buying a car.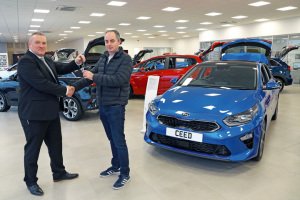 By my reckoning, the Ceed has been driven by a minimum of 11 different people since leaving the end of the production line. It has covered around 12 miles under its own power, at least 600 miles by truck or train and 360 miles by sea before it reaches its first British owner. Multiply that by the 15 million cars sold in Europe last year and you've got some idea of the scale of the logistical effort that keeps the car industry in business. A
PHOTOGRAPHY JULIAN MAKEE