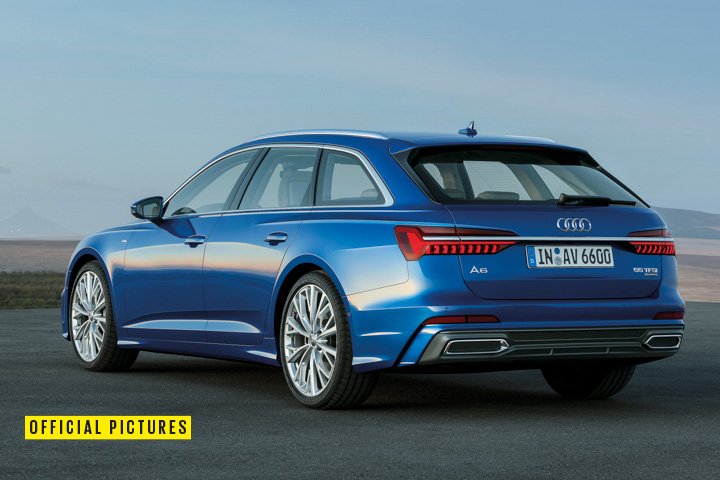 Audi's E-Class Estate rival adopts sleek sloping roofline without sacrificing practicality
The new Audi A6 Avant's aggressively sloping bootline has been achieved without compromising load space and negates the need for the company to produce a shooting brake version of the car "like some of our competitors", according to its head of exterior design, Helmut Jung.
The remark – likely referring to Mercedes – highlights Audi's confidence that it has produced a car that will appeal to buyers both for its practicality and its looks. "This is a car that delivers on both fronts," said Jung. "Usually such a dramatic line as the slope we have from the roof to the boot brings compromises but, because of the extended length of the car and some clever design work, we have exactly the same boot space as before."
The A6 Avant's boot volume extends from 515 litres to 1680 litres depending on whether the rear seats are up or down. Further practicality is added by functions that allow the seats to be laid almost flat at the push of a button and an optional feature that enables the boot to be opened by the key holder waving their foot under the rear bumper.
The boot capacity has also benefited from the car being 12mm longer than before. Additional packaging gains mean the boot length is 27mm longer, and cabin space is also enlarged in the front and rear as a result of a longer wheelbase. The cabin gains are said to particularly benefit elbow room throughout and rear knee room, which was criticised in the previous-generation model.
As with the saloon version of the A6, Jung highlighted the inspiration of the Audi Quattro in the styling, particularly for the blistered wheel arches. He also noted a personal goal of giving the car the visual impact of the 100 Avant. "The goal was a sporty, clean, progressive look," said Jung. "It had to invoke the spirit of Quattro but also look timeless – we are in the business of creating cars that will look good in 10 years' time, not just in this moment."
Elsewhere, the A6 Avant follows the themes set by the saloon, such as its interior look and technology, including Audi's new MMI and voice control systems. An all-wheel steering system is also available, to boost stability at speed and reduce the near five-metre-long car's turning circle to 11.1 metres – one metre less than that of the outgoing car.
The A6 Avant will likely launch in the UK with the V6 pairing of the 286ps 50 TDI diesel and 340ps 55 TFSI petrol, both linked to an eight-speed automatic gearbox and mild hybrid system. Four-cylinder options will be launched at a later date.
JIM HOLDER
Q&A HELMUT JUNG, AUDI A6 AVANT EXTERIOR DESIGNER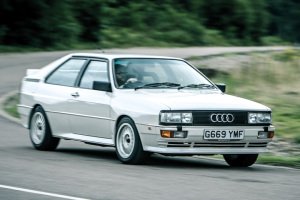 What were the inspirations for the car?
"The Quattro is clear to see – especially on the wheel blisters, and across every new car we launch. It is our reference point now. For 'wow' factor I looked at the 100 Avant. Then we had the prologue concept, which really pointed us in this direction. The goal was really to make a little bit of the drama of an RS model available for everyone."
Were there areas where your designs needed reining in?
"This is a more expressive car. The goal was to ensure that it looks good for ever more; not just capture the imagination now and age badly over time. We are a progressive brand, not a brash one."
Why are the sensors so prominent at the front of the car?
"We wanted them to be that way, to emphasise the technology available on the car. We had two choices: to try to hide them, which would not have been entirely possible, or to make a feature of them. We opted to make a theme out of it rather than try to tuck it away."
Audi still has a familiar family look, though…
"It does, and it always will. There is increasingly more differentiation between models, but every car has its own interpretation of the Quattro themes, and in details such as the grille you will always be able to appreciate that one of our cars is part of the Audi family, even when some of the themes – such as the details around the grille, or the shape of the vents – are different."