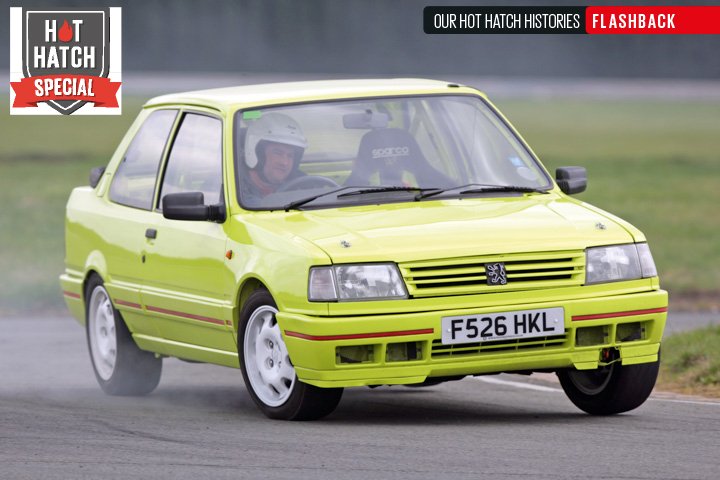 Owning a hot hatch is a rite of passage for any car lover. Our writers recall the memorable ones they bought, cherished, sold or almost crashed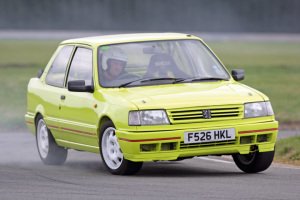 There have been a couple of 205 GTis over the years (a sweet 1.6 and a gruntier 1.9), but the hot hatch that stands out in my memory is a 1989 Peugeot 309 GTi, originally bought via eBay for £250 for an Autocar project that didn't really work. It turned out to be a bit of a nail – someone had attacked one of the load-bearing body box-sections with an angle-grinder – but I inherited it and with initial help from Peugeot's in-house apprentices, and then a Builth Wells rally car preparation specialist called Christian Prynne, I finished up with a credible road-registered hillclimber, which I campaigned for a few years. It was the perfect size, and quick, especially with a Quaife low-ratio slippery diff. I foolishly let it go on another car purchase; it'd be even more desirable now…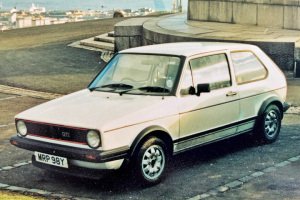 The Mk1 Golf 1800 GTI was the first hot hatch I ever tested as a journo and is still my favourite. The test car was Mars Red with 'Tarantula' wheels, twin headlight grille, red and orange striped panels to the black fabric upholstery and beautiful, timeless design by Giugiaro. The upgrade from 1600cc to 1800cc was intended for the forthcoming, heavier Mk2 and made the 830kg Mk1 potent for its day with a spine-tingling, growling induction note. I bought my own car for £3000 from the classifieds when I went freelance in the late 1980s. It was black, complete with the UK specification twin-headlight grille and a wonderful soundtrack. It was practical and fun, taking me to jobs, carrying my young family around and carting clobber in the spacious load bay. I badly want another, but in Mars Red, like the press car I originally fell in love with.

Citroën BX GTi 16v
ALEX ROBBINS
F480 DUG was my second attempt at owning a Citroën BX GTi 16v; the first ended up being a hound. But DUG turned out to be different. The peeling, hazing lacquer belied the fact that under the skin it had been looked after mechanically and the body was solid. I gave £700 for it.
The hottest BX is a joy to drive. The engine – shared with the Peugeot 405 Mi16 – is terrific, delivering a screaming 158bhp with such a strong top-end hit that you'd reckon it was a VTEC predecessor if you didn't know better. As the BX weighs so little, that power goes a long way.
There's as much feel as any of its ilk, but the soft suspension means the BX GTi 16v remains untroubled by mid-corner bumps, resulting in tremendous predictability. The extra squidge and long wheelbase mean that although the tail will step out whenever you ask it to, it does so ever so progressively, allowing you to scoop it up time and again without fear.
I still miss DUG. I'm sorely tempted to get another BX GTi 16v, and it remains my favourite French hot hatch of its era.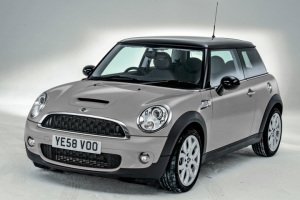 Six or seven years ago, I bought a Mini Cooper S (R56) for £10,000. I had spent quite a lot of time in quick Minis through work and I'd grown really fond of them, so when I found myself needing a new car, the Cooper S went straight to the top of my shopping list.
I wanted something fast and fun but modern too, and with a manufacturer warranty. The
Mini was perfect. I loved driving it around town because it had such punchy turbo performance and it was small, so you could dart through traffic. I didn't love the rattle from the dashboard, which was all the more galling given that my uncle used to run the factory in Redditch that built the things. Awkward Christmas dinner, that one.
Would I buy another? Probably not, but only because I've been there already. I wouldn't hesitate to recommend one to anybody.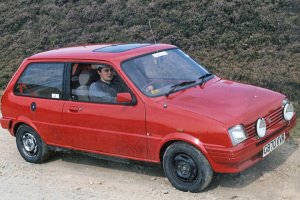 I was young and broke but desperately wanted something more exciting than my 1.0-litre Nissan Micra. By modern standards, the 72bhp MG Metro wouldn't even qualify as warm, but in the mid-1990s a 12sec 0-60mph time was still respectable. Plus, it had MG graphics on the side.
More important, it was cheap: £2000 for a four-year-old car giving a good idea of how unfashionable Metros already were. It was much better than its reputation. The MG introduced me to both steering feel and lift-off oversteer, while the low gearing of the sump-mounted four-speed 'box made it feel faster than it was.
On narrow lanes, the Metro was something of a weapon. On motorways, less so. The sprint ratios meant the engine was pulling 4000rpm at 70mph. I was studying in Falmouth and working weekends in Oxford, a four-hour drive each way. I blame much of the tinnitus I still suffer on the Metro's thrashy soundtrack. After a year, I did the only sensible thing I could think of and replaced it with an MG Maestro.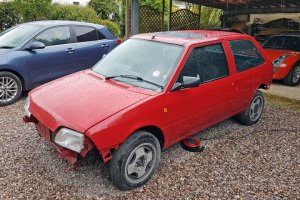 For sheer uproarious, giggle-a-minute entertainment, it's hard to beat the Citroën AX GT. Like American muscle cars, hot hatches are about planting oversize engines beneath the bonnets of ordinary, mainstream machines. Some suspension and brake fettling (or not, in the case of many a muscle car), war paint daubings and a modest price hike complete the effect.
The AX is no power station with 84bhp, but it's spectacularly light, 720kg yielding 116bhp per tonne and the boundless energy of a puppy in a park. Which is only heightened by a twin-choke carburettor supplying electrifying gobs of fuel at the merest brush of the throttle. The result is utterly addictive zip, coupled to an elastically grippy, ultra-wieldy chassis that will have you weaving past everything in your way.
The chance to relive this motorised riot is but days away as I revive a recently bought, long-dormant 1990 AX GT with hard-won replacements for its missing bodykit, and an MOT. Glorious uproar should ensue.

VW Golf GTI Mk1
ANDREW FRANKEL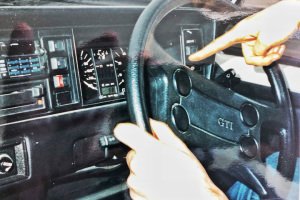 Before I became a hack, I worked in the City and, aged 21, briefly had some money. So I bought a beautiful four-year-old Golf GTI Mk1 1800 and set about improving it. By the time I was done, it had Bilstein struts, slotted brake discs with competition pads and sticky Yokohama HFR tyres. And though I say it myself, it was superb.
I drove it like the 24-carat idiot I was, yet it kept me out of every hedge into which I so thoroughly deserved to be dumped. It took me all over Britain, most of western Europe and never went wrong. Ironic, then, that it was written off by a drunk driver who piled into it while it was parked
outside my flat.
I've only owned two cars I wish were still in my life. One is a Porsche that's now worth £250,000, the other is that Golf. One day, I'll get another.
After a promising start to my company car career involving a Mazda 323F was brought to a premature close by a slow-speed interaction with a bus stop, things took a downturn. Name firmly in the mud, I was given a 1.0-litre Citroën AX in brown. It wasn't awful, but nor did it have pop-up headlights.
And then, in a spectacular alignment of the moons, one colleague drove the AX into the back of a van (again at low speed, or so he claimed) and another one left the company. I needed a car and my career-ascendant mate was leaving behind a Peugeot 205. Quite who on the company roster thought a twenty-something in a fairly rorty hatch was a great idea I don't recall, but we were barely out of the 1990s and, well, it was 'only' a diesel and not a full-bore 205 GTi.
It turned out its previous owner had largely eschewed the clutch and had ditch-hooked his way around just about every corner he could find, but I got used to the cranky gearbox and the wheel alignment was fixed. I spun it only once, on a greasy roundabout a few miles from Silverstone, and when you've faced into oncoming traffic once in life, it tends to teach you to calm down a bit and learn a bit of respect.
The engine may not have been the choice of the perfectionist, but the 205 was still other-worldly compared with everything I'd driven before. Possibly since too. Light, agile and plenty peppy enough to live up to the brand's reputation, I'm not sure I've ever driven a car that was more fun.
Renault Clio Renaultsport 182
SAM SHEEHAN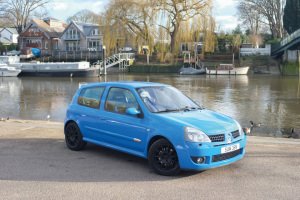 I bought my 182 on a student budget in 2011 after six months of living primarily off tinned spaghetti. My malnutrition was, of course, worth it because this 75,000-mile 182, which cost me £3200, was the most alluring driver's car an undergraduate could afford.
I remember being seduced by its 165bhp per tonne (still impressive today) and drooling over the French Racing Blue paint that, where stones haven't pummelled it off, still covers my car. But now, 48,000 miles later, I love the Clio for its nimbleness, its compact dimensions and its enthusiasm for cocking an inside rear wheel.
Now equipped with a low-set bucket seat, racing wheel and part-stripped rear interior, it feels just a set of slicks away from being a tin-top racer. When it comes to driving for the love of driving, the 182 is still up there with the best of the breed.

Alfa Romeo 33 1.7 16v
RICHARD WEBBER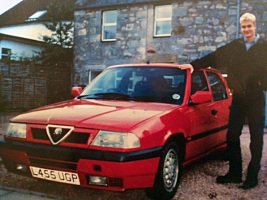 This 1993 Alfa spanned my uni years and proved a significant part of them, used for road trips with pals, driving to summer jobs or just escaping the collegiate snow globe of St Andrews to the back roads of Fife.
It cost me around £5000 in 1996 and, aside from its Alfaness, I chose it for its rarity, angular styling, exotic leather and Alcantara Recaros and fruity 137bhp boxer four. The 33 was part of Alfa's 75/155/164 'quadrate' squad, all penned by Italian maestros – the Mk2 being a Walter de Silva restyle of Ermanno Cressoni's original.
The 33 was one-tonne light and 8.0sec-to-60mph quick – if you could subdue its appalling torque steer. Once up to speed, though, it loved to rev, sang beautifully and was quicker through the gears than any rival.
Its fuel gauge wagged uselessly, its sill covers crumpled at the mere suggestion of a speed bump, its tailgate rusted and its paintwork faded. Yes, it was flawed, but adored.

Lancia Delta Integrale
and Ford Focus RS Mk1
RICHARD LANE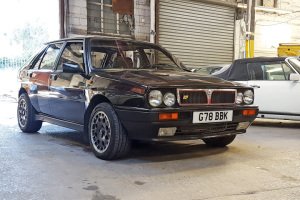 Buying an Integrale in your early twenties falls into the category of 'wouldn't have done it if I'd known'. I spent almost every penny to my name (£9500) on an 'eight-valve kat' variant and for a while it absorbed anything I had spare. It was decent by Delta standards so problems were small but, even so, expensive cumulatively: recirculation valve, sub-frame bushes, brake lines etc.
Looking back, it's a good thing I didn't know what I was in for. The more cars I road test, the more I prize how neatly the Delta communicates, and the brutal design ­– it's piggish, for which most people seem to love it – is a foil for anonymous modern cars.
I overpaid for the Integrale, so a few years later made sure a good deal was done on the Ford. It cost just over eight grand in 2015, had 63,000 miles, an uninterrupted dealer history and had been owned by one family from new. It was a steal. It's not a homologation car like the Lancia but it has the hallmarks of one: flared arches, expensive hardware from companies everyone has heard of and – in its day – a more explosive hit of performance than almost anything else you might consider a rival. Today, it feels just the right side of raw, with few electronic aids and some turbo-lag. I'm reluctant to let it go – try finding another hot hatch with a bombproof powertrain, effortless good looks and a sub-1300kg kerb weight.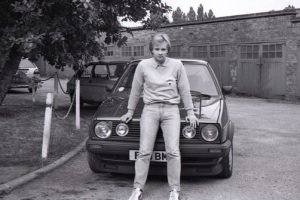 Being at the right place at the right time is the key to happiness. That's how I can best explain buying a 1984 Volkswagen Golf GTI Mk 2 for around £5000 in 1986. It was a good deal and I kept it for a very long time.
The only downside of hot hatch ownership was the crippling cost of insurance, which climbed into four figures as joyriding became a national pastime.
It took me all over the UK to look at used cars and doubled as a quick panel van when I had a business selling records and books. That kept me fit, as did the wind-up windows and analogue steering with those fat 'p-slot' alloys.
The only issues that cropped up during my ownership were a failed wheel bearing and a duff starter motor. Obviously, I wish I still had the Golf, in the right place: my garage. A