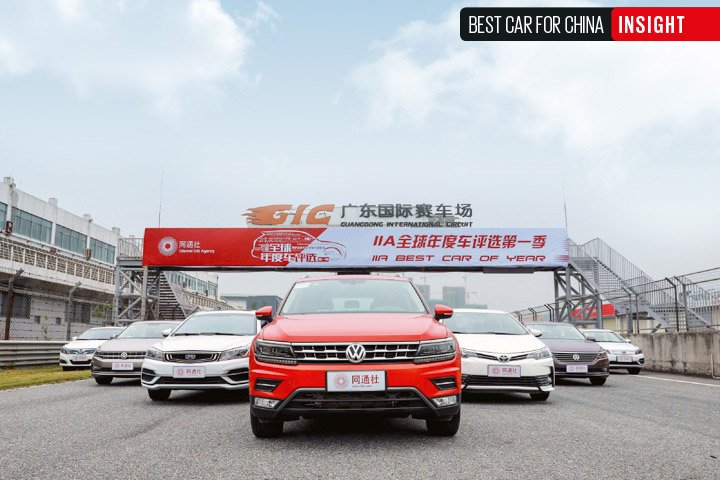 Despite a predicted sales slowdown China remains the world's largest new car market, so the inaugural 'Best Car For China' contest should be the start of something big.

Mark Tisshaw

is your judge
The Guangdong International Circuit is a flat, wide race track which has seen better days, with weeds in the gravel traps and brand new tower blocks and building sites looming ominously around it as the construction industry closes in on its valuable real estate.
So it isn't the ideal venue at which to compare 23 different Chinese saloons, SUVs and MPVs, not one of which has even a hint of sporting intent.
Yet Chinese driving licenses are a tricky thing to come by, so it was to the circuit we went in order to help judge the first running of a new Chinese 'car of the year' competition, or Best Car For China, to give it its full and proper name.
It's soon apparent that this will be a case of finding out which VW is best
Anyway, who needs roads when you have cones on the main straight for a slalom, various gates to drive through, temporary speed humps between some of the corners, an emergency stop zone and still the opportunity to drive it like you stole it?
I jest, but this is serious business. China is the world's largest car market (24.7 million sold last year, although this year likely to fall marginally for the first time in a generation as the trade war with the US bites), so assembled here are most of the biggest sellers in the most important segments.
Sales numbers are the chief criteria for entry among this line-up. Each of China's top-10 best-selling saloons between January and August this year were among them, a remarkable six of which are Volkswagens, including the best-selling Lavida, which shifted 284,655 units.
The four top-selling MPVs are along too, including China's biggest-selling vehicle in any class, the gloriously oddball Wuling Hongguang (296,663 sales).
The five top SUVs, including the all-conquering Haval H6, are present and correct, as are four of the best-selling electric vehicles. It's not a surprise that China is the world's biggest market for EVs, but it might raise eyebrows to learn that 200-mile-plus ranges are the norm across many of the big players.
Us judges are given a score sheet by the organisers, Chinese media giant Internet Info Agency. We can award a total of up to 105 points to each car. Some things are weighted more than others – seat comfort gets eight points to the five of acceleration – but the logic behind that is never properly explained. But after scoring a few cars, it all adds up to the kind of figure you would give out of 100 using any other system.
The cheapest car here, the Wuling Hongguang, wins hearts if not points
To the saloons first, then, and a gathering that feels more like an Avis car park than a prestigious automotive contest given the level of visual humdrumness present. 'Hire car' is a fairly apt description for the Nissan Sylphy and Toyota Corolla (not the new one coming here next year). Both feel robust but are devoid of any spark or flair and unable to shake the feeling of being products of committees – and ones assembled well over a decade a go at that.
Not that the punters seem to care. The Nissan and Toyota were China's second and third most popular saloons in the first eight months of this year, with more than half a million sold between them. One theme that quickly emerges is the sheer scale of the figures you encounter when dealing with China's car sales.
The true home-grown saloon in this company, the Geely Emgrand, has a coarse drivetrain and poor body control, while the China-only Buick Excelle is based on the previous-generation Opel Astra and offers a driving experience to match.
What is soon apparent is that this will be a case of finding out which VW saloon is best. There are duds even here, though, with the VWs all being quite different ages and based on different architectures from different eras.
cAt one extreme are the Santana and Jetta, which are vying for the 'worst to drive' title. Both are based on a low-rent development of the VW Group's old PQ25 platform and are similar to the Skoda Rapid and Seat Toledo sold in Europe.
The Santana is particularly crass, its recipe flavoured with the unappealing combination of slow-witted automatic gearbox, coarse engine and dead brake pedal, while your hands caress a steering wheel from a late 1990s Skoda Fabia.
Why two such similar cars, though? VW actually sells models under two different joint venture companies in China: FAW-VW and SAIC-VW.  Each is roughly the same size, selling in different parts of the country and thus not competing. Each often gets its own similarly sized car, with a different badge, look (well, just about) and chassis tuning.
So the Santana and Jetta are similar, as are the Lavida and Bora. But the latter pair are much better. The pound-for-pound pick of the VW saloon range is the Bora, which has the more modern MQB underpinnings. Sold by FAW-VW, the Bora is particularly sweet with the 1.4 TSI engine and seven-speed DSG dual-clutch automatic 'box.
The SAIC-VW Lavida is not quite as well resolved, but these two MQB-based models are the real sweet spots both of VW's range and all the saloons here. They have the best combinations of driving dynamics, interior, price and value, costing from around £11,000.
The larger Sagitar costs roughly £7000 more than that but is neither worth the money nor the better car, it being based on the Jetta that's just gone out of production in Europe.
Rounding off the VWs today is the Magotan, better known to us as the current Passat. It's objectively the best, but the Bora's all-round appeal trumps it for me.
It's a VW we turn to first on day two, when we assess the SUVs and MPVs. VW is demonstrably a giant of the Chinese car industry, and while we were in the country the manufacturer announced the sale of its 30 millionth car there. More than 200,000 of those are of this new long-wheelbase Tiguan here at our disposal, and its quality and all-round appeal should make for a fairly compelling proposition among the judges.
It's impressive, no doubt, but a little detached in its drive, by enough for me not to score it as my highest entrant. I've almost surprised myself in giving that honour to the Trumpchi GS4 (stop sniggering at the back), which is produced by Guangzhou-based GAC.
That decision was reached not only for its contemporary overall package but also because of how genuinely decent it is to drive. Cover the badges and you could be in any one of a number of mid-mass-market European family SUVs. Unlike past experiences, this is a Chinese car not to be immediately dismissed for its lack of engagement. That's huge progress, and we await GAC's European launch plans with interest following its recently stated intention to come here.
A couple of other home-grown cars impress today. The Geely Boyue offers a broadly similar package to the Trumpchi and feels only half a star behind. The Haval H6 is perhaps more suited to the US, offering a softer drive in that 'hell of a lot of car for the money' way familiar from so many US-market SUVs. You can picture it working there.
In the MPV class the BYD Song Max repeats the trick pulled off by Trumpchi in the MPV class, with a pleasing drive, nice exterior styling and an interior dominated by a big Tesla-style touchscreen. Once again, you could take the badges off and not guess its origins.
The rest of the contenders here are largely also-rans, offering bland drives mated to cabins from another era. The Seat Arona-sized Baojun 510 SUV is notable only for its £6000 starting price, and that car's sibling, the Baojun 730, repeats the trick as a 4.8-metre-long seven-seat SUV costing from £11,500. The Buick GL8 MPV is apparently premium at £42,000 but feels nothing like worthy of that price. The cheapest car here, the aforementioned Wuling Hongguang, will not trouble the podium, but wins hearts if not points.
The final day covers the electric cars, but none of the assembled four – Geely Emgrand EV, BYD E5, Chery iEV5 and JAC EV200 – really show the breed at its best. Scores of new start-up electric car brands are now emerging from China, each well-funded and packed with European design and engineering talent. For next year's contest we expect a much stronger showing provided some of these entrants have broken through.
For the record, the Emgrand EV claimed the best electric car crown. And the overall victor, chosen from the saloons, SUVs, and MPVs? It was a VW one-two-three, with the Tiguan topping the podium ahead of the Magotan and Bora. My own top three was Trumpchi first, Bora second and a tie for third between the BYD Song Max and Tiguan.
It was a shame to see nothing truly home-grown on the podium, but there's democracy for you. But what this showed us more than anything was just how far Chinese cars have come in such a short space of time, and how close they are to really having a chance of successfully cracking the European car market.
China's car makers first need to build decent cars with compelling branding, then win on price by following the strategy initially employed by previously sneered-at brands such as Kia, Hyundai, Skoda and Dacia in order to successfully launch in Europe. If a car's good to look at, good to drive and cheap to own, the buyers will come. Chinese car makers are ticking more and more of those boxes by the day. A
WULING MAJORITY
Front-engined, rear-wheel drive – and seven seats… Ladies and gentlemen, I give you the Wuling Hongguang, consistently China's best-selling vehicle.
This compact MPV, which sold nearly three million units in China between January and August just  joint venture between General Motors and Chinese manufacturers SAIC and Wuling.
Pretty it is not, with odd proportions, tacky details and an overall look of sadness. An absolute nail to drive it must be. Surely?
Well, no, actually. It weighs nothing so it turns in nicely to corners and has decent body control. The manual gearshift is slick and the engine is surprisingly strong and tractable.
The phrase cheap and cheerful was invented for such a creation, the Hongguang's £4800 starting price providing spacious transport to the millions now entering China's booming lower-middle classes.
It's a simple creation that is absolutely fit for purpose.