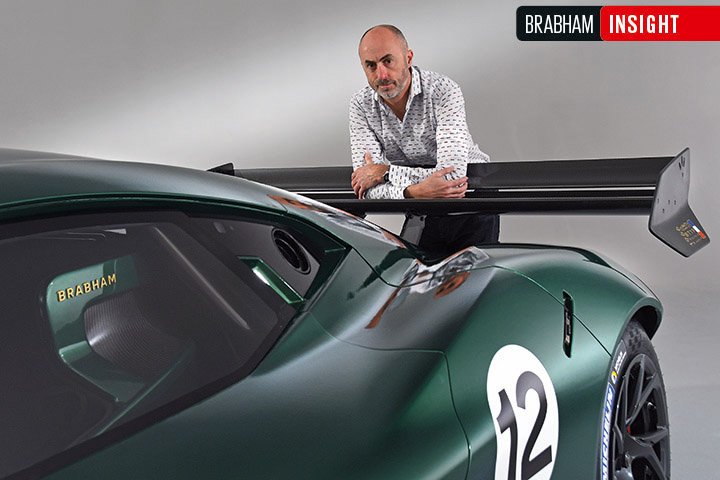 Jack Brabham made history by winning an F1 title in a car bearing his own name. Over 50 years later, his son hopes to do the same at Le Mans in the family's new BT62. By Matt Burt
Following last month's launch of Brabham Automotive and its £1 million-before-taxes BT62 track car, former grand prix driver and Le Mans winner David Brabham says he's determined to ensure his family name never fades back into obscurity.
Although the eponymous racing car constructor established by David's father Jack – Australia's greatest racing driver – faded from the sport in the early 1990s, the emotive value of the name never diminished. That didn't go unnoticed by opportunists with no connection to the family, prompting David to seek legal protection for the name. He finally achieved that in 2013, just as he was starting to think about life beyond his 30-year racing career.
"We had this iconic name and I thought we should be doing something with it," says the 52-year-old. "I've been around long enough to know that race teams on their own are a hard thing to keep alive. In the back of my mind, I knew I needed something more significant."
We had this iconic name and I thought we should be doing something with it
That "more significant" item is the new BT62. Brabham's dream is to use the success of the track version, of which 70 will be produced, as a basis for a racing programme and a fully road-legal variant.
The car's technical package was determined by ensuring its suitability for endurance racing, from the naturally aspirated V8 engine through to the carbonfibre body panels that shroud the spaceframe chassis to keep the weight low and the double-wishbone suspension.
Being on the Le Mans 24 Hours grid in 2020 is mentioned, although the company is hesitant until it has taken stock of the track car's success – in what is a small but highly charged market segment – and has time to study how the regulations for GT car racing might change in the interim.
Paul Birch, Brabham Automotive's engineering boss, says: "We wanted to make a big step over the current GTE competitors in terms of performance, because everyone else will probably make that step as well.
"There is a formula of a certain size in terms of wheelbase, engine position and two seats. We chose a large capacity eight-cylinder because we want it to be under-stressed so that it can run a 24-hour race very easily but give huge performance and drivability to owners [of the track versions]. It's also a lovely echo back to the Brabham-Repco V8 days."
Having tested the car, Brabham is satisfied that its dynamic flavour will appeal: "It's a quick GT car, but it is very drivable. You have 1200kg of downforce, it's light and it rockets away from the corners and sticks pretty well around them too. The car has a wide grip window. Over 24 hours of racing, you want a car that you can just lean on the whole time because your confidence in it needs to keep growing."
The cars will be made at a 15,000-square-metre facility owned by Brabham Automotive's parent company, Fusion Capital, in northern Adelaide.
"The facility is an advanced manufacturer centre," says Birch. "The big tier one companies that were there, such as Holden and Ford, have recently shut down so there's a supply base and resources. There are unique parts that we source globally, but to have those resources locally is how we can get to manufacture so quickly."
The company wants BT62 owners to be part of "the journey" of rebuilding the brand. Each will be offered a tailored driver development programme.
"We're very fortunate that the Brabham family is intimately involved in the car bearing its name. There's no other brand you can say that about," says Birch.
David Brabham says the project has re-energised him: "When I tested the BT62 for the first time, I hadn't driven on track for almost two years. I felt rusty, but after a few tests I was enjoying it, because there's a real purpose to it. It's not just about driving for another race team."
Jack Brabham remains the only man to win the Formula 1 world crown in a car bearing his own name. David's dream of emulating that feat in the GT category at Le Mans is significantly closer than it was 12 years ago. A