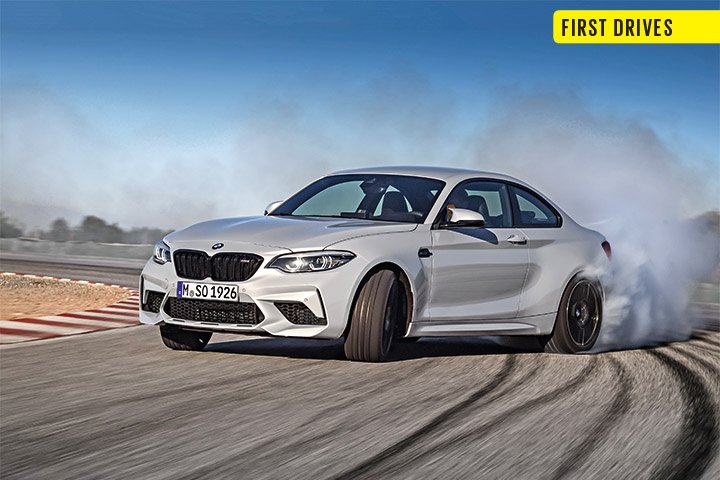 TESTED 20.7.18, SPAIN ON SALE NOW PRICE £49,805
M2 Competition replaces the 'plain' M2 with the promise of better on-the-limit handling and more muscle. And, boy, does it deliver
Here's how it goes, then. I'm not sure I'd ever seen it written down like this before but I suppose it's obvious. BMW M division cars have a clear hierarchy: CS models sit at the top, then there are Competition models (like this one is), then high-performance models (those badged just M2, M3, whatever) and then M Performance models (such as the M235i).
It's the first time I've seen it presented like that but, as ever more CS and Competition models arrive, perhaps BMW feels it needs clarifying, given the increasing number and diverse types of M car it would like to sell.
This one, then, is the M2 Competition, which, despite the hierarchy, simply replaces the standard M2, rather than, as with the M4 and M5, for example, adds to it. And when BMW announced it, at around £3000 more than the standard car (still sub-£50k), it looked like a rather enticing package.
It's great on the road. It's rewarding at any speed but more so once you ask more of it
Basically, it now has an M3/M4 engine in the front of it, so a twin-turbo unit rather than the single-turbo one that has been in the M2 since its launch in 2016. It's slightly detuned to 404bhp rather than the 425bhp that it arrives with in the M3/M4. The front-mounted inline six drives through either a six-speed manual or seven-speed dual-clutch transmission (we tried both), to an electronically controlled limited-slip differential at the rear, and to the rear wheels. There's a new exhaust, with electronically controlled flaps, for some additional noise, and a petrol particulate filter.
And, elsewhere, the M2 Competition is harder, keener, sharper. It gets a wishbone-shaped engine bay brace and there is a retuned steering map and some rose joints in the rear suspension. Together with tweaks to spring and (passive-only) damper settings and the stability control system, the whole caboodle is said to "improve response" and enable "more progressive on-the-limit" handling. There are bigger brakes too (not carbon-ceramics). Which, when the Audi TT S and Porsche 718 Cayman GTS have just
arrived, sounds like a useful way of keeping the M2 up with the, er, competition.
Other changes are limited. The design alterations at the front are largely about getting more air to the engine's cooling system, which is bigger than on the previous M2 on account of the additional 40bhp and 62lb ft (now 405lb ft). You can have new wheels, optional new M seats, M-ish mirrors. Woo. The changes you want to know about are the ones, really, you can't see.
And they're mega. Won't lie. Won't dally. The M2 Comp is terrific.
The M2, when it was launched, was the kind of car whose engine easily outclassed Porsche's four-pot, but whose handling, while brawny, engaging, enjoyable, didn't quite have the last word in finesse like the Porsche did.
I mean, strictly talking about finesse, perhaps it still doesn't. The Porsche has its masses close to its middle, and it rides with elegance, so it retains exceptional control of its body, turns with amazing agility and dances around at its limit with true grace.
The M2 Competition doesn't do that and is both different and hugely engaging as a result. Remember the ride on the past M2? Bit knobbly, but rounded, bouncy, at the very edges. Now, take away the rounded bits. The ride is firm but so brilliantly controlled that I don't think – really terrible roads aside – it's any less comfortable. Body movements are over quickly. But the chassis changes that make the big difference are the ones that up the M2's response.
With the engine in the front and a weight of 1625kg (up 55kg owing to the new engine and ancillaries), the M2 is still never going to quite have the same agility as the Porsche. But honestly it doesn't matter, in the fact that the steering is more positive around its centre, so builds with authentic feel as you turn, while that strut at the front and the stiffer joints at the back mean there is a massive slug of accuracy and precision where there simply wasn't before.
It's great on the road. It's rewarding at any speed but more so once you ask more of it. The engine zings away with more freedom than the old M2's, or a Cayman's, or that of the only other serious small driver's coupé worth a look, the Toyota GT86/Subaru BRZ. You don't have to rev it out, mind: that the torque peak arrives at 2350rpm means that third gear is good for a windy, empty hillside road, with enough oomph to play around a little with the cornering line. The dual-clutch transmission is good, but I'd spec the manual gearbox every time. It's weighty and long-ish on throw, but the smoothness and involvement are good. And involvement is the M2's new speciality.
On a circuit, you'll find a mostly even handling balance. There's a touch of understeer, in higher-speed corners particularly, because the engine's in the front and there should be a bit of push on any new road car. But if you trail the brakes as you turn, or in higher-speed stuff just lift out of the throttle, the M2 becomes pleasingly neutral. You can lean on it with confidence, and adjust the line easily on the gas, knowing it's playful and reliable in the way that the best rear-drive chassis – and this is among them – are.
The ESC calibration is good. In standard mode, you can find its limit under acceleration on the right road, and on track in particular – and please take an M2 Competition on track at least once if you buy one – it's better in MDM (M Dynamic Mode), which will even give you as much as a quarter turn of opposite lock before it even thinks about intervening, and when it does, it does to do you a favour. The M2 now gets presettable M buttons on the steering wheel, one each side, with which you can set your dynamic preferences. With a manual gearbox and because the M2 is passively damped, it's not as useful a shortcut as on, for instance, an M5, but it could be handy on a track day – a push of one button, say, giving you everything off just for that nice section where they won't mind so much if you smoke up the tyres. Just a little.
That limit playfulness – the rear differential's willingness to lock, let you ride out a slide on neutral steer or with everything crossed up – remains the M2's ultimate party trick. But this time, it has more dimensions than that. It has more keenness, incisiveness and engagement all the time. It is a sports car, not a muscly coupé. When Porsche moved to a four-cylinder engine, I wondered if its rivals would sense a weakness; an opportunity. BMW is the first to really take it. I give you one of the best driver's cars of the year.
MATT PRIOR
TESTER'S NOTE:

I drove this car alongside the new M5 Competition. Striking how much the smaller size meant the M2 was more enjoyable. MP
BMW M2 COMPETITION
All the M2 was, with both added brawn and precision, to become one of the year's best driver's cars


Price  £49,805
Engine  6 cyls, 2963cc, twin-turbo, petrol
Power  404bhp at 5250-7000rpm
Torque 405lb ft at 2350-5200rpm
Gearbox 6-spd manual
Kerb weight 1625kg
0-60mph 4.4sec
Top speed 155mph (limited)
Economy 30.7mpg
CO2, tax band 227g/km, 37%
Rivals Audi TT RS, Porsche 718, Cayman GTS
M2: NOW WITH TWICE AS MANY TURBOS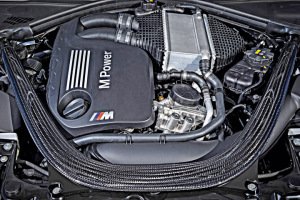 In the 3.0-litre straight six in the M2, M3 and M4, and the 4.4-litre V8 in the M5 and others, BMW's M division now has only two engines to occupy itself with, which makes its life easier with ongoing WLTP emissions regulations. The M2's S55 motor replaces the N55 unit and power and torque and cooling requirements are all up, but the biggest technical difference – not that you necessarily feel it from the driver's seat – is that the new unit has two turbochargers, not just one. The original M2's engine has a twin-scroll turbo, which means it has two tracts through it, to even out the pulses and improve response. But with two turbochargers, there's no need to have two scrolls. Instead, each pretty conventional turbo takes on three cylinders apiece, to deliver what, in this case, is a broad spread of torque with not too much lag. It's still not as responsive as a naturally aspirated unit, but no turbo is.