TESTED 12.9.18, ITALY ON SALE NOVEMBER PRICE £31,500 (EST)
Premium compact SUV is completely renewed – and bigger and better than before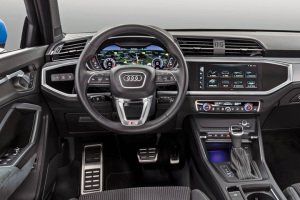 The second-generation Audi Q3 arrives in a crowded marketplace a world away from the one it entered as a trailblazer in 2011. Not only must the Q3 count the BMW X1, Volvo XC40, Range Rover Evoque and Mercedes-Benz GLA as rivals, but also its own baby SUV sibling, the Q2, launched in 2016.
Audi wants lots of differentiation between its two compact crossovers so gone is the first-generation Q3's bulbous design and in its place is a chiselled SUV. It's also larger than its predecessor and comes fitted with the latest Audi infotainment system, also found on the flagship Q8.
What's most notable about the new Q3 is its relative good value for money. The entry-level Sport trim in 1.5-litre 35 TFSI guise starts from just under £31,000 and has a plethora of kit with it. For starters, LED lights, MMI Navigation Plus, 10.2in Virtual Cockpit screen, power-operated tailgate, rear parking sensors, cruise control and lane departure warning are included. There are two more trims, S Line and Vorsprung, with S Line expected to be the biggest seller.
From launch, there will be three petrol engines and one diesel engine, with more diesel options arriving later. All versions will be available with a six-speed manual or seven-speed S tronic dual-clutch gearbox and front-wheel drive or quattro four-wheel drive. The most popular engine will be the 1.5-litre TFSI with 148bhp and 184lb ft of torque, badged 35 TFSI and driven here with the
S tronic gearbox.
This turbocharged 1.5-litre petrol with cylinder-on-demand tech (temporarily switching off cylinders at low load) works beautifully in the Volkswagen Golf – smooth, refined and effective. But in this Q3, it's not the same story. The unit is perfectly sufficient for the car's weight – 0-62mph in 9.2sec – but the sticking point is how that power is delivered. Even from low speeds, you can hear the gruff engine having to work hard to achieve results. The issue is more noticeable with the seven-speed dual-clutch gearbox. It coasts along effortlessly but, in a constant effort to save fuel, it's always trying to change up. Try to accelerate or decelerate unexpectedly and it feels sluggish.
Despite these foibles, there are plenty of positives. We were in the entry-level Sport trim with the smallest, 18in wheels and front-wheel drive, and the ride was compliant and comfortable, albeit on mostly smooth European roads. Arguably, the XC40 is the more comfortable car, though.
However, the Q3 wins hands down for handling. The steering is light, precise and consistent. If you want to add some extra heft, changing to Dynamic mode (one of six driving modes available) will do the trick. There's excellent grip and composure, plus fine body control too.
Audi has nailed space in this car, something that was a must following the criticism of the first-generation Q3. Rear passenger space is dramatically improved and boot space is more flexible thanks to rear seats that can slide up to 150mm and a boot floor that has three levels. Boot space ranges from 530 to 675 litres, beating the X1 and GLA.
Audi interiors are some of the best in the business and the Q3's is no different, benefiting from the latest Audi systems and infotainment. Everything except volume is now controlled via a 10.3in touchscreen. It's a growing trend, but not perfect: there's still a microsecond's delay when doing something on the screen.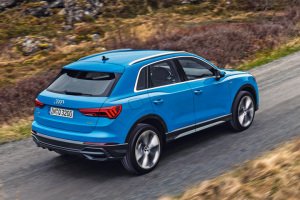 If you have a penchant for premium German marques, the Q3 might have the edge over its rivals thanks to the old age of the X1 and GLA, but if you're willing to look further – towards the quirkier XC40 or less premium but impressive equivalents such as the Seat Ateca – it becomes a trickier decision.
What Audi has failed to do here is to produce a sure-fire class leader. It's a good car but lacks finesse in the engine and gearbox department. However, if you do want a Q3, the 35 TFSI is the pick of the range, based on its ability and affordability.
RACHEL BURGESS 


TESTER'S NOTE
There's no official word on electrified versions, but expect to see a plug-in hybrid Q3 with at least 40 miles of electric-only range from 2020. RB
AUDI Q3 35 TFSI S TRONIC SPORT
Appealing, comfortable and practical compact SUV but with engine and gearbox quirks to address


Price  £31,500 (est)
Engine  4 cyls, 1494cc, turbo, petrol
Power  148bhp at 5000rpm
Torque 184lb ft at 1500-3500rpm
Gearbox 7-spd dual-clutch automatic
Kerb weight 1495kg
0-62mph 9.2sec
Top speed 129mph
Economy tbc
CO2, tax band tbc
Rivals BMW X1, Mercedes-Benz GLA, Volvo XC40