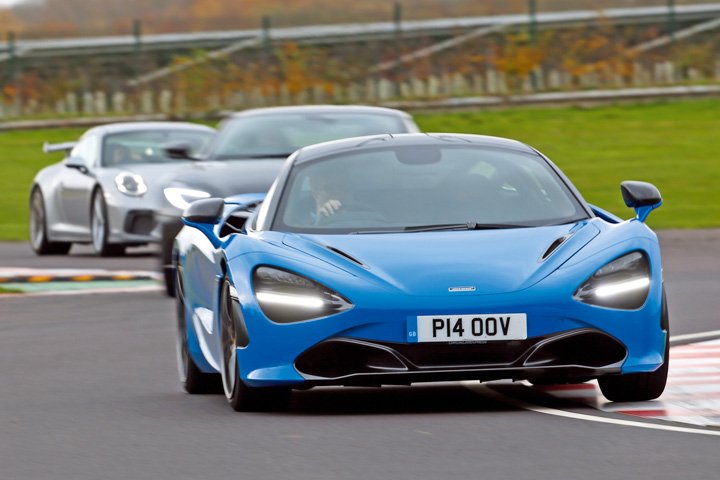 The Aston Martin DB11 V8, McLaren 720S and Porsche 911 GT3 are assured of podium finishes. But on which steps? Matt Saunders reports

The sense of solace was palpable at the end of the first day of our Britain's Best Driver's Car test. As darkness descended on the pit lane, the majority of the serious driving and judging was over, and we breathed a collective sigh of relief at our good fortune in the gathering crepuscular calm.
The conditions had been bad all day, and appalling in parts. Every driver had discovered, if they didn't already know, how treacherous and unforgiving a circuit Castle Combe might be in the wet if you don't respect its bumps, cambers and shaded slippery expanses. And yet somehow our day had been incident-free, ending with exactly as many undamaged cars – and prides – as it had started with. And nobody could claim they hadn't learned – and often learned very quickly – what separates the very best driver's cars we'd gathered from the rest.
So what difference did the rain make? For a while, we wondered, as four judges dissected and decoded their impressions of the best and worst performances they'd witnessed. The slippery conditions were certainly a levelling influence, making a secure, predictable front-driver such as the Golf GTI Performance feel like a fine refuge from the eye-widening, power-on snap oversteer you might have encountered immediately beforehand in anything from the GT R to the M4 CS. A dependable, judiciously tuned traction and stability control system certainly did more for a car this year than it might have ever before in a Britain's Best Driver's Car contest. But in the end, the same qualities that make a car impress at the limit of grip in the dry – communicative controls, good close body control, a dexterous well-tuned ride, a powerful and linear powertrain, and a finely balanced chassis that mixes stability with adjustability in just the right proportions – also distinguish one when the heavens are well and truly open.
We had decided well in advance that only the top three cars in the test would go forward to be covered in greater detail here. And yet it also became clear that, for everyone present, three cars had really stood out from the rest of the pit-lane crowd – while one or two others had passionate but more lonely advocates.
I, for one, was sorry to find out that the Civic Type R hadn't upset the odds and forced its way into our final round, because the tactility and honesty of its driving experience seemed to me to shine so brightly. Prior thought the Giulia Quadrifoglio deserved a podium finish, not least because of this 500bhp rear-drive car's endearing approachability. Prosser, meanwhile, argued that the Seven 420R Donington Edition should have made the cut on account of it being so communicative, trustworthy and drivable in testing conditions. All were worthy shouts.
But two judges out of four scored the podium exactly as it is represented in the final combined order that you'll see in a few pages' time – and therefore constructed it, in no particular order, out of the DB11 V8, the 720S and the 911 GT3.
Within three laps in the GT3, Castle Combe was coming at me completely afresh
If you knew nothing about the particular circumstances of our test and were asked to pick from the grid full of metal on the opening pages the three cars likely to rise to the top on subjective driver appeal, you'd have stood a decent chance of guessing that trio, I reckon. But now ask yourself if you'd still have bet on a 710bhp mid-engined supercar, or a circuit-special 911 on Cup tyres, at five minutes to nine on a rainy Tuesday morning, with nothing but grey cloud in every direction and the on-track puddles already settling in for the day? My money, for what it's worth, would have stayed dry.
[metaslider id="23864″]
The DB11 V8 might have been worth a last-minute punt, granted – but even here, you'd have got decent odds. In 28 of our annual Britain's Best Driver's Car meetings, Aston Martin has yet to score an overall win. The DB11 V12 didn't even make it into last year's list of contenders for the prize when we chose instead to admit Gaydon's rather more 'expressive' Vantage GT8 – complete with a V8 engine that must have been audible from Anglesey's Trac Mon all the way across the Irish Sea in Dublin.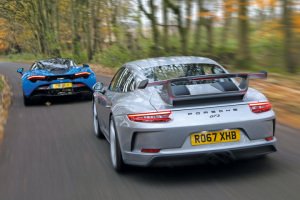 But the DB11 V8 is quite a different car from its bigger-engined brother, as we've already written on a couple of occasions. Thanks no doubt to more relaxed suspension rates than much of the rest of this year's BBDC field came armed with (as well as a substantial engine up front, where its mass may be a positive influence on handling stability, and an overarching dynamic character suited to a modern sporting GT), the Aston took to the doused circuit better than almost anything else. It found grip where others didn't. Through the patches of standing water and over the shinier, more foreboding-looking stretches of tarmac, it stayed assured and true –to its course where others slipped and skidded.
Throw in Castle Combe's more savage bumps on top of the bad weather and you've got a challenge with which many chassis in the running simply couldn't cope, without deflecting off line or leaning heavily on their electronic control systems; but not the DB11. Supple-riding, stable up to impressive speeds and ever predictable thereafter, the Aston attracted praise from all corners for the imperviousness of its composure. Frankel called it "perfectly set up for a relentlessly grim track, with the ideal wheelbase, the heft, the tyres and the linear steering response". Prosser called it "friendly and fluid, without feeling like a barge" and Prior noted that it was "one of few cars which I'm prepared to mess around with in just about any corner because it's so faithful and dependable". When plenty of cars felt a touch frightening, the DB11 felt like fun.
But while the DB11 coped as well as anybody hoped it might with the worst that a November day in Wiltshire could throw at it, the 720S was busily confounding expectations in a way that was almost as effective. Like the Aston, the McLaren took to Combe on factory-fit performance road tyres that actually dealt with the rain very well indeed. But only a mid-engined chassis of rare brilliance could have made driving this 700-horsepower machine so easy, in conditions you might have thought almost certain to render such a car practically uncontrollable at much more than pootling speeds.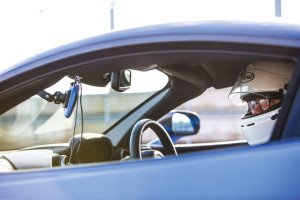 The worst of the weather certainly neutered the 720S's bid for total dominance of this contest, at least for a while, inasmuch as it made it impossible to use all of the car's titanic performance – and therefore for the McLaren to set about blowing its competition into the weeds for sheer mind-melting excitement. But it was remarkable how much of the car's potency could be used – and how finely that exchange between tarmac and contact patch could be managed through a carbon tub and rear subframe that felt stiff enough to transmit longitudinal forces in supreme precision.
Although the McLaren was very closely and effectively supervised by one of the better traction control systems in the pit lane, the thing was the 720S really wasn't scary – even with everything turned off. It was balanced and agile, but not nervous-feeling; adjustable, but as secure as ever it needed to be. And also unerringly accurate and consistent in its responses to another half inch of accelerator, another quarter pound of brake pedal pressure or a 10deg steering correction. Frankel was "gobsmacked" by the car's benign drivability, praising its "immense turn-in" and "first-class" steering and brakes. Others had similarly gushing praise.
But how, do you suppose, did a rear-engined Porsche on Cup tyres fend off the challenge of the rest of the field and secure a spot in our top three? It was one of three cars in the running shod with Michelin Pilot Sport Cup 2 rubber – and a few laps in either of the others (the GT R and M4 CS) wouldn't have given you great hope for it. But where the Mercedes-AMG and BMW felt as if on tiptoes out on the track, the GT3 had the directional stability to begin working and warming its tyres – and what a difference that made.
Moreover, the Porsche had what so many GT-series 911s have had for the past two decades: the communicative gifts to make clear exactly where the margins of its grip and traction lay, and the confidence-inspiring controllability to let you explore those margins as much, or as little, as you chose.
I climbed into the 911 after what felt like quite a long and occasionally torrid morning driving what I expected to be great-handling cars in conditions regrettably unsuited to many of them. When I did, I already knew the track was slippery and, but for the good work of some very clever ESP engineers, I would probably have fallen off it more than once.
But within three laps in the GT3, Castle Combe was coming at me completely afresh. The fast bends, chicanes and braking areas that had seemed uniformly treacherous now had texture: grippy lines and paths to avoid, hollows and cambers left and right, and bumps and quirks that nothing, save the McLaren and the Caterham, had really even begun to make me aware of. The 911 GT3 is like a 500-horsepower prism to all of these things, capable of classifying them all and filtering them just a little bit through its vivid, singularly feelsome steering rack; through its suspension, capable of reading the topography of any stretch of road with intimate closeness; and of injecting drama, vigour, poise and speed into everything it does.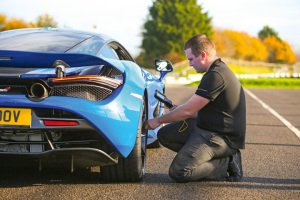 Prior decided that "everything else might as well just go home" because the Porsche "steers superbly, its engine is fabulous, it's massively tied down and it always lets you know what's going on". Prosser called the GT3's engine "outrageous" and its drivetrain "out of this world". That, in short, is how a Cup-shod 911 defied the odds and scythed its way towards the sharp end of one of the most testing, rain-soaked Britain's Best Driver's Car fights we've had in years.
But then – wouldn't you know it? – on what remained of our Britain's Best Driver's Car shootout, Castle Combe began to dry out. Just before it was too late to count, the circuit quickened. There was decent scope for lap times where we feared there would be none; a chance, albeit fleeting, to approach the limits of what these cars were capable of, and to build what we learned into the fullest verdict possible on our champion driver's car of 2017.
All of a sudden, the shackles were off. Where the Aston had excelled in the wet, in the dry it suddenly began to feel more like a big, heavy GT car – albeit a very good one. Meanwhile, a fascinating duel for outright lap-time supremacy developed between a McLaren of staggering thrust and composure and a Porsche, with a sublime 9000rpm redline, that simply wouldn't throw in the towel.
See the next article to find out how that duel played out – and to read our final affirmation for Britain's Best Driver's Car of 2017.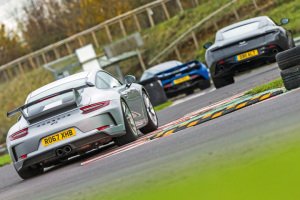 PORSCHE  911 GT3
Andrew Frankel
"It's interesting, given how sporting this car is meant to be, how well it deals with the bumps; how brilliantly accurate and linear is the steering; and how (comparatively) progressive it is when it slides."
ASTON MARTIN DB11 V8
Dan Prosser
"Lacks GT3's fizzing feedback. Steering is super-sharp and direct. Engine isn't boosty like M4's. Good grip and traction on regular road tyres. Really feels like a sports car rather than a big GT."