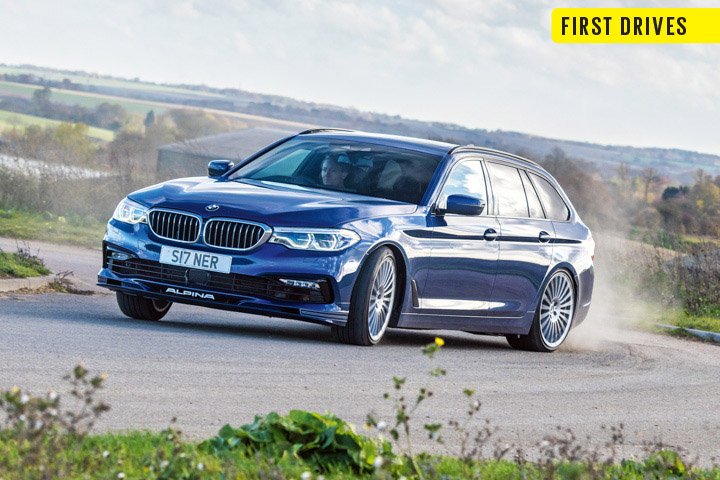 TESTED 2.11.18, CAMBRIDGESHIRE ON SALE NOW PRICE £91,000
This 202mph estate is about so much more than sheer speed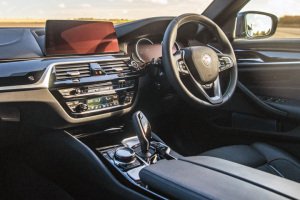 In lieu of the genuine article, this is as close as you'll get to a BMW M5 Touring of the current F10 generation. In fact, Alpina's take on an openly practical 600bhp 5 Series could be even more enticing than an M division ware, because the tiny marque's more understated approach to going extremely fast better suits the family-car brief.
This much is apparent as soon as the forged, lightweight 20in wheels begin to turn. In combination with Alpina's assiduous retuning of the donor 550i's sports suspension – now by air at the rear axle – they help deliver the kind of ride that M5 owners must surely wish they had access to 90% of the time. In fact, on anything larger than a narrow B-road, you'll carry 30mph more than intended, such is the quiet, reassuring fluidity of this chassis, and yet there is body control to spare thanks in part to the presence of active roll stabilisation. A Comfort Plus mode specific to the B5 lends the car an extra veneer of class when the road topography is gentle enough for it not to induce too much float.
The Touring doesn't accumulate speed with quite the same enthusiasm as the saloon – at 2120kg, it is 105kg heavier – but barely is there any need for that. Alpina's reworking of the BMW 4.4-litre V8 extends to fitting a pair of twin-scroll turbos, a new intercooler, two extra water radiators and a wide-bore intake system.
The upshot is 494lb ft from 2000rpm and then 590lb ft between 3000rpm and 5000rpm. Duly, in-gear performance feels prodigious enough to show bona fide sports cars a clean quartet of exhaust tips, even with the 1670-litre load bay generously stacked. What really beguiles, though, is the manner in which this all-wheel-drive estate – so accurate and neutral in its balance – will subtly over-rotate its rear tyres through corners. It is not at all defined by its mass in this regard.
The price is £91,000 before options. Factor in an extra £1400 if you want the high-performance braking system from the M760i (preferable) and £2500 for a mechanical limited-slip differential (in our view, essential). That is M5 money, granted, and yet you get neither the class-leading handling prowess of that car nor the cachet of a motorsport heavyweight. What you do get is a companionable car that will seldom, if ever, feel anything but just the right tool for the job.
RICHARD LANE
ALPINA B5 BITURBO TOURING
Reconciles performance, refinement and pragmatism with flair and everyday appeal in inimitable style


Price  £91,000
Engine  V8, 4395cc, twin-turbo, petrol
Power  600bhp at 5750-6250rpm
Torque 590lb ft at 3000-8000rpm
Gearbox 8-spd automatic
Kerb weight 2120kg
0-62mph 3.7sec
Top speed 202mph
Economy 26.2mpg
CO2, tax band 241g/km, 37%
Rivals Audi RS6 Avant, Mercedes-AMG E63 S Estate