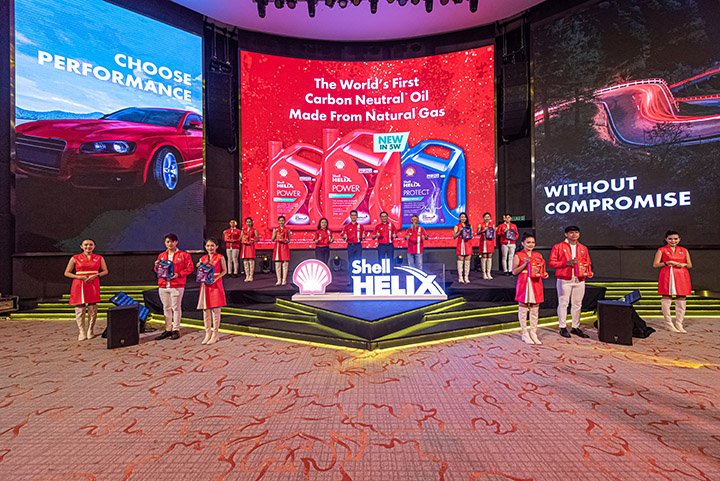 Carbon neutral lubricant made from natural gas
Carbon neutral lubricants make their debut in Shell Helix Power and Shell Helix Protect.
The high performance fully-synthetic engine oils are formulated with Shell PurePlus Technology,  and made from 99.5% pure base oil from natural gas.
Carbon neutral lubricant is the latest Shell initiative to reduce carbon emissions and become a net-zero emissions energy business by 2050.
In conjunction with this launch, Shell Helix is also expanding its offerings with the introduction of 5W-40 viscosity grade under the Power variant, in order to meet the growing consumer demand. Shell Helix Power 5W-40 is for high power and performance vehicles. It is suitable for gasoline and diesel passenger cars. This newly launched engine oil is now available at participating Shell branded and independent workshops, where the recommended retail price for this four-litre pack in Peninsular Malaysia is RM 280, while in East Malaysia is RM 280.80.
To commemorate the launch, consumers will also get an exclusive Shell Helix Bamboo Bluetooth Speaker with every purchase of Shell Helix Power 0W-40, Shell Helix Power 5W-40, or Shell Helix Protect 0W-30 four-litre pack at any participating outlets, while stocks last.
To ensure the products are genuine, look out for the "Untuk Pasaran Malaysia" logo on the front label of the bottle.
For more information, click here.
Shell's global portfolio of nature-based carbon credits compensate CO2e emissions from the entire lifecycle of these products, including the raw materials, packaging, production, distribution, customer use and product end-of-life.
This is in addition to existing efforts of responsibly reducing the carbon intensity of oil and gas operations, and investments in lower-carbon sources of energv.
Shell also works with projects around the world that help reduce CO2e emissions.