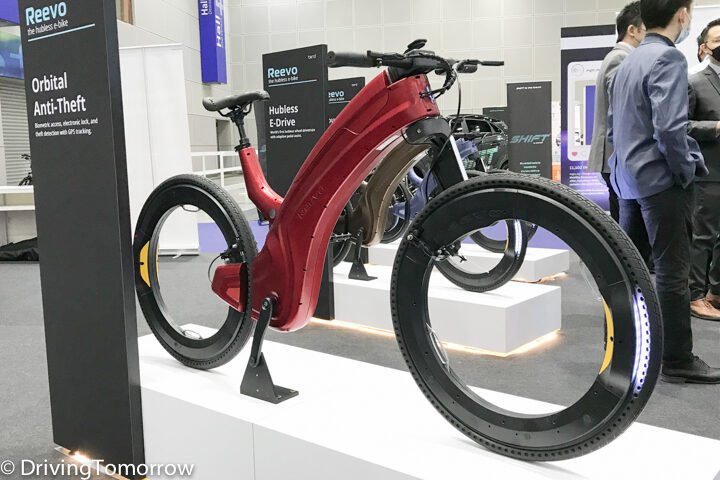 Reevo Bikes are the world's first hubless e-bikes, from USD2,700
Reevo Bikes from Malaysian-based company Beno Technologies, are the world's first hubless electric bicycles. The aluminium alloy-framed e-bikes have a futuristic design to match the technologically advanced engineering. They feature spoke-less wheels, have a 250W electric motor and are capable of a top speed of 25km/h with a range of 60km. There is also a 750W version which has a throttle, for the US market.
The bikes have two modes – hybrid with adaptive pedal assist and manual paddling. The electronic adaptive pedal assist system has five levels of pedal assistance and automatically detects the gradient of the road to provide assistance. The 750W variants are also capable of pure electric, pedal-free propulsion.
Low battery? Remove the discharge battery and swap in a fully charged unit on the go. There is no need to wait around for three hours while the battery recharges to full.  There are holders built into the wheel frames so the spare battery can be stored in the void.
The sleek frame incorporates automatic LED headlights and tail lamps with integrated turn indicators in the rims. There is also a phone holder, USB charger and a concealed kickstand which also doubles up as an anti-theft device when deployed.
Reevo bikes are also theft resistant, care of a microchip implanted within the frame. If it senses motion or the bike leaves a preset geofencing radius, the anti-theft system will alert the owner. The GPS tracker linked to the Reevo app also shows the bike's location and can track it anywhere in the world, all in real time. Other anti-theft features are fingerprint authentication, and electronic wheel locks which activate when the kickstand is fully extended.
The multifunction Reevo app is a speedometer as well as ride tracker. It also keeps a record of every ride and compiles the information into statistics covering details like battery level, distance travelled, trip times, pace and average speed so ride histories can be compared. Other features are lock/unlock, pedal assist adjustment and pedal assist calibration.
Reevo bikes is the brainchild of three Malaysians. The bikes are designed and built in Penang. The initial funding to start the project was via Indiegogo and has since raised over RM28million. The bikes are sold in Europe and the US, starting from US$2700.
Reevo Bikes are at IGEM 2022 at Kuala Lumpur Convention Centre until 14 October 2022. More information about Reevo e-bikes at reevobikes.com