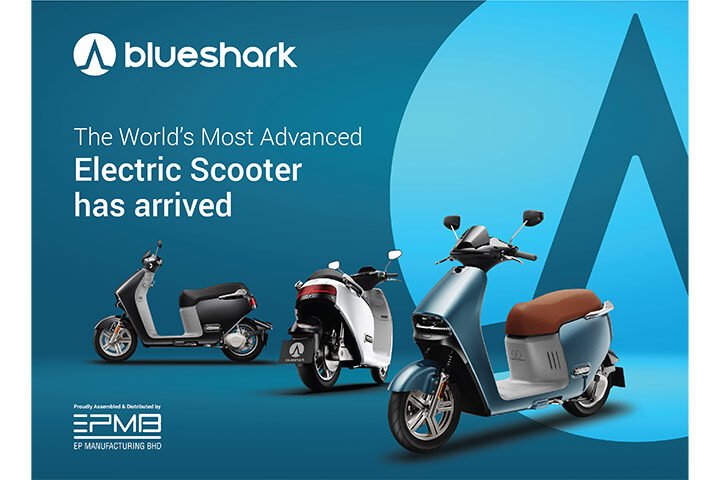 Blueshark R1 launch in conjunction with memorandum of cooperation (MoC) multi-stakeholder partnership signing 
Blueshark Ecosystem has launched the Blueshark R1 smart electric scooter. The vehicle comes with ArkRide Operating System, an integrated, always connected OS with smart device interaction. The ArkRide OS is proprietary to Blueshark. The Android-based OS is a customisable user-friendly interface. There are numerous rider aids with software updates over-the-air and comprehensive vehicle telemetrics linked to Blueshark's own Internet of Vehicles (IoV).
The Blueshark R1 battery is lithium iron phosphate (LFP). The durable, efficient and convenient power source provides 110km range. The easy battery-swapping tech eliminates the need to wait while recharging.
The electric scooter comes with a commercially viable leasing model with lower CAPEX and OPEX. Blueshark believes this makes it suitable for SMEs as well as facilitate the gig economy to elevate the B40.
At the International Greentech & Eco Products Exhibition & Conference Malaysia (IGEM) 2022, Blueshark inked an MoC with its key industry partners. Their aim is to facilitate the adoption of smart electric scooters by creating sustainability-led job opportunities for the B40 community. The partners are the official manufacturer and distributor, EPMB, alongside Blueshark Ecosystem Sdn Bhd and MGTC. Other key infrastructure and operational partners will also added over time.
Blueshark is also committed to enhancing and expanding infrastructure for two-wheel electric vehicles (2WEV). They have designed an ecosystem to support its growth on a national scale.
Blueshark's first 3S centre will open soon in Glenmarie. This underlines their commitment to enhancing infrastructure and providing strong ecosystem support for riders during the pilot programme and beyond.
To learn more about Blueshark and green urban mobility in Malaysia, please visit www.blueshark.com.my.
_____________
Blueshark Ecosystem Sdn Bhd  is a subsidiary of Sharkgulf Technologies Group Limited. Sharkgulf creates products and services to power smart electric mobility. Their vision is to revolutionise electric mobility and democratise green technology by creating sustainable accessibility at all levels. They focus on the hardware, software and the power source to provide a holistic user experience which unlocks all barriers of ownership.
Sharkgulf launched their first electric scooter in Beijing and have been creating waves across the category, won awards (Good Design Awards 2020) and have expanded their footprint across two continents. They are expanding within the ASEAN region with their Malaysia subsidiary Blueshark Ecosystem Sdn Bhd to catalyse societal change and better people's lives.