GoCar Subs model range now includes Proton X50, Nissan Almera Turbo, Honda City and Mitsubishi Xpander
GoCar Subs had added four new models to their range of cars. The Proton X50, Nissan Almera Turbo, Honda City and Mitsubishi Xpander are now available. They are offered in the Exec category of the car sharing subscription programme. Under GoCar's streamlined 'One Price' structure, they come with one-year, two-year or three-year subscription plans.
Subscription vs Hire Purchase
Is Car Subscription better value than buying on Hire Purchase? The table below details the total costs in the first year for a 36-month subscription of the four new models vs. a five-year hire-purchase loan – the most common loan tenure as consumers generally tend to purchase a new car after five years.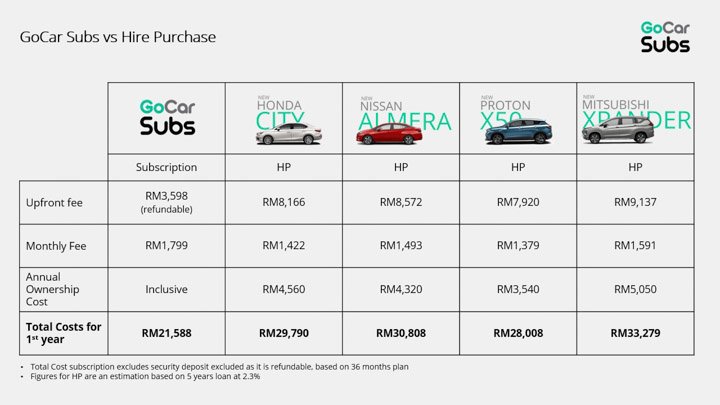 GoCar Subs claims to be the most affordable multi-brand car subscription programme in the market.  The on-demand car sharing platform also offers GoCar Subs' 'SWAP', where customers have flexibility of swapping to any model in the garage, with the option of two swaps per year. All they have to do is pay a one-time swapping fee of RM250 and they will have access to three different models to suit their needs. The monthly fee and security deposit is adjusted accordingly based on the category of models they select.
As such, customers are able to experience all the new models available – start with the Almera, then try out the X50 and then move on to the Xpander and City later in their subscription term. Customers can also select any other model available within the garage.
To sign up for a GoCar Subs account or view the full garage listing, visit www.gocarsubs.com.