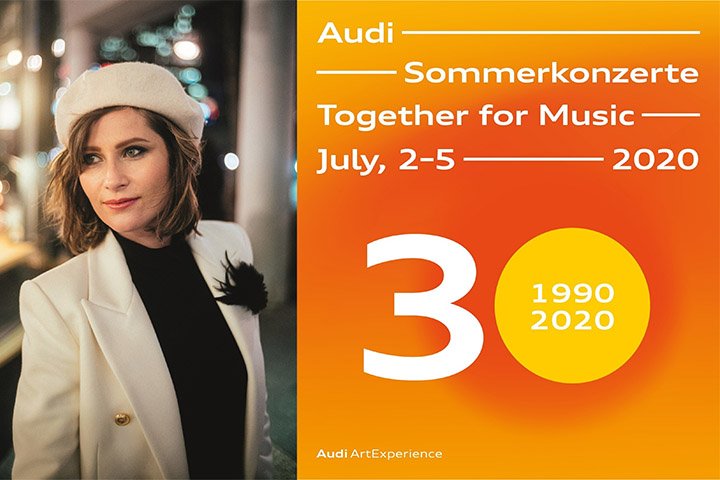 Audi will live-stream four concerts from the Audi Sommerkonzerte in Ingolstadt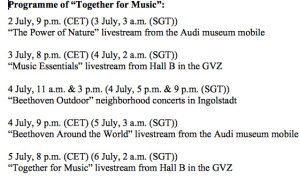 The Audi Sommerkonzerte will be held in Ingolstadt from 2 to 5 July 2020. Four concerts will be streamed live to celebrate the 30th anniversary of the festival. The Covid-19 crisis has meant a smaller scale celebration in the festival's anniversary year. The originally planned festival programme, "Lights of Europe" has been postponed until 2021.
The digital Audi Sommerkonzerte will open on Thursday, 2 July with a musical summit in the Audi museum mobile which houses historic vehicles and concept studies. Lisa Batiashvili will perform the much-loved Trout Quintet by Franz Schubert with the star cellist Maximilian Hornung, viola player Lawrence Power and the double-bassist Nabil Shehata. Virtuoso pianist Alice Sara Ott, one of the most sought-after pianists of her generation, completes the ensemble. There will also be a reading by German actress Katja Riemann.
On Friday, 3 July the Budapest Festival Orchestra, one of the world's ten best orchestras, conducted by Iván Fischer, will play Wagner's Siegfried Idyll and Symphony Number 104 in D major by Joseph Haydn. This will be in Hall B on Audi's GVZ site. The  2,000 square metre space provides enough room for the orchestra, which will also accompany the globally acclaimed soprano Anna Prohaska in Benjamin Britten's "Les Illuminations".
The programme continues with a performance in the Audi museum mobile on Saturday, 4 July: under the motto "Beethoven Around the World", the French string quartet Quatuor Ébène, an internationally renowned top ensemble, will both dedicate themselves to the 250th anniversary of Ludwig van Beethoven and also celebrate the 20th anniversary of their own founding.
For the conclusion of the digital concert series, Lisa Batiashvili and Maximilian Hornung will perform together again on Sunday, 5 July in Hall B of the GVZ, accompanied by the Camerata Salzburg directed by the world-famous oboist and conductor François Leleux.
Streaming services on the web
Catch the concerts live, free of charge on:
www.audi.com/sommerkonzerte
the YouTube channel @Audi
the Facebook page @Audi.AG
and on social media channels of the performers
The livestream is also available at www.audimedia.tv, the Audi MediaTV app and via Smart TV. Recordings of the four concerts will be available for a short time afterwards on www.audimedia.tv.
The festival programme will be presented in English by Alexander Mazza.
Programme of "Together for Music":
2 July, 9 p.m. (CET) (3 July, 3 a.m. (SGT))
"The Power of Nature" livestream from the Audi museum mobile
3 July, 8 p.m. (CET) (4 July, 2 a.m. (SGT))
"Music Essentials" livestream from Hall B in the GVZ
4 July, 11 a.m. & 3 p.m. (4 July, 5 p.m. & 9 p.m. (SGT))
"Beethoven Outdoor" neighborhood concerts in Ingolstadt
4 July, 9 p.m. (CET) (5 July, 3 a.m. (SGT))
"Beethoven Around the World" livestream from the Audi museum mobile
5 July, 8 p.m. (CET) (6 July, 2 a.m. (SGT))
"Together for Music" livestream from Hall B in the GVZ