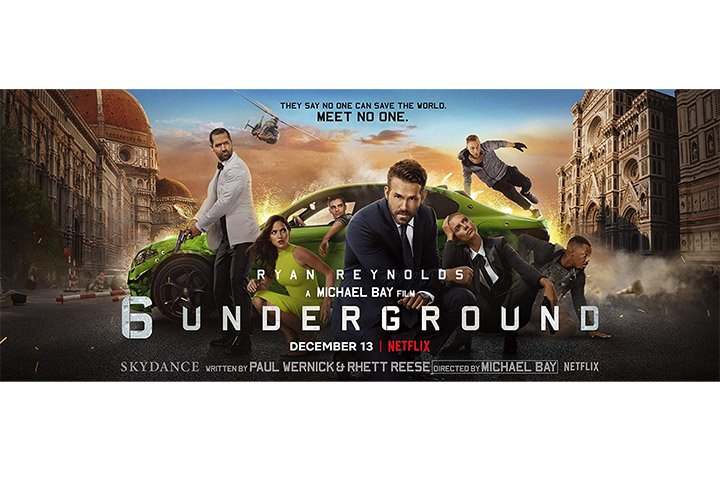 Netflix movie 6 Underground opens with a petrol-fuelled heartthrob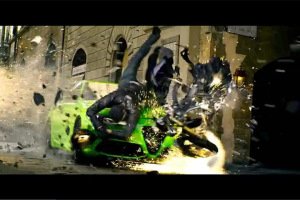 The opening sequence of 6 Underground has Ryan Reynolds in a neon green Alfa Giulia Quadrifoglio tail spinning, tyres screeching, engine screaming through Florence. A neon green Alfa. I was transfixed. No matter how bad this movie might get, I was going to watch it to the end. Assuming that I didn't pass out before the closing credits. Not from the blood and gore but from the thumping pace. The action moved faster than I could catch my breath.
6 Underground is hallmark Michael Bay escapist feel-good action: optically-stunning colour saturation, sweeping vistas, beautifully shot locations. The guns are big and the explosions magnificently loud and blinding. The trail of destruction mouthwateringly shocking. The stunt crew credits list was the size of a small town.
The premise is a team of international operatives, One, played by Ryan Reynolds, Two (Mélanie Laurent), Three (Manuel Garcia-Rulfo), Four (Ben Hardy), Five (Adria Arjona) and Seven (Corey Hawkins) who set out to take down a dictator. Where's Six (Dave Franco)? That's part of the storyline. The catch is that they're all dead – technically. All their deaths faked, their loved ones left behind. They have no identity, no names (they call each other by their numbers), no more tax returns. They travel by private jet. Did I mention, One was a tech billionaire before he became a ghost with humanitarian scores to settle?
One is cool-headed, a strategic thinker and the bank-roller. He's also a pilot but he doesn't have the coolest skills in the team. That goes to Four, the gravity-impervious parkour runner who runs down the external ribs of the Florence Duomo for fun. The rest of his fellow band of the undead dead are a spy, a hitman, a doctor, a driver and a sniper. They are, of course, all super-attractive.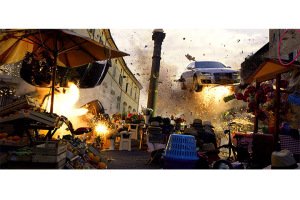 Then there was the cast of cars. It was quite a cavalcade. None were as eye-ball gripping nor heart-grabbing as that neon green Alfa Giulia Quadrifoglio which had been souped up and modified with a hydraulic handbrake to achieve the tight spins and cornering drifts impossible with the stock electronic hand brake. Ah, Hollywood.
After taking out a W204 Mercedes-AMG C63 wagon and Audi A7 Sportback, the car chaos-count clocked up, amongst several others, fifth-gen Maserati Quattroporte, an orange Subaru WRX STI, two Chevvy Suburbans, a Mercedes C-Class W204, Mercedes W123, a Ferrari 488 Pista, Rolls-Royce Phantom, a yellow Lamborghini Urus, a Mini Cooper Clubman, and BMW 740iL.
No big budget action film is complete without a fleet of pristine, latest generation Range Rovers driven in formation. 6 Underground has two fleets and for easy reference, black for the baddies, white for the good guys.
For the pedantic who need a hole-less plot, there were probably a lot but why look? It was more fun to sit back and enjoy the action. There was a wise-cracking script and a mood enhancing soundtrack. 6 Underground cajoled, shoved, dragged and bludgeoned my senses with such deftness that I might have forgotten to breathe for 128 minutes.
This isn't an intellectually demanding movie – thank goodness. A serious critic might even have a few unflattering things to point out. For me, it was pure diverting entertainment. Unless you're some movie snob or seriously anti-Ryan Reynolds, 6 Underground is good viewing for a quiet night in.
6 Underground is on Netflix.