TC Euro Cars have updated and expanded its Renault Subscription and E-Store offerings, and a new mobile application for customers to come in June.
TC Euro Cars (TCEC) have announced today new updates to its Renault Subscription and E-Store offerings, solidifying its digital leadership position within the local automotive industry. Through a virtual media update event, TCEC announced an expansion of the Renault Subscription Trial Plan, made adjustments to the Subscription Fixed and Switch Plans and added an attractive deal for Renault vehicles purchased via the Renault E-Store.
TCEC is continuing their charge forwards in the digital front. And with the current COVID-19 pandemic and the MCO, TCEC has foreseen that to be strong in the digital space is not only to future proof its business, but to adapt to the new norm of social distancing. This also means that personal transportation will still be a thing and subscription services will be a new way we access cars.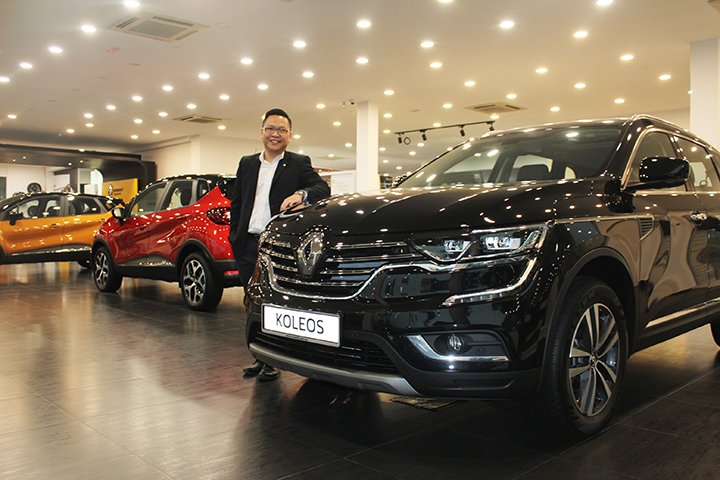 The world has changed in this increasingly digital age, reshaping the way we work and play, the way consumers behave and the expectations of customers. Digital transformation is now key for businesses and brands to stay relevant in an even more competitive landscape. To stay ahead of the curve, here at TCEC, we kick-started our transformation journey last year. With the current COVID-19 pandemic and MCO, digital-first has been accelerated and we believe we are headed the right direction towards future-proofing our business. The new norm will require social distancing. Consumers will need their personal transportation more than ever and we believe the revised subscription plans will be more appealing to them, 

Wong Hoe Mun, CEO, TC Euro Cars
The Renault Subscription Trail Plan is now expanded across all Renault showrooms in the peninsular. Piloted early this year with the Renault PJ showroom, the Renault Subscription Trial Plan – which offers the Renault Captur at RM399 per week – is now open to customers at showrooms in Glenmarie, Selangor; Jalan Ipoh, Kuala Lumpur; Bayan Lepas, Penang; And Johor Jaya, Johor.
More importantly, TCEC says in its release that customers are now allowed to sign up unlimited times as opposed to the previous one-time-only offer. TCEC hopes that the move will help customers who may have had their budgets impacted by the movement control order (MCO) or who are not keen on long-term commitments in this time of uncertainties.
When asked about the demographics of Renault Subscription's customer base, Wong Hoe Mun said that the majority of customers are in their 30s and 40s, early adopters and not looking at long term vehicle ownership commitments. Moreover, the Renault Subscription packages are popular with expatriates.
When it comes to financing, the Renault Subscription packages offer a lot more flexibility versus the traditional hire purchase method. And, it is open to pensioners and blacklisted individuals. However, it is also subject to their affordability based on their credit history. With that said, TCEC will still need to perform a credit rating check to assess the individual's ability to service the subscription.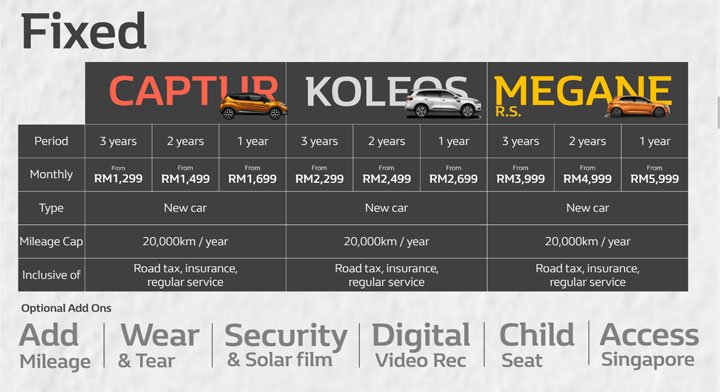 The Renault Subscription Fixed and Switch Plans have also been adjusted to better meet customer needs and wants. To balance affordability and customer confidence, the Fixed Plan now includes a three-year plan for the Captur and Koleos models. Previously, a three-year subscription was offered only for the Megane R.S. 280 Cup.
While all monthly rates under the Fixed Plan are still inclusive of road tax, insurance, regular servicing costs and an annual mileage cap of 20,000km, with the new updates, customers can now top-up for a total 40,000km, instead of the previous 30,000km.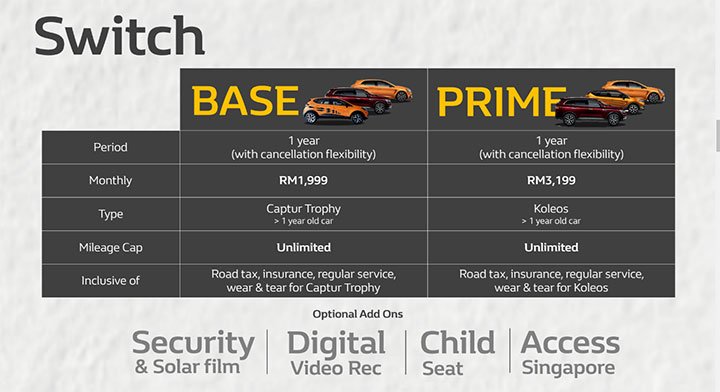 Meanwhile, the Renault Subscription Switch Plan has also been updated. The Switch Base Plan now offers the Captur Trophy at RM1,999 per month and Switch Prime now offers the Koleos at RM3,199 per month. Under this new Prime Plan, customers will have two months of Renault family access. Both Switch Plans continue to offer all-inclusive costs and flexibility with no mileage cap, wear and tear coverage and the option to cancel at any time with no penalties.
There is also an expanded list of optional accessories and access including security and solar films, child seats, digital video recorders and access into Singapore. For affordability, the cost can be included in the monthly fee across the subscription duration instead of having to pay a one lump sum up-front.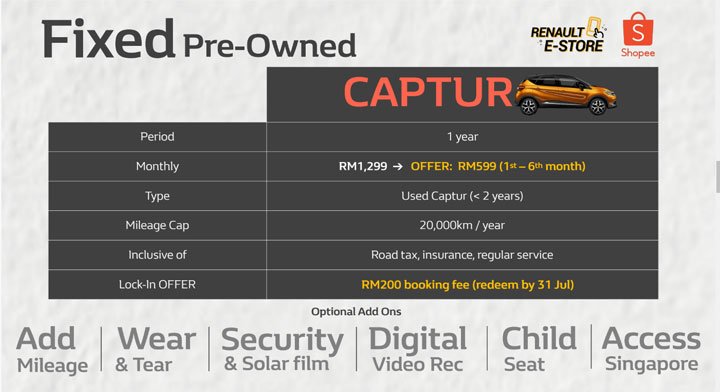 Recently, the Pre-Owned Captur Subscription which was launched on Renault E-Store and Shopee on 22 April 2020 had managed to garner more than 100 paid bookings within three days.
Attractive Online Exclusive Deals via Renault E-Store
That said, TCEC says that the launching of Renault E-Store early this year has enabled the streamlining of sales teams to deliver a consistent experience while translating all savings back to customers.
According to TCEC, customers who purchase any brand-new Renault vehicle online via the E-Store from 20 April to 31 May 2020 can save more with rebates equal to instalments for six months. And other online exclusives for new customers include free five-year or 100,000km service and trade-in rewards worth up to RM8,000.
Customers who choose to Subscribe to a new Renault be it with the Fixed or Switch plan will enjoy a one-month free subscription. Customers who opt for the Pre-Owned Captur Subscription plan will continue to enjoy 50% off the first six months of their subscription fee.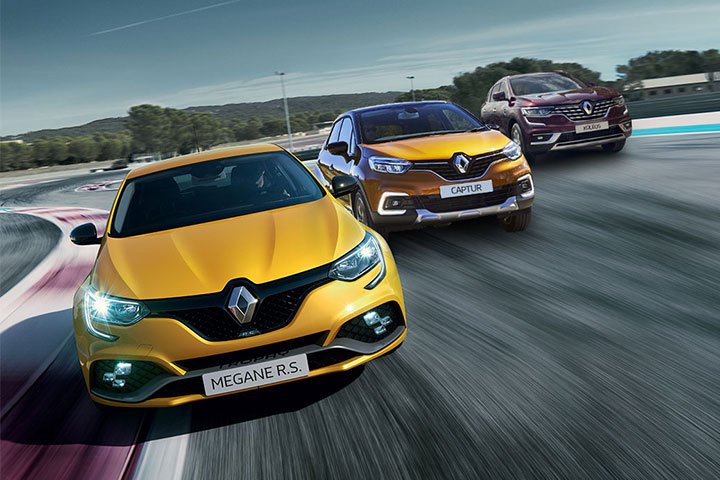 For customers who may look to keep their vehicles for longer, TCEC says that they understand that customers are looking for support from brands in the maintenance of the vehicles. As such, TCEC has focused on delivering Easy Life – a key pillar in Renault's brand promise through:
A seamless end-to-end purchase or subscription process online via the E-Store, from arranging for test drives to taking delivery of the vehicle
Door-to-door service where customers can request for delivery of their purchased or subscribed vehicles as well as pick-up and drop-off for serviced vehicles, through online bookings via Renault E-Store (available within Klang Valley). Also, the cars will be sanitised before servicing and just before delivery to protect both staff and customers.
Promotions for tyres with a 25% discount on each tyre inclusive of free balancing and over 10% off on batteries
Extended warranty for customers who need additional time to catch up on their servicing needs and extended operating hours for the service centres once MCO is lifted.
Mobility on the go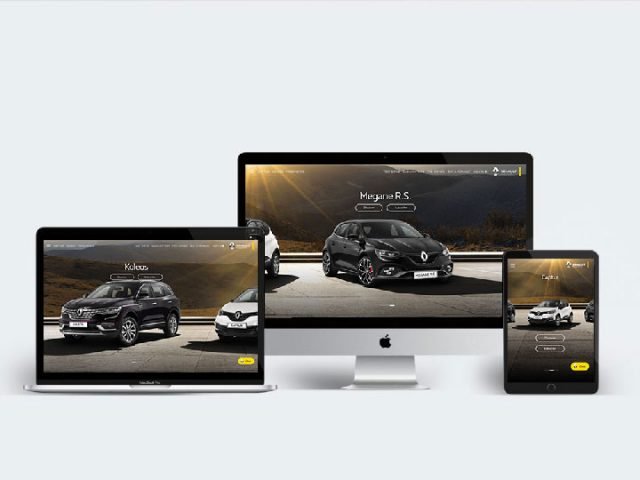 During the virtual media update event, TCEC also shared a teaser of what is to come for Renault Subscription customers. The company will be launching a new mobile application through which customers will be able to manage their Subscription vehicle. Key functions will include:
Vehicle Dashboard
Location Tracking
Lock / Unlock
Trip History
Car Sharing
Reminders
Emergency Calls
Bluetooth Connectivity
The upcoming new mobile app for Renault Subscription customers is slated for June. And full functionality will be shared with customers closer to launch timing. While continuing to drive a digital-first approach, TCEC says that they remain committed to prioritising the personal touch that customers demand.
In order to do this, TCEC has created its Digital Engagement Team dedicated to delivering customer relations via one-to-one calls to ensure close coordination and follow-ups.
TCEC has provided details on its Renault Subscription packages as follows: