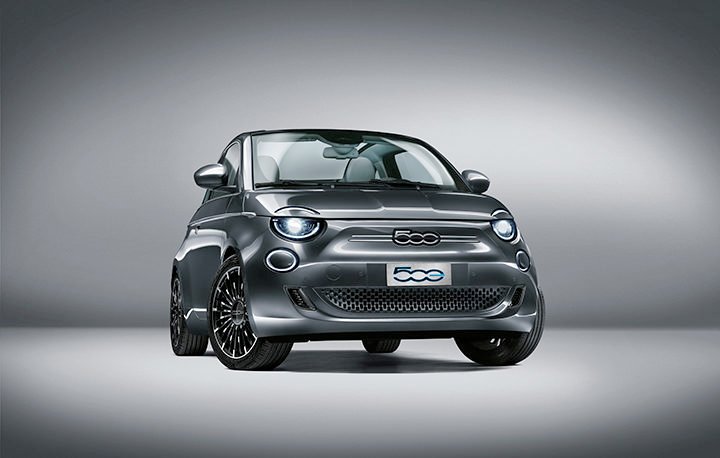 The all-electric Fiat 500 debuts with 320 km range from a 42 kWh battery and will be a convertible only.
Fiat has launched the third-generation Fiat 500, which is a big leap in terms of drivetrain, design and tech. The Fiat 500 is Fiat Chrysler Automobiles first all-electric model in the company's fleet. The Fiat 500's all-electric drivetrain consists of a 42 kWh lithium-ion battery which can drive Fiat's city car a range of 320 km (WLTP). The new Fiat 500 is 6 cm wider and longer, while the wheelbase has been extended by 2 cm.
As a city car, many of its drivers won't be sticking around much, therefor the 85 kW fast charger system can juice-up the new Fiat 500 quickly. For a quick five minute charge, the Fiat 500 will have sufficient power reserve for 50 km. And the fast charger can charge the battery up to 80% in 35 minutes. The Fiat 500 comes with a Combo 2 socket for both AC and DC charging.
For the early birds, the La Prima launch edition includes the Easy Wallbox, a home charging system that can be connected to a normal home outlet. Developed by Engie EPS, the Easy Wallbox is developed exclusively for FCA which can be managed via Bluetooth at home. By default, the wall box can charge up to 3 kW and is ready for upgrade up to 7.4 kW.
The Fiat 500 has three driving modes: Normal, Range and Sherpa. Inspired by the Himalayan Sherpa, the Sherpa driving mode helps to reduce power consumption by limiting travelling speed to 80 km/h and deactivating the climate control system as well as the heated seats.
The Fiat 500 is driven in "Normal" by default, while "Range" activates the one-pedal-drive which both accelerating and regenerative braking is done by the accelerator pedal alone. This maximises the electric motor's energy recuperation which causes a much significant deceleration, as to depress the brake pedal.
Motive power comes from a 117 bhp electric motor, which the Fiat 500 can accelerate from 0-50 km/h in 3.1 seconds, 0-100 km/h in 9.0 seconds and a self-governed top speed of 150 km/h.
Fiat's 500 all-electric city car also comes with level 2 autonomous driving. It is fitted with cameras around the car and the intelligent Adaptive Cruise Control (iACC) accelerates and decelerated in response to anything in front of it. And Lane Centering keeps the car within the lane.
Moreover, Intelligent Speed Assist detects speed limit signs and adjust the car's speed accordingly. Besides, Urban Blind Spot utilises ultrasonic sensors to detect other road users on the wing mirrors. Then there is Attention Assist, which provides warnings on the display for drivers to take a break. And, the 360° camera which provides a drone view when parking or performing complex manoeuvres.
Besides that, infotainment would be second to none for an urban-centric vehicle. The third-generation 500 is the first FCA car to be equipped with the new UConnect 5 infotainment system. The new system offers easy and intuitive customisable Android Auto operating system and Apple CarPlay is already available wirelessly.
In short, the New 500 offers seamless integration smartphones, offering a 10.25-inch high-definition touchscreen with a horizontal form factor. Also, the new infotainment system can connect to the internet and provide Wi-Fi hotspot functionality.
The new Fiat 500 is open for orders in European countries, with the La Prima special launch edition. Only 500 will be produced, each featuring LED headlights, eco-leather seats, 17-inch wheels and chrome exterior trim, along with the features mentioned above. Pricing and availability in other markets will be announced at a later date.
* Find Used Fiat for sale in Motor Trader