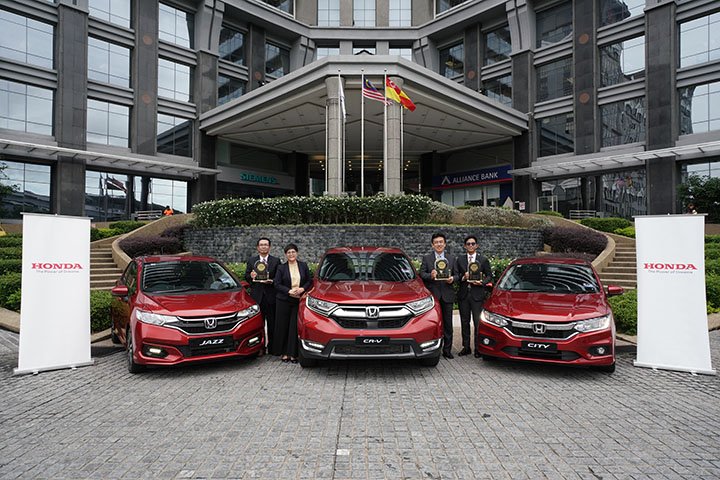 Honda Malaysia's three most popular models lead in their respective segments in the J.D. Power 2019 Malaysia Initial Quality Study (IQS)
Mass producing items such as watches or smartphones would require strict quality control to ensure their customers coming back for more. Likewise with cars, recreating it more than a thousand times over and making sure that it doesn't fall into pieces is no easy feat.
Which is why Honda Malaysia has kept the quality of its cars consistent, especially the City, CR-V and Jazz ranked the highest in their segments in the J.D. Power 2019 Malaysia Initial Quality Study (IQS) for new-vehicle quality. This not only keeps its current customers happy but help to attract new ones.
The Non-National locally assembled City and Jazz topped the ranking for city compact segment and entry midsize segment with scores of 59 per 100 vehicles (PP100) and 68 PP100. Likewise, the CR-V tops the segment for the second year with 64 PP100.
The results were shown through the study in the areas such as vehicle's exterior, engine and transmission, audio entertainment connectivity and others. Results with a lower score mean better quality and were based on the responses from the number of problems experienced per 100 vehicles.
We are very delighted that Honda models have earned a place in the hearts of our customers with the new vehicle quality rankings. We consistently introduce the Next Generation Advanced Technology as part of our commitment to offer the highest quality products. This commitment reflects our philosophy of Joy of Creating in our vehicle production to ensure that all customers experience the Joy of Buying and owning a Honda vehicle. We would like to express our gratitude to all Malaysians for their continuous support and trust in the Honda brand. We will continue to serve our customers better to meet their needs and provide excellent customer satisfaction.

Mr. Toichi Ishiyama, Honda Malaysia Managing Director and Chief Executive Officer
The J.D. Power 2019 Malaysia Initial Quality Study is based on responses from 1,904 new-vehicle owners who purchased their vehicles between July 2018 and August 2019. The study includes 50 passenger car, pickup and utility vehicle models of 12 brands. The study was fielded between March and October 2019.