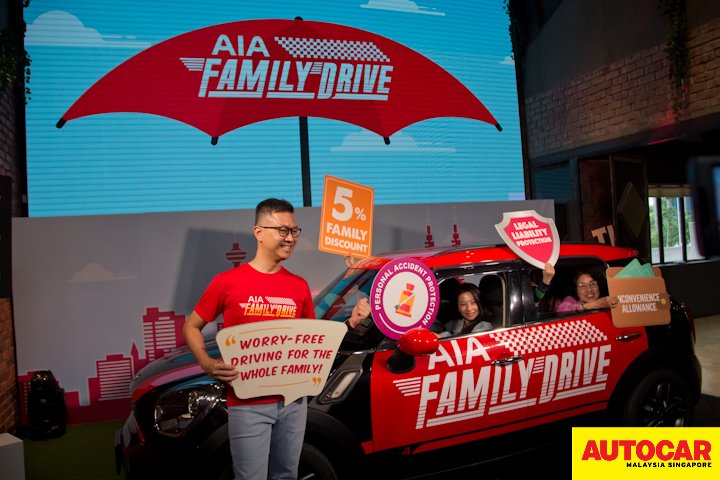 Additional discounts and other benefits when two or more cars from one household are insured with AIA
AIA General Insurance has launched Family Drive. This is a comprehensive motor insurance plan aimed at households with up to four cars. Family Drive, and the discounts and benefits it offers, is an industry first, offering advantages including:
1. Protection
Personal Accident Protection which ensures that anyone travelling in the insured car is automatically covered with up to RM250,000 personal accident coverage.
Protection against legal liability to third party's injury, death and property loss or damage for everyone travelling in the car.
Automatic coverage for all authorised drivers without additional cost.
2. Convenience
Customers will receive the Inconvenience Allowance of RM600 per accident if their car is being repaired in the workshop.
AIA Roadside Assist provides several value-added services such as battery and tyre replacement, vehicle towing, 24/7. Also,  assistance with filing their police report and e-hailing vouchers to help them and their family get home safely after the accident.
3. Savings
A Family Discount of 5% if customers insure up to four cars with Family Drive.
Excess waiver is granted if repairs are done at an AIA panel workshop, with the total repair cost borne by AIA.
Family Drive offers other optional add-on benefits for customers who want even more coverage. With the Agreed Value feature, customers can set an agreed coverage amount when purchasing the police to protect themselves against the depreciation value of their car. The Waiver of Betterment Cost feature ensures that customers are covered for the full cost of new original parts for their car without any extra procedure or paperwork when making their claim. Customers can also opt for the Natural Disaster (Special Perils) feature that protects their cars against loss or damage caused by flood, storm, landslide or other acts of nature.
AIA aims to provide Malaysians with innovative insurance plans to protect drivers and their families in the event of an accident. The plans and policies are designed to ensure a worry-free driving experience by including features to enhance coverage. More information may be found on Family Drive and other AIA General Berhad products at www.aia.com.my