Mazda North America has unveiled its 350 horsepower 2020 Mazda3 TCR race car 
Mazda is one of the many brands which is synonymous with motorsport, owed much to the outright victory in the legendary Le Mans 24 hour race in 1991. Even prior to that, Mazda was quite knee-deep in racing, campaigning the Mazda 323 GTX, Mazda RX-7 Rally and Mazda Familia 4WD in international rally arena and in many road racing events inside and outside of Japan.
Now though, the company's focus now is to make less-racy cars for the road as they do in the past decade and now inching towards making premium driver-centric vehicles. Even, the Mazdaspeed name has changed to a more specific Mazda Motorsports. The brand's motorsports arm is not heard mostly internationally as the majority of the arm's efforts are mostly in the United States of America.
That said, enjoying much success with its Daytona Prototype program, Mazda Motorsports has unveiled its all-new Mazda3 TCR race car as part of the 2020 IMSA Michelin Pilot Challenge, jumping into the fray against the likes of Audi, Volkswagen, Hyundai, Alfa Romeo, and Honda.
Developed and supported by Long Road Racing, the Mazda3 TCR is homologated to race in any of the 36 TCR classes worldwide including FIA's WTCR. For now, the Mazda3 TCR's first competition will begin with the four-hour Endurance Challenge support race before the Rolex 24 at Daytona on January 26, 2020.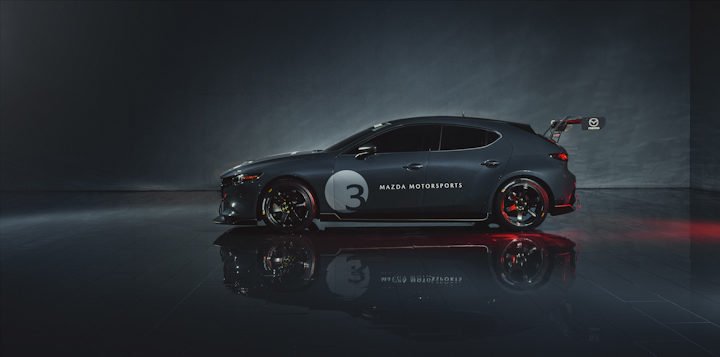 At first glance, the Mazda3 TCR looks like a mildly modified road-going C-Segment hatchback. But the wide fender flares which seamlessly blends into the body tell that this car is otherwise. Likewise, other race-focused augmentations like the front and rear diffusers, and bonnet vent are integrated elegantly. The only thing that sticks out most is the rear spoiler and the red tow straps. Hopefully, it stays this way when it made its way to the hands of the customers.
Also, would it be nice if Mazda brings a road-going performance version of the Mazda3 to the showrooms like Hyundai's i20 N and the Golf GTI?
Nothing much has been disclosed on the full specifications and prices on Mazda's newest TCR challenger, but it's known that the Mazda3 TCR will be powered by a turbocharged, 4-cylinder engine producing 350 horsepower and will use a paddle-shifted six-speed transmission sending power to the front wheels.
"TCR represents a great opportunity for us to showcase the new Mazda3 and provide our customers with another avenue to race Mazda vehicles," said Masahiro Moro, Chairman and CEO, Mazda North American Operations. "Some of our most important successes in IMSA and SRO TC Americas have been thanks to dedicated customers who chose to race with Mazda, and we hope the next generation of Mazda racers see the same potential in the Mazda3 TCR."
"The Mazda3 features the outstanding design and engineering that Mazda is known for, and because of that, it is a fantastic foundation for our new Mazda3 TCR," said John Doonan, Director, Mazda Motorsports. "We have looked forward to returning to the IMSA Michelin Pilot Challenge for several seasons, and everyone at Mazda isvery excited that we will do just that in 2020. We are eagerly anticipating success for the Mazda3 TCR in IMSA, SRO Americas and in TCR championships around the world."