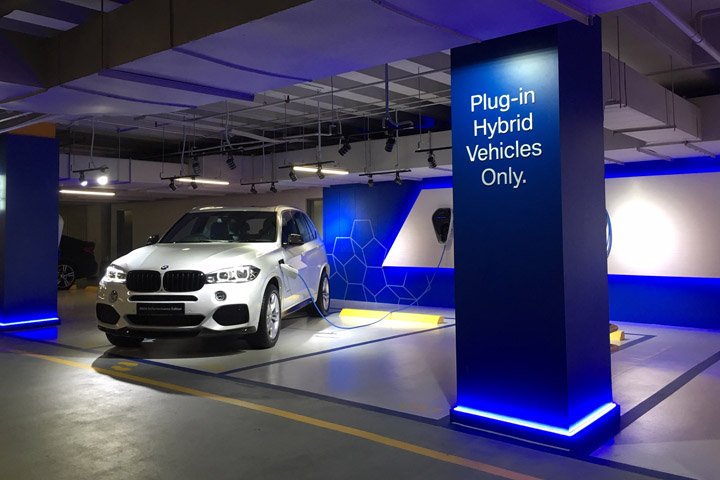 Six new BMW i Charging Facilities are the latest phase in national Electro-Mobility programme
BMW Malaysia has unveiled six New BMW i Charging Facilities at Bangsar Shopping Centre. Other BMW i Charging Facilities can be found at Ramada Plaza by Wyndham Melaka, The Banjaran Hotsprings Retreat in Ipoh, the Iconic Hotel in Penang as well as at WEIL Hotel in Ipoh.
BMW Group Malaysia offers the largest range of plug-in hybrid models in Malaysia, BMW iPerformance vehicles. The charging stations are supported by the ChargEV platform through its partnership with GreenTech Malaysia. The BMW ChargeNow service, which is offered as part of the BMW 360° ELECTRIC programme provides straightforward access to partner charging facilities like ChargEV, where customers can enjoy 24/7 support and access to all charging locations in ChargEV's growing network nationwide.
The news of the six new BMW charging points comes at the time when BMW Group Malaysia has posted a year of exceptional sales for their electric hybrid vehicles.
Harald Hoelzl, Managing Director at BMW Group Malaysia said, "2018 was a remarkable year for the BMW Group globally and we reflected this here with another year of record-breaking business performances for the eighth consecutive year with 14,338 vehicles delivered, a segment-leading growth of 13%. This reinforces Malaysia's position as a key market in the region for the BMW Group and we are truly humbled with this achievement."
Hoelzl added that BMW Malaysia's portfolio of Visionary Mobility vehicles accounted for over 57% of deliveries last year with over 7,500 Plug-in Hybrid variants of BMW and MINI vehicles making their way to homes across Malaysia in 2018.
"As the country's leading provider of premium electrified vehicles, we are constantly driving initiatives for innovation, local assembly capabilities, awareness on new and clean technology for the automotive industry as well as helping develop the infrastructure for electrified premium vehicles in the country. We began working on these initiatives with the Malaysian Green Technology Corporation (GreenTech Malaysia) as early as 2015 and we have also developed projects on our own with our network of dealerships across the country." said Hoelzl.