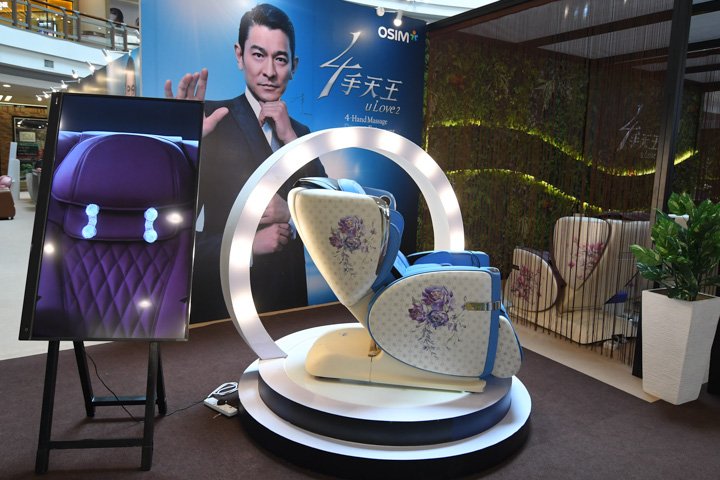 Osim uLove2 massage chair features revolutionary 4-Hand Massage Technology for a more effective massage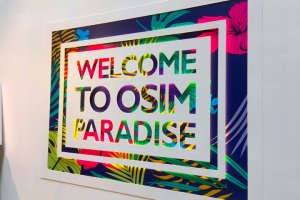 Osim has launched a new massage chair, the uLove2, name that probably makes lots of sense to Cantonese-speakers and even more sense when Andy Lau, pop icon and Osim's brand spokesperson, says it. What makes the uLove2 different from the other massage chairs in the market is its 4-hand massage technique, as though there are two synchronised masseuses working on your muscles at the same time.
Obviously a massage chair is something which has to be experienced to appreciate and yours truly was invited, along with other media, to spend time in the uLove2. First was a general full body massage session which was set up like a first class aeroplane cabin, in a darkened room. Having failed to read the product notes (my fault entirely) before going in, the initial round was literally going in blind. It started with lying back in the chair then having the rollers moved up and down to get work out the location of my shoulders, my height and weight before the massage software set to work. I found my head at an awkward angle from time to time, with my body contorted, as my buttocks and thighs were squeezed and kneaded in areas I didn't know rollers could reach, like the backs of my ankles. It was also over all too soon. The soothing warm eye pack and cosy microfibre blanket were whisked away and I was thrust out of the cosseting comfort of the chair into the cold light of 1-Utama. The reality was it had actually been 25 minutes. Fortunately, for those so inclined to be reclined longer there were additional sessions available with product advisors to explain the chair's capabilities in depth.
The uLove2 has four sets of rollers massaging two sections of the body, usually the upper and lower body. There are also what's called the V-Hand Massage rollers – 720º roller balls which are able to rotate 360º in both directions to recreate the flexibility of a masseuse's hand, getting into narrow contours of the body – like ankles –  to knead and ease tired muscles. There are three recliner settings and several programmes: a full body massage as well as targeted relief for four major areas, the head and neck, neck and shoulders, lumbar and buttocks, and buttocks and thighs. There is also a hand massager built into the arm rest.
The massages can be relaxing or invigorating. There is also a sports recovery massage programme to help reduce lactic acid build-up after strenuous exercise, a "beauty" programme and a "stretching" programme, the latter recommended to be only used once a day. The workover on the muscles can be used alone, combined, or personalised to a preset programme so you can have a full body massage with additional time on a problematic area like the lower back for desk jockeys, or the neck for social media hounds. The intelligent headrest ensures that your head is always comfortably supported at the correct angle – but you have to remember to lift your head from time to time so it resets to the right location, which the chair senses automatically.
There's a built-in controller to key in the presets but the uLove2 can also be controlled through the phone or tablet through an app. The advantage of the app is that with the presets in the phone/tablet, any uLove2 will give you the perfect massage.
Several perfect massages later, and no longer able to ignore that "so, what does this do?" was sounding less and less credible, I slid out of the chair, made my thank yous, bade by farewells and took my leave. But first, I had to run a few errands around the shopping centre before heading home to resume my impression of a limpet in my own bed. Three hours later, and after trotting to stores I'd forgotten` I needed to go to, my energy levels were on a high more akin to the start, rather than latter part, of the day.
The price of this energy jolt is a galvanising RM20,888 but just think of the convenience: all the massages in the world at any time of the day, for as long as one wants. With all that relaxation and pampering in one spot, one wouldn't even need a bed anymore.