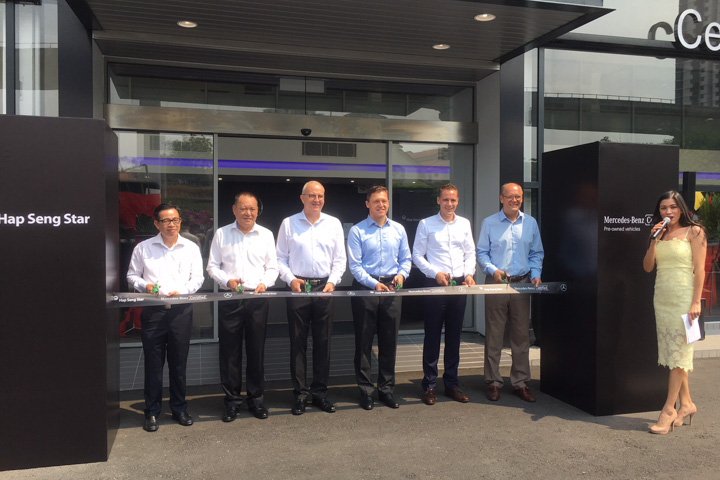 Only highest quality used cars from Mercedes-Benz qualify for "Mercedes-Benz Certified" label
Mercedes-Benz Malaysia has launched Mercedes-Benz Certified, a new top level in the Mercedes-Benz global pre-owned vehicles programme. The programme was previously known as Proven Exclusivity. Only Mercedes-Benz cars which fit certain criteria qualify to be sold as "Mercedes-Benz Certified":
immaculate condition
sourced exclusively from authorised Mercedes-Benz Malaysia dealers
not older than six years
clocked less than 125,000km
have no identifiable structural damage.
In addition, the vehicles must have been fully serviced and maintained by authorised Mercedes-Benz service centres with only original parts used.
All cars sold as "Mercedes-Benz Certified" go through a 215 multi-point inspection by certified technicians which includes inspections on appearance, engine components, electrical systems as well as road tests. There are also checks to verify that the service and maintenance records, and the mileage are genuine.
Customers can test drive a Mercedes-Benz Certified vehicle before committing to it. There is also the option to trade-in their existing vehicle which does not have to be a Mercedes-Benz.
Cars sold under the Mercedes-Benz Certified pre-owned programme are covered by a 12-month warranty extension, with unlimited mileage. This warranty extension is on top of any remaining manufacturer warranty and the 12-month warranty extension offered by MBM: the total warranty period can be up to six years for a Mercedes-Benz Certified car.
Also offered with Mercedes-Benz Certified programme cars are flexible and affordable service contracts for service and maintenance, 24-hour road-side assistance for emergency breakdowns, and financing and insurance packages from Mercedes-Benz Financial Services.
In conjunction with the launch of the Mercedes-Benz Certified programme, Mercedes-Benz Malaysia and Hap Seng Star officially launched the Mercedes-Benz Certified Pre-Owned Centre by Hap Seng Star Kinrara. The largest standalone centre for Mercedes-Benz Certified vehicles, the facility can display up to 100 cars. There is as lifestyle cafe, a wide range of Mercedes-Benz merchandise and a children's play area.
To celebrate the new facility, Hap Seng Star will be having having the Hap Seng Star Mercedes-Benz Certified Carnival  6th to 14th October 2018. The carnival will feature the widest selection of Pre-Owned Mercedes-Benz Certified vehicles currently available. Meanwhile there is also the Hap Seng Star Mercedes-Benz Certified sales campaign which enables those who make a booking from now until 30 November 2018 to stand a chance of winning a premier massage chair and many other prizes.