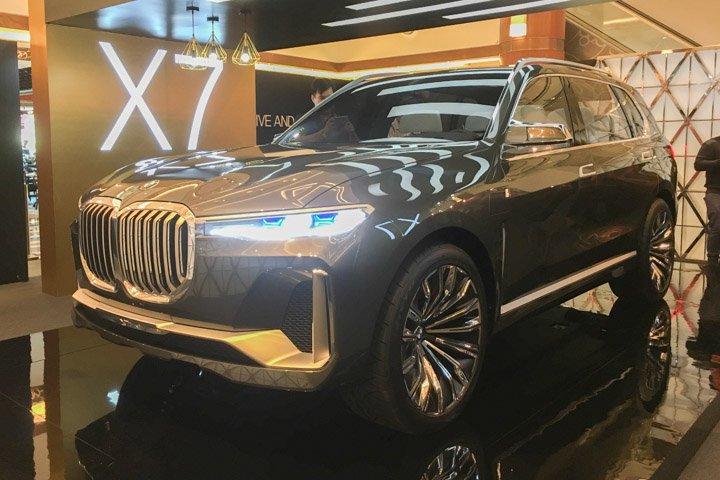 Concept of BMW's new flagship SUV makes stopover in Kuala Lumpur. 
The BMW Concept X7 iPerformance made Kuala Lumpur the first stop 0f its tour of South-East Asia. It will be available for view at Bangsar Shopping Complex until Sunday 22nd July 2018. This is the second concept car that BMW has showcased in Malaysia this year. The 8 Series Concept made its rounds in March.
Although this is a concept vehicle, as seen with the BMW 8 Series, BMW is not likely to wander far when it comes to the production car.
The X7 super-luxury SUV will be a plug-in hybrid paired with a turbocharged petrol engine although the exact specs of the powertrain have yet to be revealed. The six-seater four-wheel drive is a showcase for the design direction of future BMWs.
Most noticeable is the prominently large front grille, the largest dimensions ever for any vehicle from BMW. Other eye-catching features are the slim, elongated twin headlights with the signature blue Xs of BMW laser lights, the prominent chrome bar across the front apron and the large chrome air breathers along the sides.
On the roof is a huge glass structure sectioned out in three parts to form a Y which adds to the sense of spaciousness in the car. The chrome strip that runs from the air breathers to the flank is a design element from the current 7 Series saloon.
There are no door handles. Instead there are pressure sensors that release the doors when touched. The interior is an ode to luxury craftsmanship, convenience and comfort: upholstered in fine leather with open-pore wood and aluminium details. In this instance,Smoke White leather seats with dark Olive-Bronze leather on the seat bolsters. The X7 will be equipped with the latest technology available through the touchscreen infotainment units and integrated through BMW Connected.
The 12.3-inch instrument cluster screen and central touchscreen information display are a continuous, interactive display. Below them, in the centre stack and centre console, the functions are grouped on clean and tautly chiselled surfaces. Control interfaces like the selector lever, iDrive Controller and multifunction buttons on the steering wheel are partially backlit dark Silver Night crystal glass which adds sophistication to the luxury of the X7.
The BMW X7 is slated for launch in 2019.