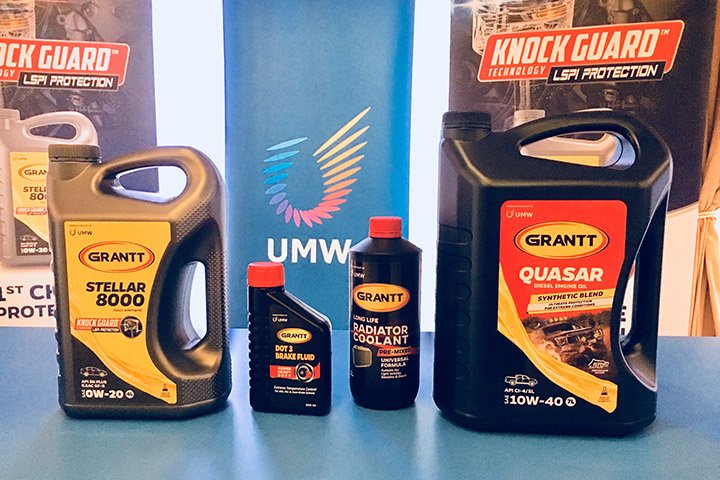 Fully-synthetic lubricant protects against cylinder damage from low speed pre-ignition
All-new Grantt Stellar 8000 SAE OW-20 API SN PLUS Fully Synthetic engine oil has been launched by UMW Grantt International. The lubricant is formulated with Knock Guard Technology for low speed pre-ignition protection, the first lubricant in Malaysia to offer this feature.
Grantt Stellar 8000 SAE OW-20 API SN PLUS is for petrol and diesel engines. Grantt engine oils meets international standards for lubricants with tests and analyses conducted at UMW's ISO/IEC 17025 accredited laboratory. Grantt oils surpass American Petroleum Institute, European Automobile Manufacturers' Association and key OEM requirements.
At the launch, Grantt also introduced other new automotive solutions:
 Grantt Quasar SAE 10W-40 API CI-4/SL (7 litres)
A Synthetic Blend grade on top of the current SAE 15W-40 API CI-4/SL mineral grade currently offered in the market, which gives outstanding protection against engine wear, maintains engine power over a longer oil drain interval in most extreme conditions and protects the Exhaust Gas Recirculation (EGR) in low emission engine.
Grantt Automatic Transmission Fluid ATF CVT (4 litres)
Grantt Automatic Transmission Fluid – Grantt ATF WS (World Standard) (4 litres)
GRANTT's full range of lubricants include Passenger Car Motor Oil (PCMO), Motorcycle Oil (MCO), Diesel Engine Oil (DEO), Transmission Fluid, Greases and Industrial Oil.