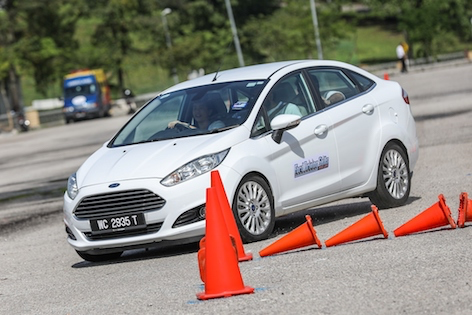 The Ford Motor Company and local brand distributor Sime Darby Auto Connexion recently held a Ford Driving Skills for Life programme for staff of AIG Insurance and members of the public.
The DSFL workshops are provided free-of-charge and address various driver risks, such as dealing with unexpected scenarios, distracted driving caused by mobile phone use, hazard recognition, speed management and the importance of ensuring child seats are securely fastened.
DSFL sessions start in the classroom, with participants learning a range of topics from steering control, to speed/space management, distraction awareness and fuel-saving tips. Participants then move outside for a hands-on driving session to apply the learnings.
An emphasis on the dangers of driving under the influence of alcohol or medication was also incorporated as part of the programme. This included having participants wear specially designed goggles that help simulate the experience of driving while movement, coordination and alertness is impaired.
The Driving Skills for Life workshop is a Ford global programme.