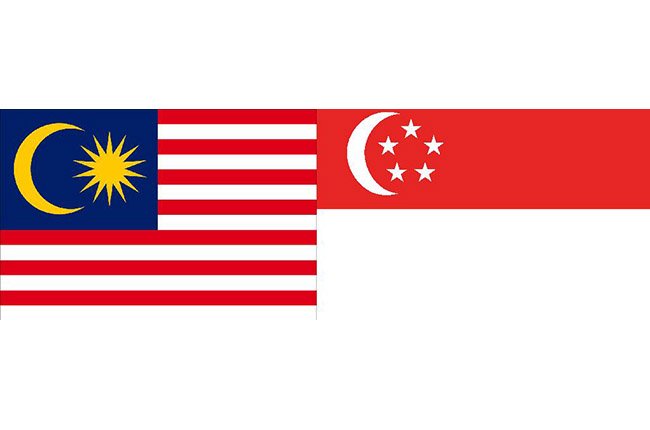 Every day, thousands of vehicles cross the Causeway and Second Link between Singapore and Malaysia. All Singapore-registered cars have been required to have an In-Car Unit (IU) fitted since electronic road pricing was introduced in the 1990s. Foreign-registered cars were also required to have IUs installed until the Land Transport Department streamlined the system and now only Autopasses are mandatory.
More about the Autopass here //www.lta.gov.sg/content/ltaweb/en/roads-and-motoring/driving-in-and-out-of-singapore/autopass-card.html

For West Malaysian-registered cars entering the island, here are the LTA regulations for driving into and around Singapore: //www.lta.gov.sg/content/ltaweb/en/roads-and-motoring/driving-in-and-out-of-singapore/west-malaysian-registered-vehicles-and-cars-and-motorcycles.html
Singapore-registered cars need to fulfil certain regulations before they can drive out of the republic. Those regulations can be found here //www.lta.gov.sg/content/ltaweb/en/roads-and-motoring/driving-in-and-out-of-singapore/singapore-registered-vehicles.html
All foreign cars entering Malaysia need Vehicle Entry Permits and non-transferable RFID tags to be installed. Information on how to register, collect and install the VEP can be found here: //vep.jpj.gov.my/ – /
Toll charges in Malaysia can be paid by cash or by Touch 'n Go stored value cards but increasingly there are tolls operators that only accept payment by Touch 'n Go cards. Find out more about Touch 'n Go cards here //www.touchngo.com.my/CMS/Personal/About-MYTouchnGo/What-is-MYTouchnGo/.
It is advised to have more than one Touch 'n Go card and to maintain at least RM20 of credit on each card. Despite claims of the ready availability of places to top-up, outlets may be "offline", have faulty machines or just not have reload facilities. There are also temperamental card readers that reject cards which work perfectly fine at other times.
Some tolls are fixed amounts and collected before entering the highway. You need to have enough credit on your Touch 'n Go card to get through. RM20 on a card would cover the initial tolls around Johor. Others, like the North-South highway are calculated by the distance covered and paid when exiting the highway. For these, having credit on the card, no matter how little, is sufficient to get through the toll gate. When exiting, head for the toll gate with the sign "Tambah Nilai" (Add Value) as these have cashiers in the toll booths for you to top-up your card and pay your toll charges.
Always check your receipt when you reload your card. It is not unknown for cashiers to short change drivers with the expectation that they would not notice until at the tollgates and unable to turn back. A round trip would be at least 35km.
Fuel compatibility for Singapore cars, especially diesel, may be an issue when travelling in Malaysia. Petrol and diesel in Singapore are EURO5. Petrol in Malaysia is available in EURO4 with two octane levels offered: RON95 and RON97. Petron also has RON100 at selected pumps. Diesel is EURO2 with EURO5 available at selected locations. All service stations are required to have RON95 petrol and EURO 2 diesel. EURO5 diesel, once only available in Johor for heavy goods vehicles entering Singapore, is increasingly easier to find nationwide as BHP, Petron, Petronas and Shell now offer it but its availability is still limited.  RON95 is only for Malaysian-registered vehicles.