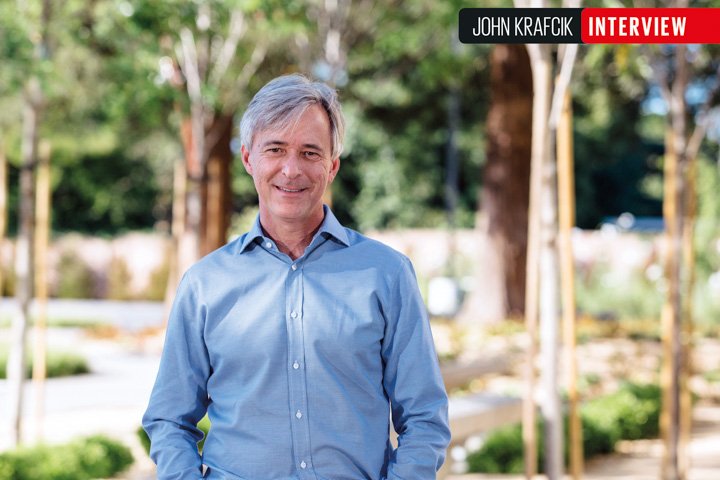 The boss of the most powerful self-driving car technology company in the world has a Porsche 911 GT3 on order. And a Caterham in his garage. And two more Porsche 911s nestling alongside that: a 997-series C2 S and a 964-series Targa.
Easy natured and always the evangelist, John Krafcik – CEO of Waymo, part of Google – breaks into a ready smile as he can see my brain computing that one. "We are not the enemy. Yes, you can have self-driving cars and enthusiasts' cars," he says, grinning. "What we're doing at Waymo does not mean the end of driving. If you just want to get somewhere, we hope you'll use one of our cars. Hail it on the app, get driven there autonomously, hop out.
"But people will always want to own cars – and if you're buying something, we want it to be special. I can see how we might disrupt the utilitarian market, because we can likely cover those needs in a cost-effective way, but the beauty for car enthusiasts is that every car that gets sold will have to be more interesting. It'll have a purpose."
Every car that gets sold will have to be more interesting
Krafcik, 56, and Waymo were thrust further into the spotlight last month when it was announced that the firm had committed to buy up to 20,000 Jaguar I-Paces, which it will offer to the public to use autonomously from 2020. To look at him, you'd think he'd spent his life in Silicon Valley – there's the floppy hair, stubbly chin and jeans, for starters – but in fact he spent decades in the car industry, working his way through the ranks (see separate story, right) before answering the call from Google's founders to head up Waymo in 2016.
Ask him if the firm ever had plans – as long rumoured – to make cars as well as develop self-driving technology and he's coy, saying only that "I'm not aware of it". But when Waymo was launched at the tail end of 2016, those rumours were, for now at least, put firmly to bed.
"We built our own test car, called Firefly, but that was really because we could take advantage of the so-called 'golf cart regulations' that were in place to test our technology," he says. "Up to 35mph, it could run in neighbourhoods without the need for a steering wheel, and it was our way of logging test miles. But building full cars is best left to the experts. They have their specialisms, we have ours."
Those test miles are now Waymo's answer to any concerns about the safety of the public testing of self-driving cars. Given a chance, Krafcik will repeat like a mantra the dual facts that the firm has covered five million autonomous test miles on public roads in the US and more than five billion miles in computer simulation. He'll also state that Waymo's proprietary lidar and radar systems, developed since 2008, are the best in the world, so much so that the firm plans to become the first to start public trials of autonomous cars without any 'fail-safe' humans behind a wheel over a 100-square-mile area of Arizona this year.
"When we set the company up, we asked ourselves what our role should be, and the answer was to develop the world's best driver," he says. "The technology we have today can drive anything from a giant truck to a Prius. If it moves, we can find a way to drive it."
Given that studies suggest autonomous driving technology will be a £5 trillion a year business by the middle of this century, you'd think it was pretty easy to understand Google's interests in getting involved. Krafcik counters that with a steeliness that suggests there may be a truth to his words: "You might think money was the primary motivation, but it can't be. The goal is zero fatalities. That's it. If there's payback for that social benefit, then great."
On the subject of safety, Krafcik feels that the car industry had become complacent. "The word 'accident' was actually created to almost explain away what were, in reality, tragedies," he says. "Everyone knew the facts, but there had become a level of acceptance that people would die because of cars. But 140 deaths an hour – that's too much.
"So we embrace the drive for zero fatalities. We want safety and mobility for all. Neither's easy: the former is more of a goal, while the latter is a big challenge. Just in the US, there are 30 million people today who don't have access to transport."
Waymo, of course, is one of many firms vying for supremacy in the field, including Jaguar Land Rover, which will continue to develop its own systems, but there's no doubt that the benefit of Google's brains trust, reputation and war chest has given it a head start. Self-driving may not be a nirvana for many car enthusiasts, but there's no doubting that in Krafcik its future is being driven forward by one. A
HOW KRAFCIK GOT WHERE HE IS TODAY
His formative years
"My boss [at New United Motor Manufacturing Inc] was a Yoda-like figure: very wise, but he talked in riddles. Early in my career, I was sent to a GM factory. It was impressive, but I did notice some cars being repaired off the line and some people sleeping in cardboard boxes on site. I got back, presented my report, said how impressed I was and so on – and then got sent to a Toyota plant in Japan. It was extraordinarily efficient. My boss had made his point: I recognised the standards to strive for."
Why he gave it all up to be an engineer
"I wanted to design cars, so I asked Ford if I could. They offered me the chance to run some plants. I said no, persisted and eventually got a role as a product design engineer. It was the best job I ever had. I learned the product development processes and
a respect for how car makers engineer in so much quality and reliability."
Why he left Ford
"At that time, it was the greatest collection of clever people who couldn't work out how to get on. I couldn't aspire to the next level of management there as I didn't like how those people treated other people."
The route to Waymo
"I joined Hyundai and had a blast. Then at the height of the recession, I was asked to run Hyundai USA. We had some great years and then I joined True Car, a website selling cars.
And then the phone rang. It was Google founders Larry Page and Sergey Brin. I took the call!"